Every time we left a roof over our heads in Zaragoza, it rained. No matter the shelter, from awnings, hotel roofs to rentals cars, without fail, Zaragoza opened up and poured out to us. With nothing more than the imagination of how appropriate an umbrella would suit this situation, we carried on, determined to get the most out of one day, our only day, with the city often lost between the shuffle of Barcelona and Madrid.
Even in the rain, Zaragoza greets in grand fashion. Located on the banks of the Ebro River, the provincial capital of Aragón boasts a history dating back to the Romans and one of Spain's top pilgrimage sites. Its name still bears Roman roots when it was called Caesar Augusta. Those Roman roots show like a bad dye job. In the 1970s, Zaragoza was minding its own business, digging up for a new building when it unearthed a major ancient site. Even though I want to visit outside of museum hours, they can't keep the Roman theater in the center of town from complimentary view. In its heyday, the theater held 6,000 souls for a spectacle. Today, it holds not even one.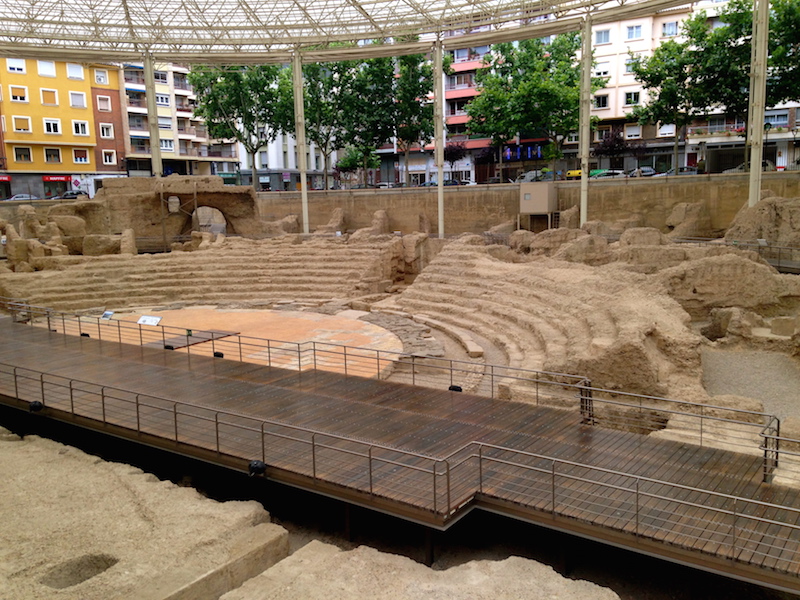 And yet, Zaragoza's Roman Theater is almost an afterthought, overshadowed by the large and in charge Basílica de Nuestra Señora del Pilar. Its lengthy name even seems fitting for a church of such large portions. The reason for its construction stems from a miracle. In January of AD 40, Saint James, patron saint of Spain, is thought to have seen the Virgin Mary descend atop a marble pillar. A chapel was built around the pillar and then more churches followed to become Spain's ultimate nesting doll. The main dome compliments with ten other smaller domes, each encased in blue, green, white and yellow tiles.
While you can still see traces of the miraculous pillar inside and out, I head for the clouds, close to the soggy messy still pouring down. For €3, I ride up a fancy and seemingly out of place elevator with a chaperone. A man mutters a few words to us in Spanish and jumps on board the elevator. He leaves us alone at the top of the north tower or Torre Pilar to appreciate the gray views of Zaragoza. Looking down on the Basilica's domes and glittering tiles, I am reminded that even in the gray, there is great deal of color.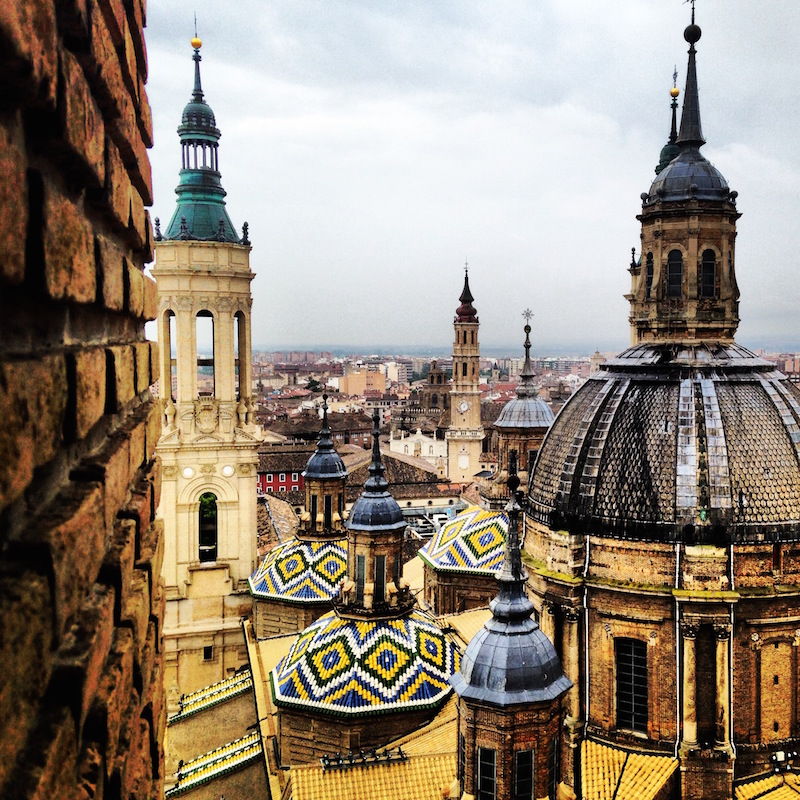 Coming back down to Zaragoza, the squeaky sound of my rain soaked shoes has produced a temperament for caffeine. From its façade, Gran Café de Zaragoza pulls me inside. With its old-world feel, I order a café con leche and sip on a different time, a Spain that once was.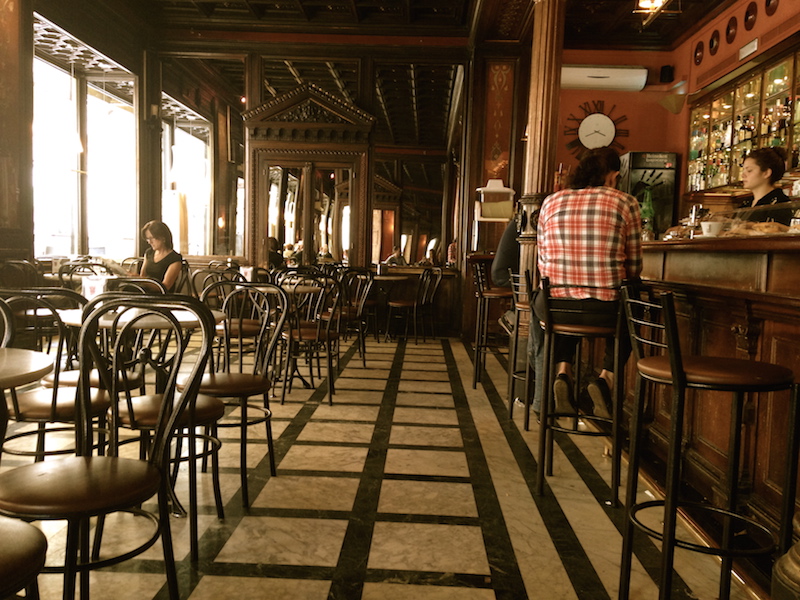 With a café con leche driving me, arguably the best I had on my month in Spain, I press on to see Zaragoza's Aljafería, a pleasure palace built for the city's Islamic rulers in the 11th century. Forgotten to Granada and Cordoba's palaces, Zaragoza's Islamic remnant is decidedly less grand, especially with a €5 entrance fee, but its obscurity almost makes for a better experience.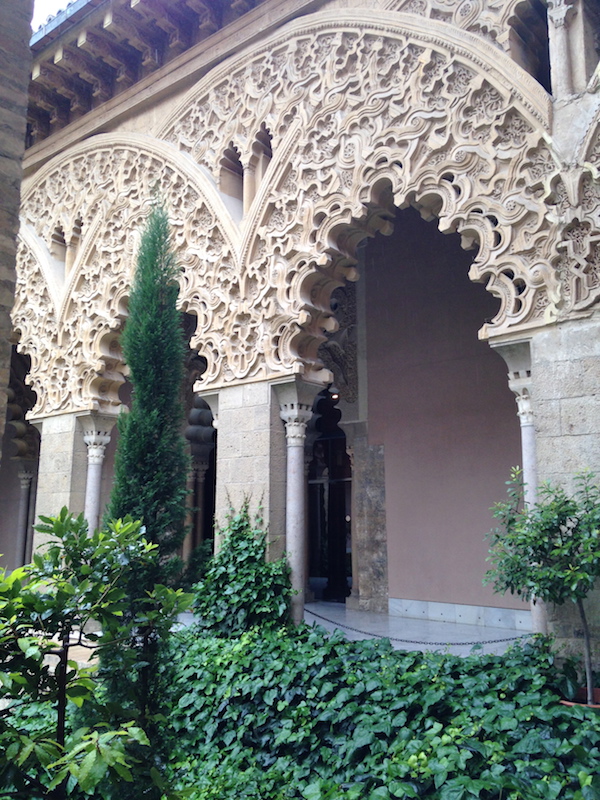 When the palace fell out of Islamic hands, the Christians renovated and remodeled. The main trace of Islamic rule echoes throughout the Patio de Santa Isabel, a central courtyard with geometric arches. Even inside a palace, I can't dodge the rain.
I head upstairs to the Palacia Mudéjar, an addition of the Christian rulers from the 12th through 14th centuries. The palace leads to the Catholic Monarch's palace, Ferdinand and Isabella digs. Room after room features Mudéjar coffered ceilings. Ornate, intricate and heavenly, staring up in awe at a sky that has rained down on me all day seems ironic. The roof over my head holds up, keeping me out of the rain and still looking up, on the bright side.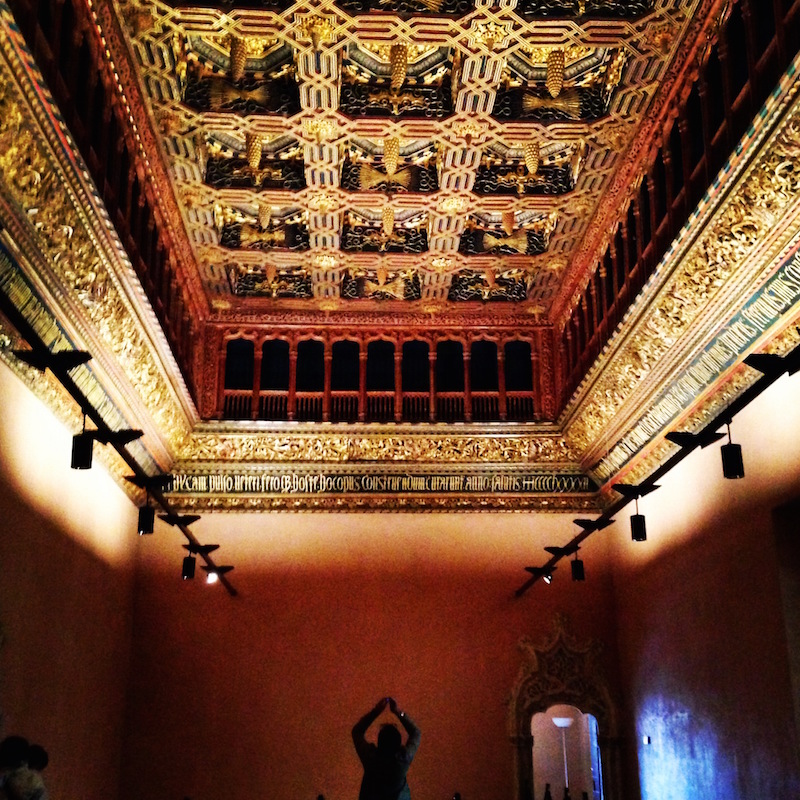 Leaving town, we experience our own Zaragoza miracle. It isn't the Virgin Mary on a pillar or even unearthing Roman ruins. Rather, the sun comes out and we can see a color only viewed in the Aljafería's ceilings, blue. We stroll down Calle de Alfonso I, a wide boulevard lined with shops and cafes. And right in front of me, aside from the Basilica in its grandeur is the typical old man in Spain, walking with hands tied behind his back, sauntering slowly through Zaragoza like its his first time.
I turn a corner and wind up staring at a stone slab etched with the quote by Aragon local and famed Spanish artist Francesco Goya. "Fantasy, abandoned by reason, produces impossible monsters but united with it, she is the mother of the arts." I didn't abandon reason in Zaragoza but rather I resolved that the rain would in fact dampen my spirit on the city. However the fantasy of what Zaragoza is and was created a not so gloomy masterpiece for 24 hours. Then again, a little churros and chocolate can also bribe a soaked traveler into Zaragoza's ways, shelter or no shelter.
Have you been to Zaragoza, Spain?