I'm sitting in front of a group of twenty-somethings at Wrigley Field. Margarita after margarita, beer after beer, they don't seem to care what is happening on the field before them. They stand and cheer when they notice the masses are standing and cheering for the home team, the Chicago Cubs. Being oblivious to the game is commonplace at Wrigley Field. The fans pack in to watch the game or merely to just be in the middle of Chicago history, each and every home game. Built in 1914, Wrigley Field is the second oldest ballpark in the Major Leagues. In every regard, it is similar to ancient ruins that you are free to climb all over, to make your home for 9 innings.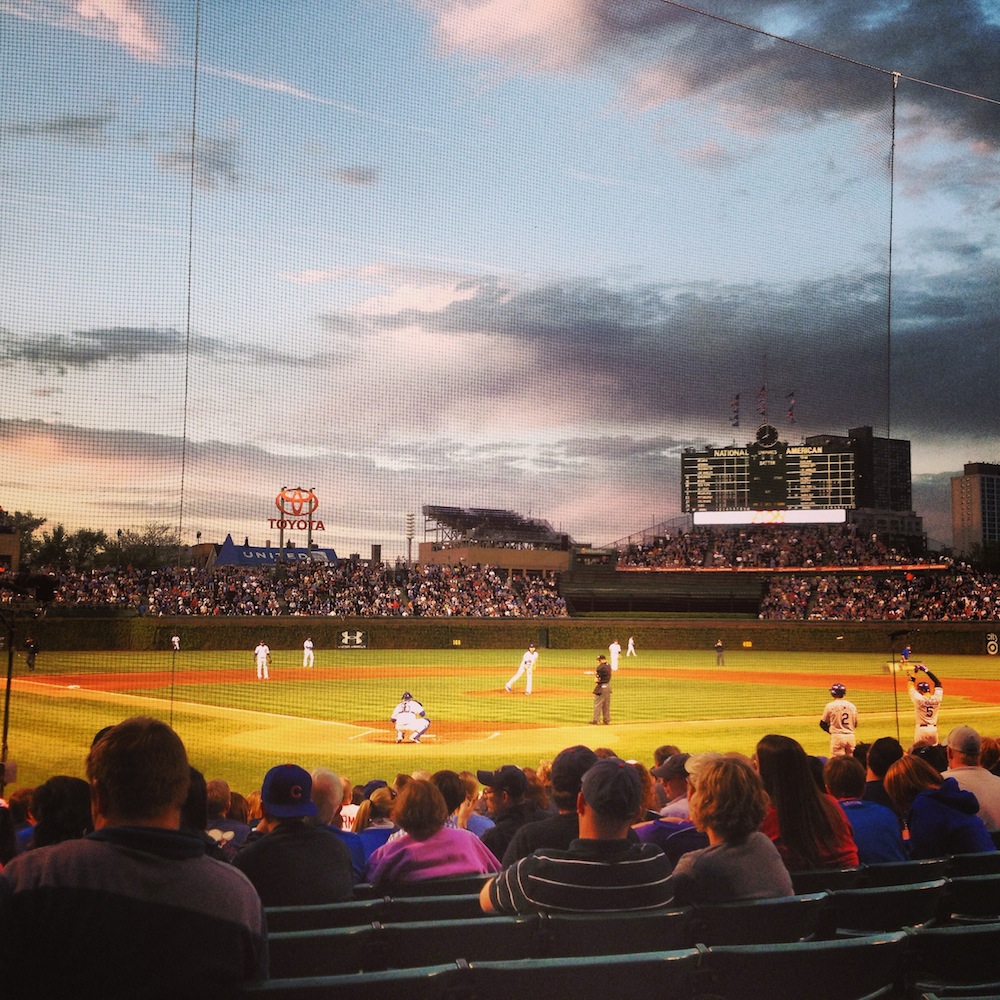 Set up in Chicago's North Side, Wrigley Field's beginnings stem from a seminary which occupied the grounds before baseball. Originally called Weeghman Park, once the Wrigley family purchased the Cubs, the field would take on its current name. I sit in front of home plate, watching my home team of the Rockies battle the Cubs. While I came for the game, I quickly realize that the purpose of my journey was to sit in Chicago history. The original scoreboard hails from 1937. When the score does change, you can faintly see a person making the adjustment by hand. The ivy along the outfield walls was planted in 1937. To this day, it continues to confuse visiting teams. It swallows up baseballs and shoots them back out again. There is no jumbotron or even many advertisements. Wrigley is far from your average modern American ballpark.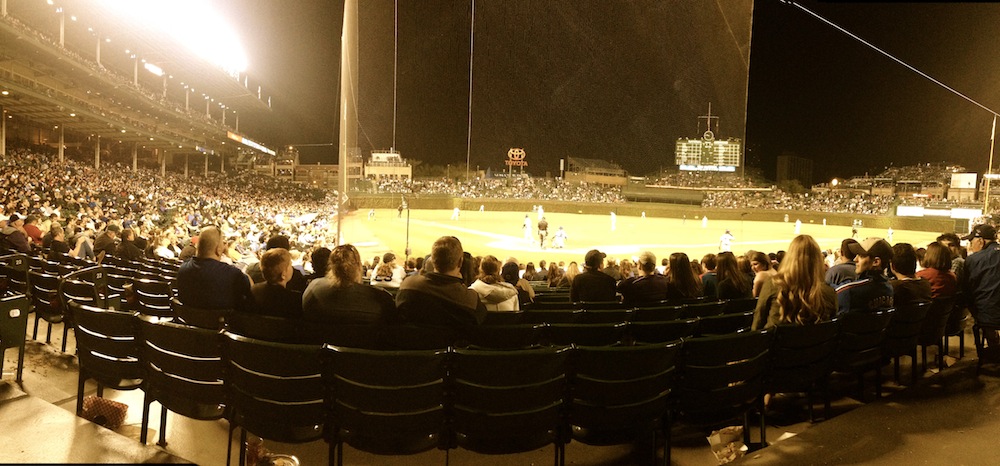 Despite the Cubs record, including the fact that they haven't won a World Series since 1908, the fans still pour in to see this baseball museum whenever the Cubs are in town. I ponder the fact that the Cubs are the most profitable sports franchise in America, despite their losing record. I suspect this field might have something to do with it. It encompasses a great deal of history and legends, including the infamous Billy Goat curse. In 1945, Billy Goat Tavern owner William Siani tried to bring his goat into Wrigley to watch Game 4 of the World Series. Him and his goat were denied entry. He placed a curse on the Cubs, saying that they would never win a World Series. And sadly for Cubs fans, the curse still holds true.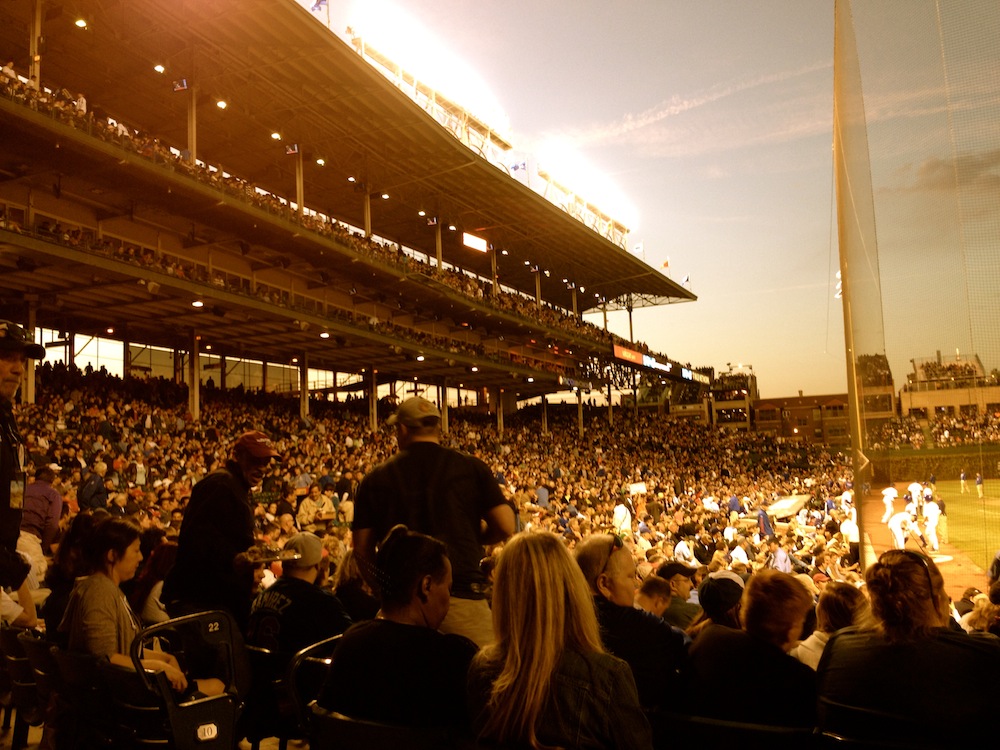 Amidst tradition, I decide to partake in the ritual of sampling a Chicago hot dog at Wrigley Field. The Chicago institution was born of street cart hot dog vendors during the Great Depression. The idea was to offer a whole meal on a bun for just a nickel. The price of a Chicago dog has greatly increased since those days to just under $7. It is composed of a Vienna Beef hot dog placed in a poppy seed bun. Bright green relish, tomato wedges, onions, Kosher-style pickle spears and spicy sport peppers are then added. It is only complete until it has a sprinkling of celery salt.
Chicago dog in hand, the game goes on as the lights of Wrigley brighten. Sadly for this Rockies fan and happily for Cubs fans, it ends in a Cubs victory. They cheer and swig down their Old Style beer, singing their victory song that is both ridiculously catchy and obscenely annoying. It's hard to picture this historic Chicago landmark changing, but Cubs Chairman Tom Ricketts doesn't agree. Currently there are plans to make $500 million dollars worth of renovations on Wrigley including the addition of a jumbo-tron and countless outfield signs. If the ideas aren't approved, Ricketts has even gone so far as to say the stadium would be moved. I wonder who would go to a Cubs game not at Wrigley Field. It is a unique place where you are part of history, where you sit in stands that others have before you, watching Babe Ruth crush baseballs to the moon and lament a goat for cursing your team. I take a bite of my Chicago dog as much of its toppings fall in my lap. Just like Wrigley, it might not be pretty. It might not make sense to pile a hot dog with weight it can't handle. Then again you wouldn't have this field or this dog any other way.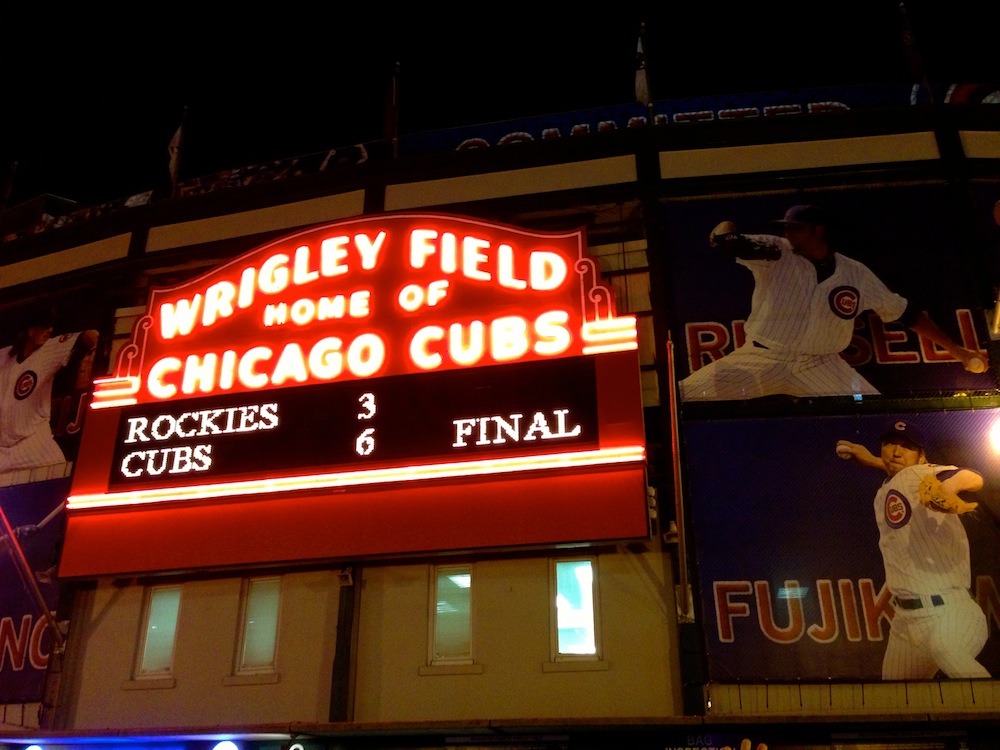 Have you been to Wrigley Field in Chicago?