Behind large and ominous doors, they are clamoring over candy. A small wooden desk separates the brassy crowd from ladies in matching blue uniforms, judges trying to keep a little order in the court of candy. Arms flail in the air as if they are betting on horses or partaking in an auction. They are all vying for the sweetness of attention to try confetti, a sugarcoated candy so deeply rooted in Italian history, it practically should get a UNESCO stamp of approval.
I head a little bit deeper into the building to see what all of the fuss is about amongst the demanding Italians. Little desks filled with color swatches line a long corridor. In between the makeshift offices, displays feature confetti in all colors, creations and arrangements. The Italian candy manufacturer Fabbrica Confetti Pelino has been churning out confetti in the town of Sulmona since 1783. I resolve to try and understand how a consumable sweet could seem like the center of one's universe at one of the most famous and oldest confetti creators.
Traditionally, confetti is composed of Avola almonds from Sicily, sugar and vanilla. Today, sugarcoated confetti can come with a number of contents other than almonds, including chocolate, cinnamon sticks and coffee beans. Confetti not only varies in what resides in its smooth sugar surface, but also in terms of its color. Different colored confetti can reflect the occasion, but most commonly, you will see white confetti, present at weddings from here to the other side of the world. It can even be made into mini works of art, often in the form of bouquets of flowers.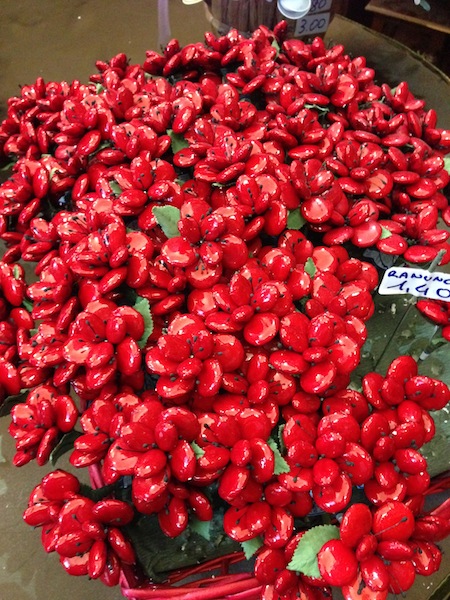 I am pushed aside by those who have appointments with the women in blue. They are planning some of the biggest events of their lives and confetti has to be included. For Italians, confetti appears at nearly every major occasion, from marriages to baptisms to gradations and engagements.
I follow the signs to the Museo dell'Arte Confettiera, a museum dedicated to the sugared treat. Throughout several levels of the building, I wander past old documents pertaining to the Pelino family, machinery used to make confetti back in the day and even antique confetti from well over a hundred years ago, a tooth chipping sweet in many respects. I learn confetti is produced within this factory over a four day process, all by hand. The recipe is over 300 years old in keeping with tradition, one devoid of starch or gluten.
I soon discover confetti is not something born out of the 1700s by Pelino. Rather, this Italian candy began as most things do in Italy, with the Romans. The Romans used to celebrate births and marriages with a form of the candy. Candied fruits were sugared with honey for important meals. Once sugar cane made it to Europe, confetti changed, becoming what many know as the confetti of today.
After learning about the importance of confetti to the Italian society through crumbling old documents and heavy machinery, I head downstairs with a greater understanding of why the building echoes with clamors over candy. There are very few constants in life, characters that you know will always be at the major events throughout time. However, in the case of confetti, it will always be there for the main acts. To some, it is just candy. To those within the walls of Pelino's, it is that powerful constant of tradition and taste.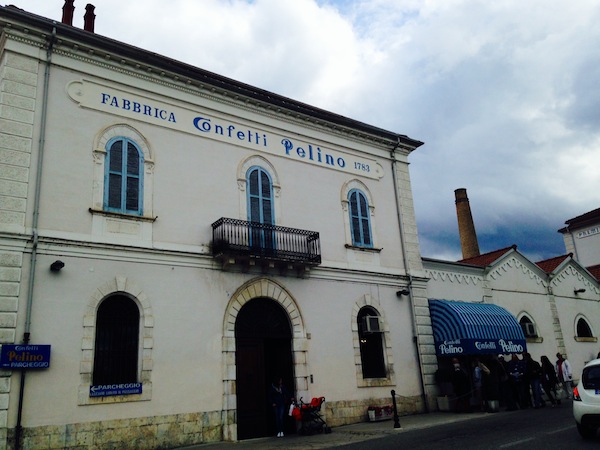 I grab a bag of chocolate confetti to take with me on the rest of my travels in Italy, a naive thought I soon realize. Two or three confetti later and I know what Sulmona's native son Ovid was referring to in his quote, "Nothing is stronger than habit." It is the sweetest of Italian habits, one that is far too strong and symbolic to ever kick. And just like that, I need another bag of Italian history to make it out of Sulmona in the morning.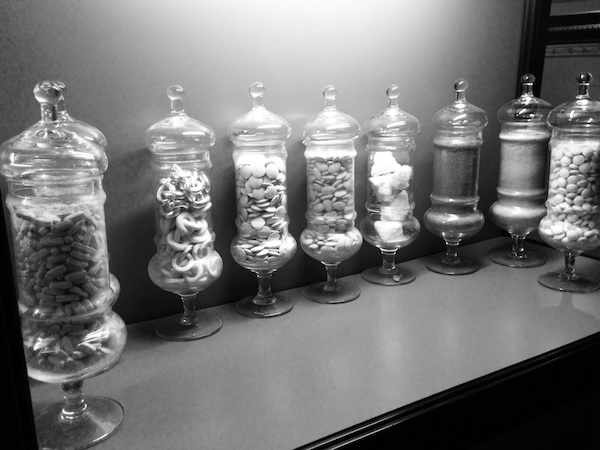 Have you tried Italian confetti?
More Information: You can visit the Fabbrica Confetti Pelino museum for free. Although I challenge you to walk out of there without buying a bag of confetti. Consider it your admission charge.