My rental car unknowingly moves through Bruges, or so I hope that is where I am. I am lost. The small streets of Bruges weave around countless canals. To say that I am confused would be an understatement. The city looks a lot like Venice, except in Belgium form with waffles, fries, chocolate, and beer on every corner. If Bruges looks dreamlike from a car window, I can only imagine how it feels without the separation of glass. I have to find my hotel.
Bruges boasts a 2,000 year old history when Gallic-Romans settled here. The history of Bruges is without question centered on being a trading city and port authority. During the Middle Ages, the city was the most important trade center of north-west Europe. The name alone means landing stage in Old Norse. This afternoon, Bruges is my landing stage.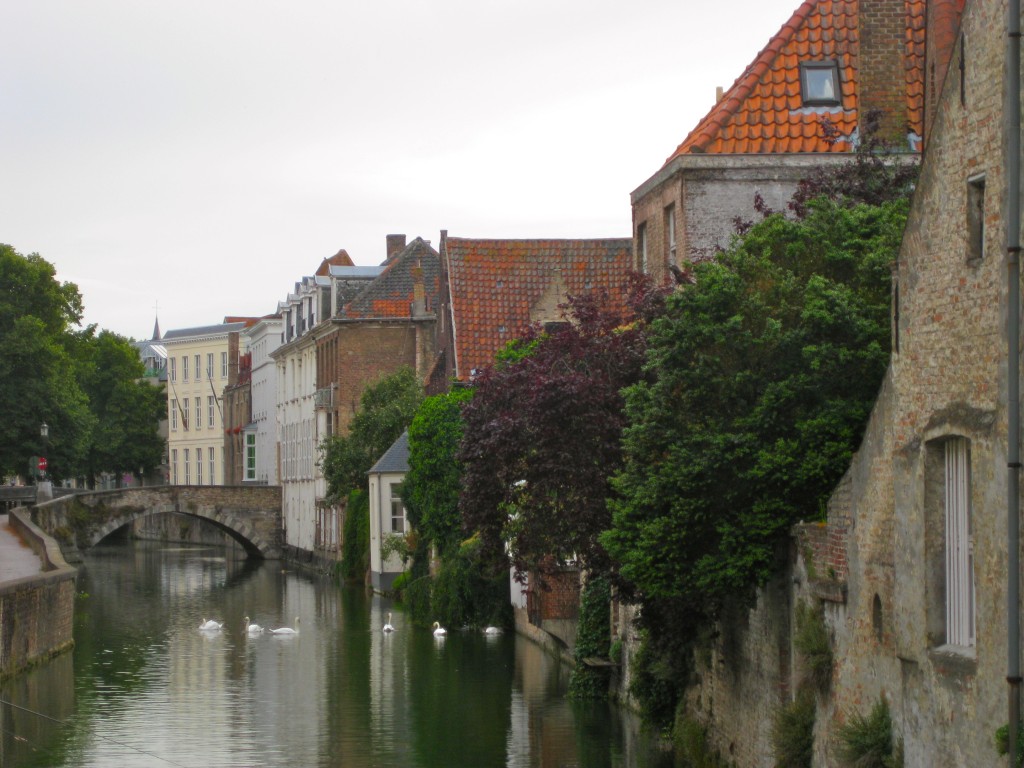 After asking around where my hotel is, I at last check in and lug 50 pounds of luggage up a narrow flight of stairs. It is time to explore Bruges. Heading out, Bruges does look more like a dream city. The streets are covered perfectly in cobblestone, orderly and clean. Swans elegantly glide through the canals as tourists join boat tours of the water passageways. I would make fun of these people with their cameras and wide eyes, but I can't. They look so happy, so in awe of what they are experiencing. Frankly I look just like them despite that fact that I was born with abnormally large eyes that always look wide eyed.
I stereotypically wave back at those tourists on those small boats. Why is that? Why is there always that person on the boat waving at people on the street? I guess they are so pleased they are moving through water and you aren't that they might as well be friendly about it.
I reach the Burg Square, the heart of administrative Bruges. The Gothic town hall is the true gem of this square, being one of the first monumental town halls in the Low Countries. I continue onto the largest of Bruges' town squares, the Market. Expansive and idyllic, the Market Square is wrapped up in commotion today.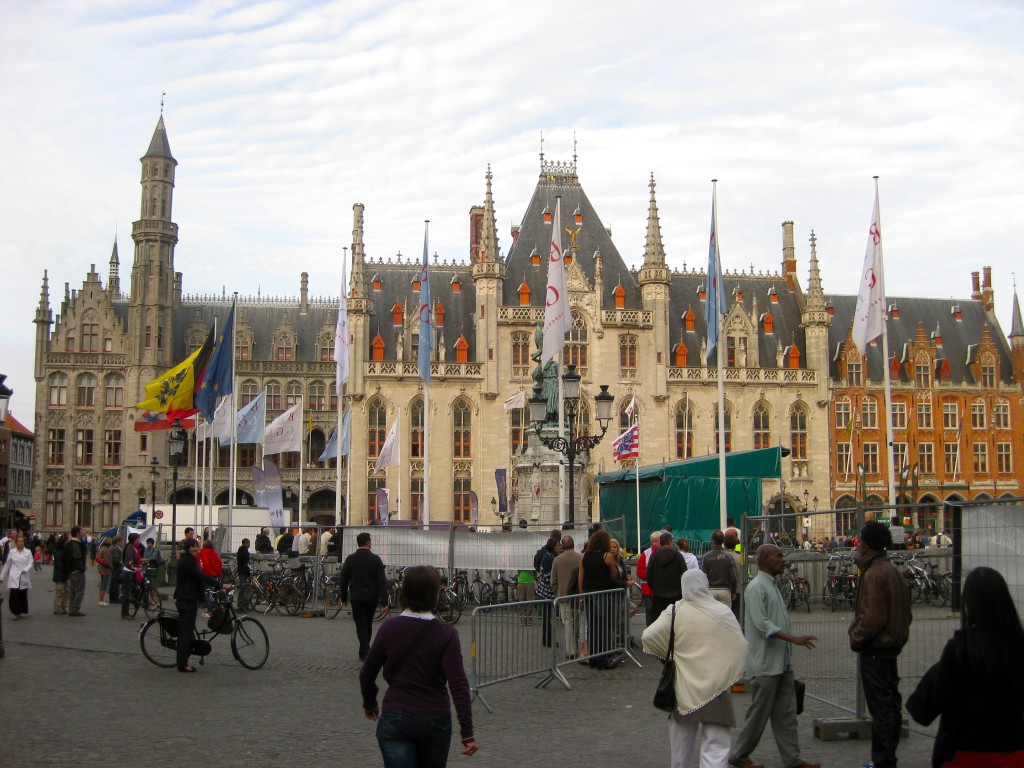 Workers set up a concert stage for some musical act that will perform tonight. What a setting for a concert. The belfry town looks down on the large space with probably the best seat in the house. Medieval houses line up as though they too are waiting patiently for the show to commence.
I continue wandering, not knowing where or how to get back to my hotel. This could be a bit of a problem as the sun sets. I decide to calm my worry about being lost and rather embrace the feeling with a can of Hoegaarden and some French fries. In my mind, few things in life can't be solved with beer and French fries. Uncomfortably full, I think I have the motivation now to head back in for the night. I wander some more down side streets. I cannot find a single street in Bruges that is out of place or not worthy of a picture.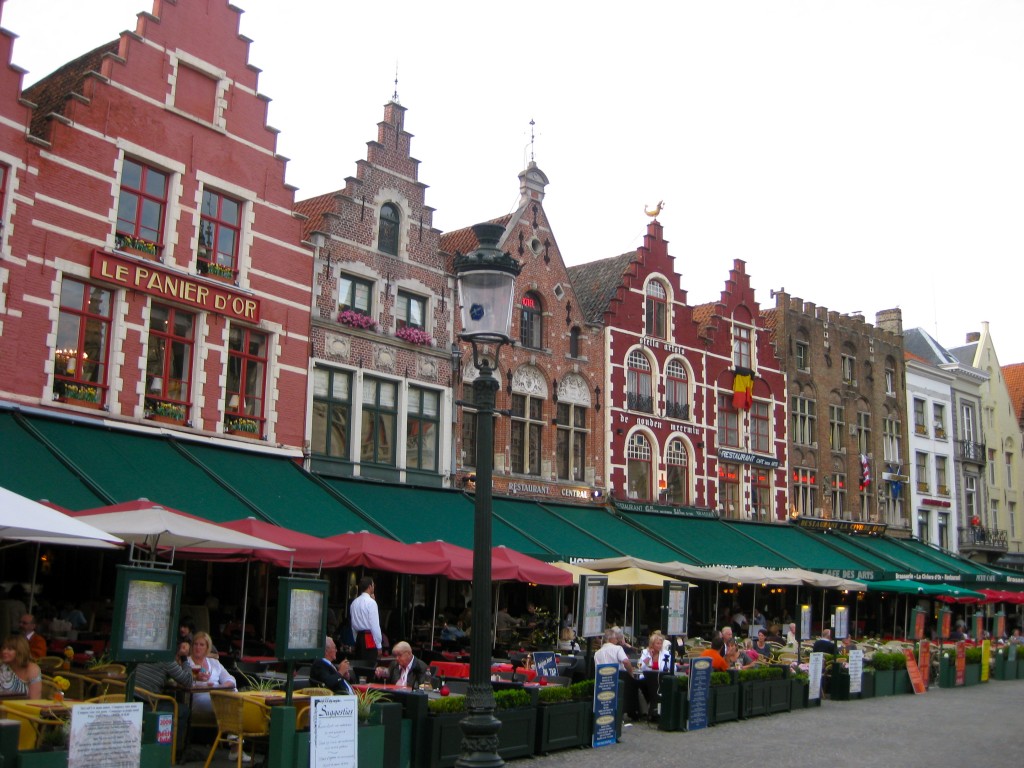 Upon returning home from Bruges, I sat around the dinner table with family discussing what is the most beautiful city in the world. Most said Paris, but I shouted out every Italian city I love. I'm biased there of course, but then I thought of Bruges. While that question cannot be determined with the saying of one city, Bruges is definitely high on my list of visually one of the most beautiful cities  I have ever seen or have been hopelessly and beautifully lost in for an afternoon.
If you would like to contribute to the "Where are you going" segment, please email whereareyougoing at suzyguese dot com.