In pre-kindergarten, you get to play all sorts of games that are supposedly educational, but really it is just one giant daycare. Most of us played the game "corners" or some variation, where you would play at different stations throughout the room. One station would have a kitchen set. Another one featured blocks to build towers. Another station, and probably my all time favorite, allowed for lounging on beanbags while looking at picture books. Needless to say, this is what that game of corners did not teach me: how to travel from corner to corner. I remember Mrs. Gold yelling "Switch!", indicating to each corner they now must travel to a new one. Kids would go everywhere, bumping each other and tripping to reach the coveted corner. It is amazing I made it out alive.
As you move up the grade school ladder there are those dreaded gym days. For those of you that did not dread gym class, I cannot imagine we would have been friends back in the day. At my school it was four-corner soccer I hated the most. Four goals are set up in the gym with four teams. Several soccer balls are thrown into the game. Once again, kids run everywhere, just looking at the ball and never at who is coming at them. Collisions would ensue as teams fought over soccer balls. Everyone was just focused on getting from A to B, B being the goal.  No one knew how they got to the goal or who they hit on the way.
By the time you reach high school, no one cares where they are going, just as long as there is some inclusion along the way. You study the most pointless of subjects like geometry. Ask me how many of those postulates I memorized back then I use today. I think you know my answer. The entire goal of high school is to get out someday, to move on, to travel to another state or country for additional education.
I guess they do prepare you to travel, but not how to travel. You get through high school to move from point A to B, B being college. You forget how you got there or whom you encountered or excluded along the way. High school is just a period of passing time. You study these pointless subjects without knowing why. It is just a means to an end, or rather a means to another means.
Last weekend, I waited impatiently at the baggage claim for my new golden suitcase. My mom and I discussed how no one would ever think that it was their bag at baggage claim because it was so different in color.
As I saw my bag make the climb up the conveyer belt, I started to walk to the point where bags drop down and the real traveling can begin with suitcase in hand. As the bag fell, I went to pick it up. A woman hastily came up behind me, hitting and pushing me. I thought at one point I would drop down into the rotating baggage claim and maybe someone would pick me up to take home. She apparently thought I was taking her bag and felt the need to knock me over in the process. No apology came or awareness of what she was doing. Her bag was leather and green, looking nothing like my golden bag.
This traveler clearly did not learn how to travel in school. She was just trying to get from point A to point B, knocking over anyone in the process. She was traveling from corner to corner with no real sense of the people around her.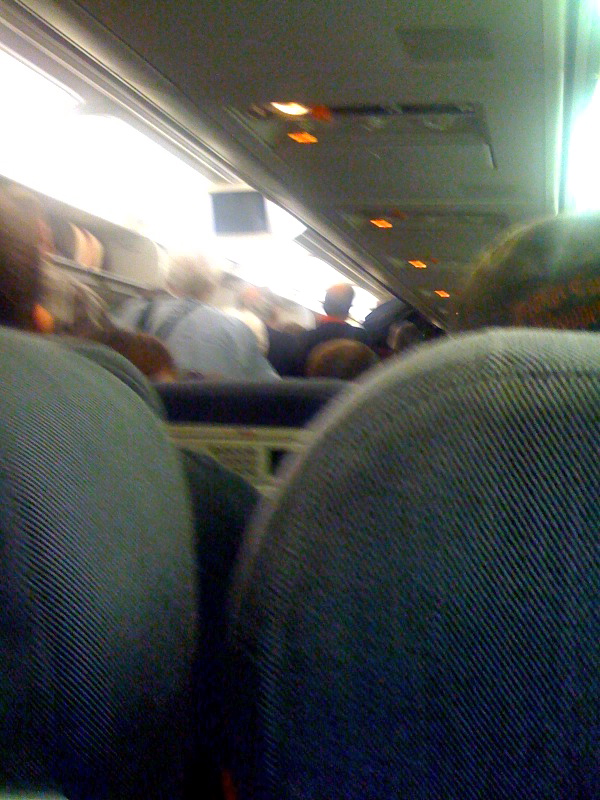 There are those travelers that hit you at baggage claim, stand in the airplane aisle slowing removing their jackets, or those seated behind you trying to get off the plane first that do not ever think about how they are traveling. How you travel I think says a lot about you. Those travelers with gazes of determination look blank to me. They do not know whom they are hitting along the way.
Just like the clueless high school student studying geometry to get to college or the 4th graders in four-corner soccer just trying to make a goal, you forget what you are doing in the process. Woman who knocked me over at baggage claim, I doubt you are reading this, but just in case you are, this is my ode to what they should have taught you in school, how to travel.
Have you experienced someone that knocked you over in baggage claim? Please share your stories below about encounters with those that don't know how to travel.