This week's Wish You Were Here post comes from Cynthia of CynthiaOrd.com, Thoughts on Tourism, People and the Earth. Cynthia is fascinated with travel and tourism as an industry and its impacts.  She likes to visit unlikely places and see how many people she can convince to go there.  Be sure to check out her blog and follow her on twitter at @cynthiaord.
In Tirana, Albania, the line between art and politics is a fine one.  The current mayor, Edi Rama, began his career as a sculptor and painter.  Although he is no longer a practicing artist, there are certain things about his artist mind that show through in his mayoral career.  He references art theory in speeches, for example.  When asked about the job of being mayor, he replied, "It's the most exciting job in the world, because I get to invent and to fight for good causes everyday. Being the mayor of Tirana is the highest form of conceptual art. It's art in a pure state."
Perhaps the most obvious example of the artist-turned-mayor's influence is the capital city's buildings.  Rama has carried out a number of beautification projects in the city, including the vivid repainting of the formerly drab and uniform communist-style architecture.  Bright yellows, violets, and greens cover the gray cement of the past.  These are 'Edi Rama colors.'  On some buildings, wild patterns of stripes, plaids, and polka dots add visual stimulation to the city's facade.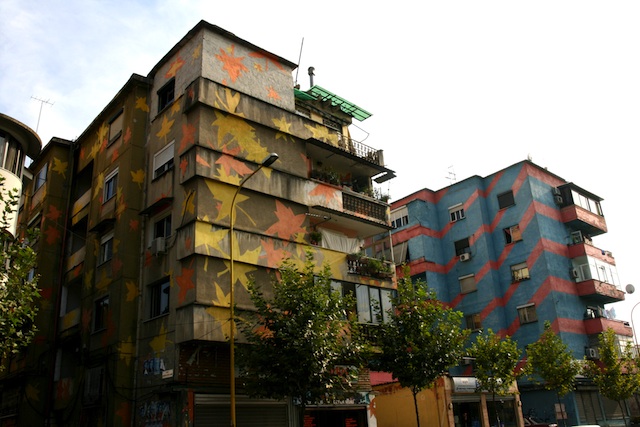 To Edi Rama, Tirana's buildings and their paint are symbolic.  They represent the conversion of Albania from an oppressive communist society to an expressive free state.  Commenting on the communist period in Albania, he referred to it as a "barbaric collectivism" that was followed by a "wild individualism". As an expression of his own individualism, he is known for wearing vibrant Edi Rama colored ties with his suits.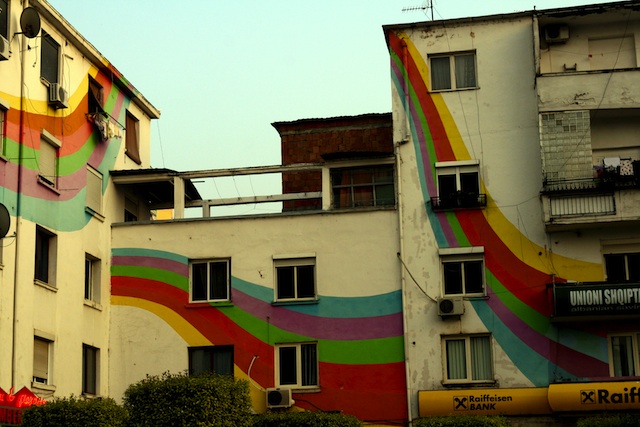 Rama was elected mayor of Tirana in 2000 and is now in his third term.  He was recognised as a World Mayor in 2004.  In Tirana, he is also responsible for most of the greening.  He planted 1,800 trees and converted 96,7000 square meters of land into green park area.  Rama wants to introduce Tirana as a dynamic European capital city on the international stage. The city, with all its new colors and trees, wishes you were here.