As I eagerly climb the metro stairs up to bright Barcelona daylight, I expect to walk up to one of the city's most pictured attractions, La Sagrada Familia. However, a Disney line met me, snaking around the Gaudi structure as though an exhilarating ride was on the other end. I hesitated. Is it really worth it to go in? Then, reason kicked in and I recognize I'm not sure I will be back here or see this under construction church actually completed. Twelve euros later, I enter the work in progress church.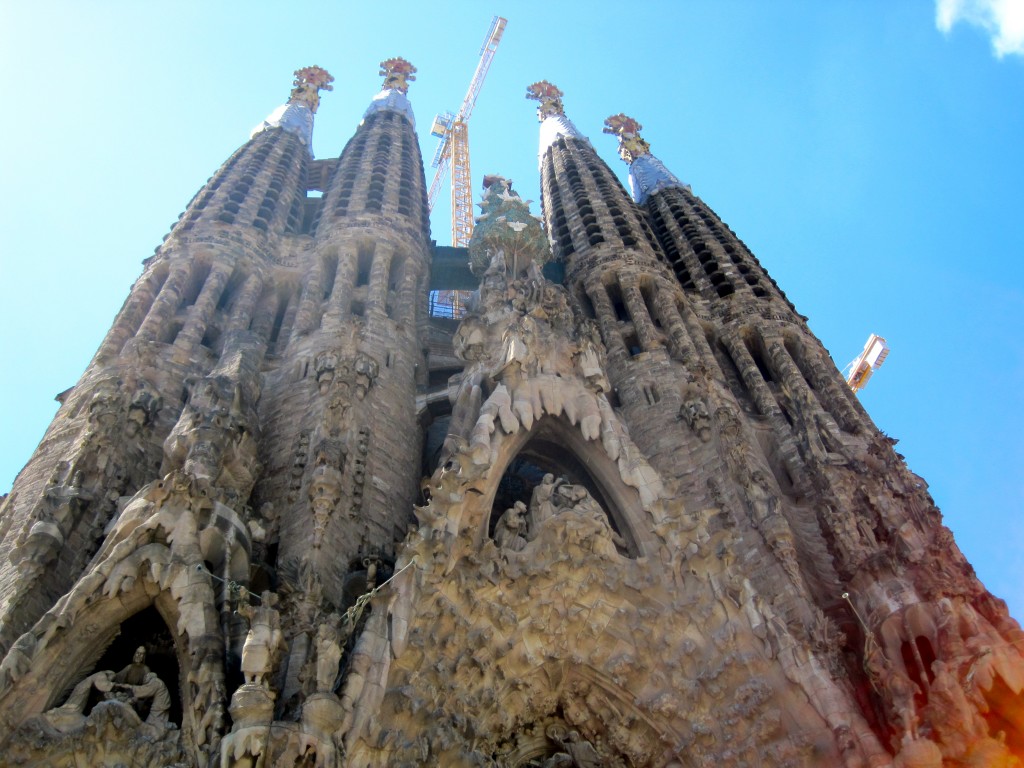 Construction on La Sagrada Familia began March 19, 1882. Just one year later, famed Barcelona architect Antoni Gaudi would take over with his vision for the church. Right in the center of the city, La Sagrada Familia intends to tell the life of Jesus and the history of faith. What makes this the most visited monument in Spain is that it is not finished, with construction stretching well over a hundred years. Built from donations, Gaudi said of the work, "The expiatory church of La Sagrada Familia is made by the people and is mirrored in them."
Most are snapping their cameras at the finished pieces of La Sagrada Familia, the remarkable stained glass or the bejeweled columns and sculptures. For me, it was difficult to shake the feeling I was inside a tourist attraction before I should be. No one on earth today saw the Coliseum in Rome before it was completed. Most monuments and the like are either well preserved from their completion or in ruin after centuries of wear and tear. We mostly see the after, not the during.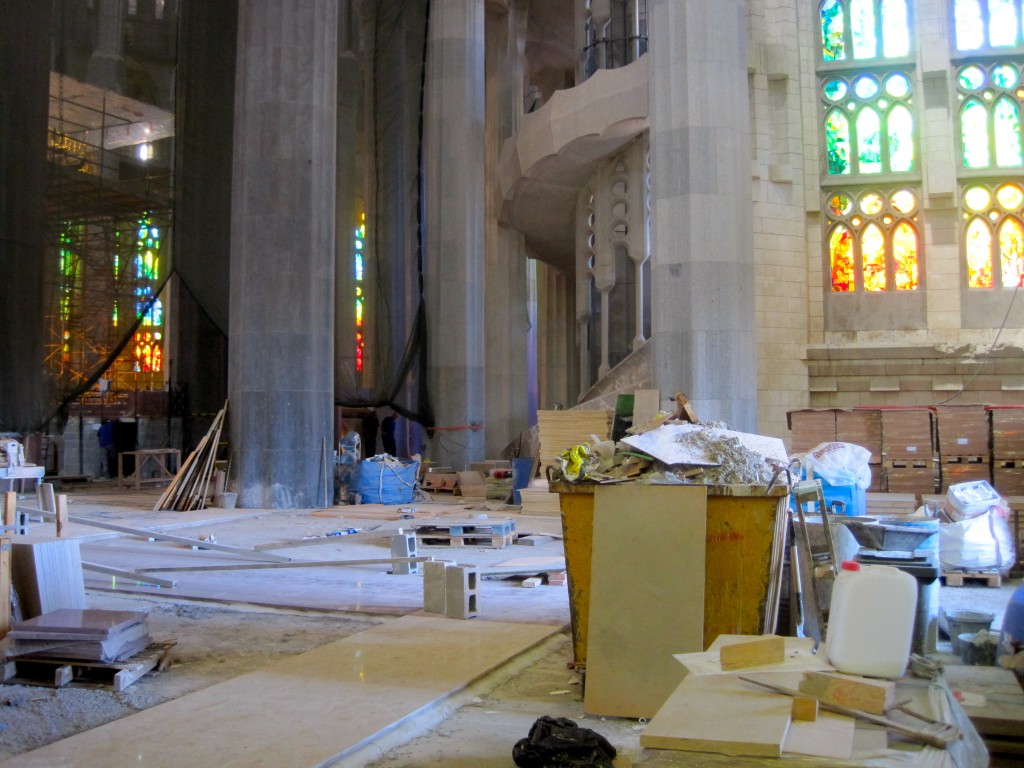 I am not sure I would want to see La Sagrada Familia completed. There is something to be said for viewing construction trash and buckets all askew as countless travelers stand behind a barricade with cameras in hand. Its "work in progress" quality seems incredibly symbolic of faith, not just in regards to religion but travel. Like La Sagrada Familia, I think most travelers are a work in progress. We meet people along the way that see our unfinished edges. We enter into an exchange and later shake our heads. Why did I do that? Why did I go here? Next time, I won't…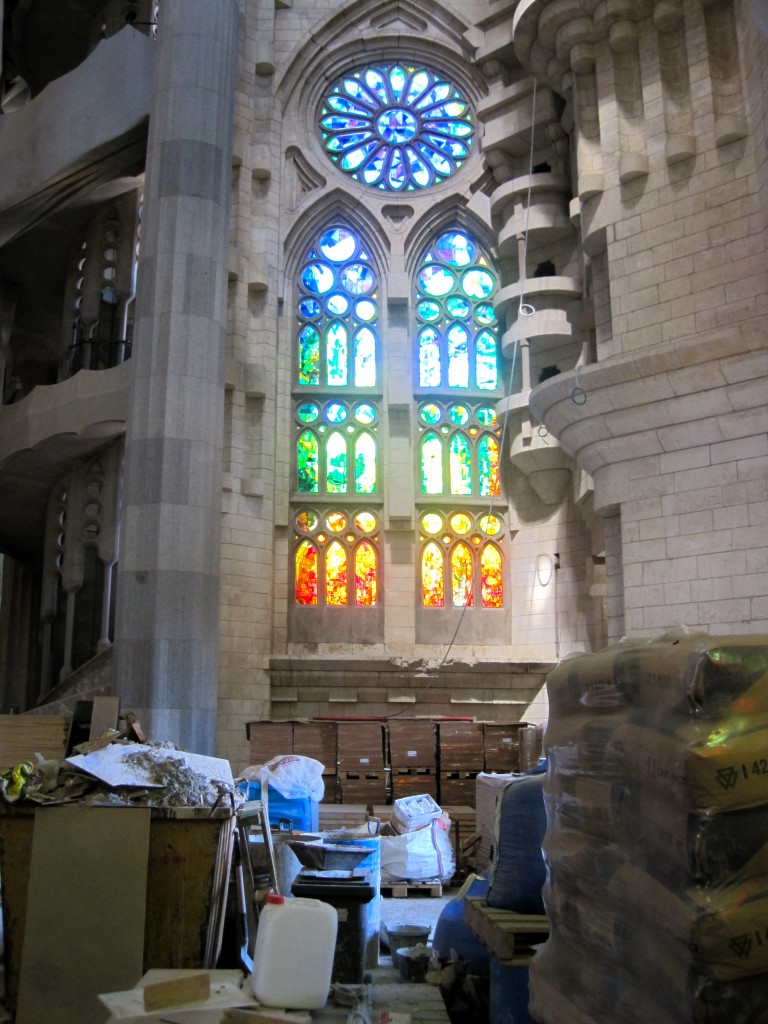 As a traveler you see countless monuments and statues, people and places. I like to believe each place adds on a stitch to your sleeve. La Sagrada Familia looks almost as though portions of visitors have been tacked on here and there, just as Gaudi intended. While the church may be a giant symbolic sandscastle for religion, it could also be a symbol of travel and time.  No travel experience will go as planned, just as La Sagrada Familia suffered unexpected setbacks with Gaudi's death and the Spanish Civil War. Some travelers will regret one thing or another, just as architects working on today's La Sagrada Familia question if their additions would please Gaudi. Others will live in denial that their travels achieved some higher level than the next traveler. We plan and plan to avoid hiccups in the road, and then find those hiccups to be some thing of beauty. Regardless, I know I am a work in progress traveler and I like to believe most are. Even if you have traveled around the world 15 times, I still don't think your travel self is complete. The proof lies in the fact that you keep traveling.
When Gaudi was asked what he thought of others completing his work, his only concern was passion. "What must always be conserved is the spirit of the work." Once again, La Sagrada Familia leaves a lesson on travel. We will take on paths others have around the world. Coming after them, we must maintain the spirit of travel.
I think some may say it's a waste to enter La Sagrada Familia. Twelve euros to see an unfinished work seems somewhat unjustifiable, but for me it was that feeling. I was a part of a major construction, contributing to its progress as it contributed to mine.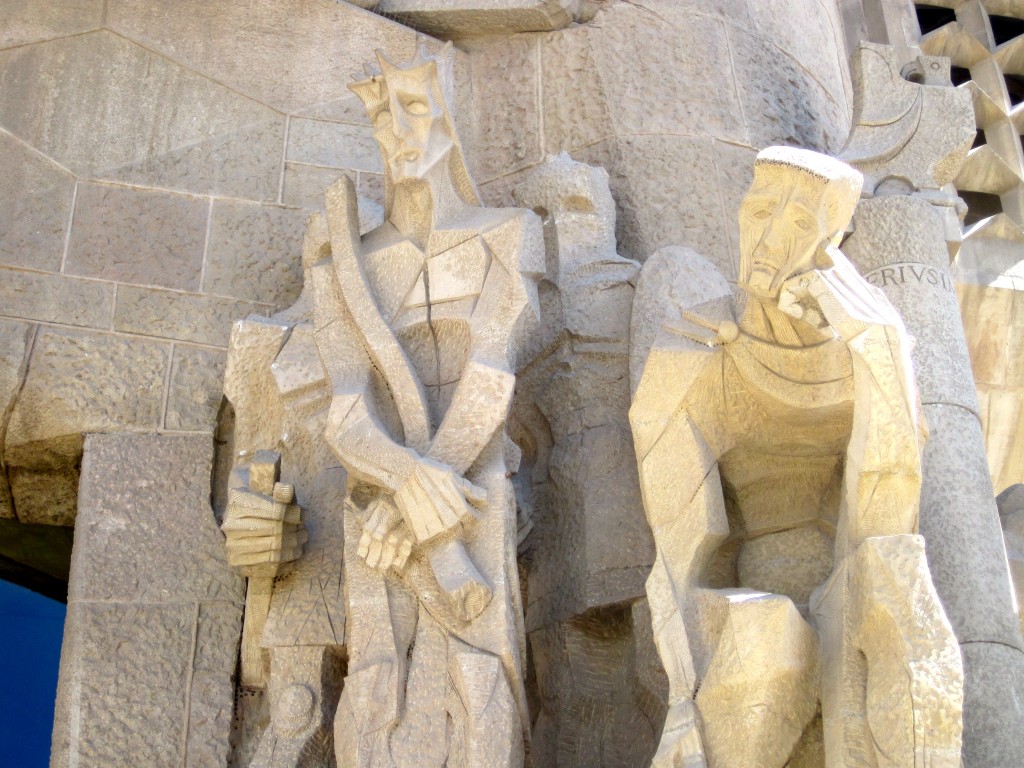 Have you ever been to La Sagrada Familia? Do you think all travelers are a work in progress?