For the most part, travelers I see are often those with backpacks. Articles circulate linking the backpack to different aspects of how one travels. Suddenly an item strapped to your back becomes a whole way of being. Backpackers are adventurous. Backpackers are incredibly social. Backpackers love jumping from place to place more easily. I didn't know a means to carry clothes, computers and guidebooks could say so much.
I don't use a backpack. I think it stems from a grade school distaste for backpacks. Having to lug home every heavy textbook known to man and woman proved challenging for my back. I would end up looking more like a hunchback leprechaun of sorts. I was the messenger bag, tote carrying kid. I would be made fun of, called overly girly, and even high maintenance. Once again, I had no idea what you carry your necessities in could say so much about you.
Just like in 7th grade, I feel a bit left out of the backpack traveling crew. I read these articles telling me of the backpacking lifestyle. Perhaps I am all alone in the luggage world, but give me a tote bag, duffel bag, or a rolling suitcase any day. Maybe if I am running through a jungle at some point, I will strap a backpack to my back out of practicality, but for the time being, rolling suitcase travelers, here are some of your beneficial traits that often go unnoticed.
You Roll With The Punches
See those stairs up ahead? A rolling suitcase traveler sees those as extra exercise, a challenge they must and will complete. Italian train stations are not conducive to rolling suitcases for the most part. Leaving Rome for the US, I had to lug around 40 pounds of suitcase up and down stairs. Was it fun? No. However, a small piece of me considers that challenge an accomplishment. The bump in the road doesn't faze me when I realize I have a touch of Hercules in me. This trait to a rolling suitcase traveler can transition into other aspects of travel. Something challenges you on your travels. You can handle it, because you roll your suitcase up and down stairs, across mountains, and over deserts. You go with the flow and get over it. You are not limited or labeled to travel by what you carry.
You Meet People Due To Your Luggage
I'm not sure why a backpack makes you more social, but I have found rolling suitcases work the same way. "Hey, could you help me with my bag" turns into a conversation, a moment of kindness, socializing with a stranger. I think the humanity of people can be more apparent to the rolling suitcase traveler. Will that person on the narrow sidewalk get out of your way or won't they? A backpacker never sees this aspect for no one has to step aside for them. I appreciate simple kindness of strangers a great deal more because of my set of wheels. Also, I have found in hostels and guesthouses people will socialize with you even though you have a rolling suitcase. Miraculous, I know.
Your Sense Of Travel Stands Out
As the rollers hit the ground, a noise is often created. Staring begins. "Oh no, here comes a suitcase" some seem to say on their faces. Talking to a backpacker friend of mine, he said that he loved a backpack because it drew less attention to himself. A rolling suitcase, you hear. I think it goes both ways. A giant backpack on your back tends to warrant glances just the same as rolling a suitcase over cobblestone does. Standing out is not necessarily a bad thing for a traveler. If anything, I feel a sense of traveling with that noise. I often look at those looking at me thinking, "I wonder where she is going" as I think to myself "I'm going."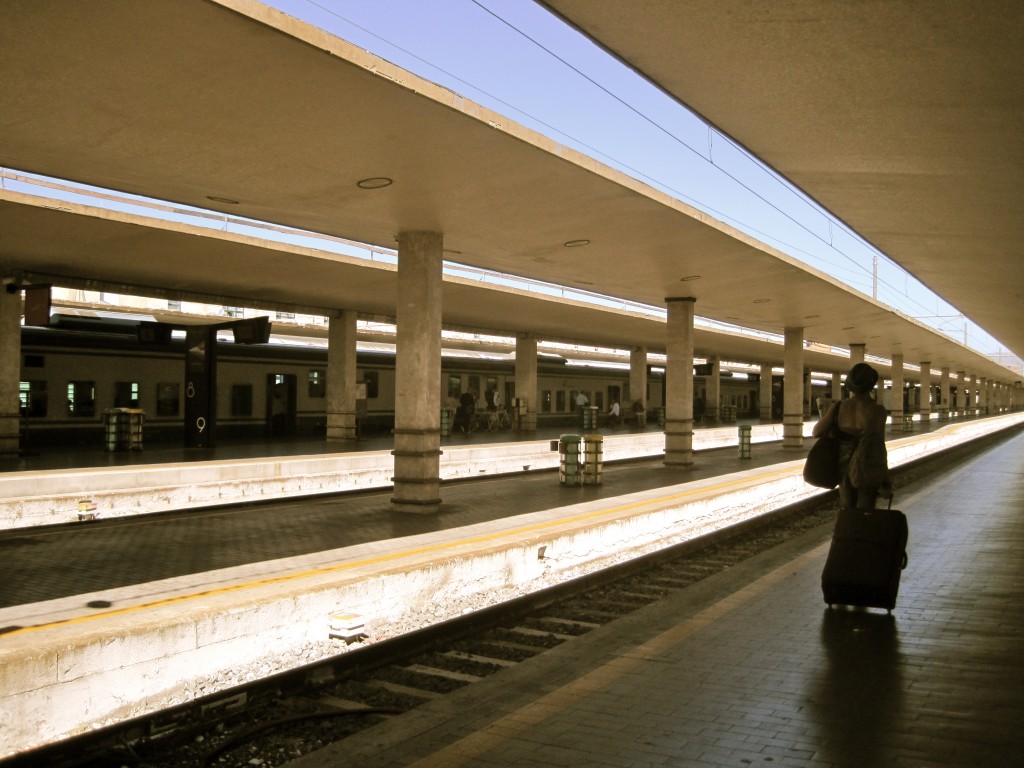 Perhaps these benefits are all in jest, but regardless of backpack, duffel bag, rolling suitcase, you travel. No matter how you carry your belongings, you are a person with a personality your backpack or rolling suitcase isn't going to give you. If there is one thing travel and 7th grade has taught me, be who you are and carry what you will even if you are labeled in the process.
What benefits do you find of carrying a suitcase other than a backpack? Backpackers, what are the benefits of your backpack? Try and convince me of your ways. Maybe I will cave in one day and try traveling with one of my old purple Jansports.