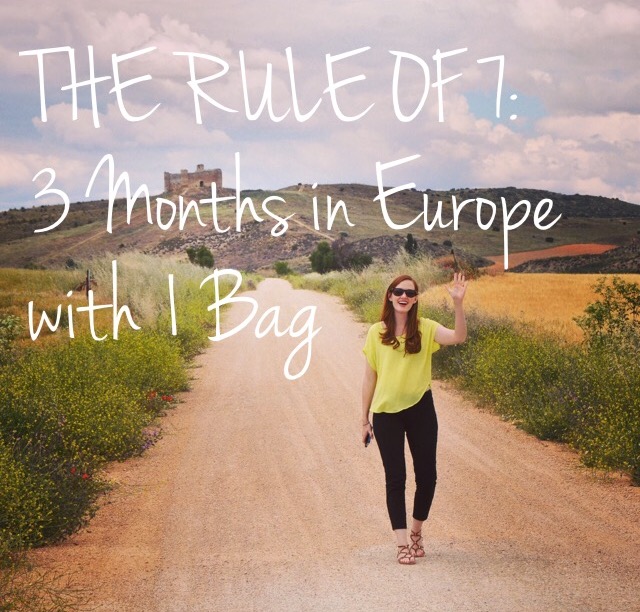 The first time I traveled to Europe for an extensive period of time, I brought two large suitcases, a small duffle bag and a large tote. Since those early days of over-packing, each time I head to Europe for more than a month, I try to pair down how much I carry. Lugging suitcases on trains, planes and across cobbled cities while dodging tour groups is every traveler's hellish, sweaty nightmare.
Those condensed packing lists advising to just pack two T-shirts, one tank top, three dresses and four pairs of underwear aren't up any sort of alley I want to be on in the first place. Traveling around Europe, you will standout like a sore thumb if you don't care about what you are wearing. While it would be nice to throw on what you would back home, I am a firm believer of trying to dress for where I am to avoid offending the locals, receiving those judging stares and simply to be treated well.
Then, the challenge of trying to be compact for three months of travel walks into the room and puts the kibosh on any semblance of fashion. Luckily, after countless extended trips, I think I have uncovered an easy recipe for success, the number 7. Simply stated and easily carried out, I packed mostly 7 items of each area of clothing. If you are planning to travel around Europe for at least three months in the spring, summer and early fall and you want to travel fashionably, here is how I am achieving compact, fashion success with an 18" carry-on sized suitcase and a tote bag.
7 Dresses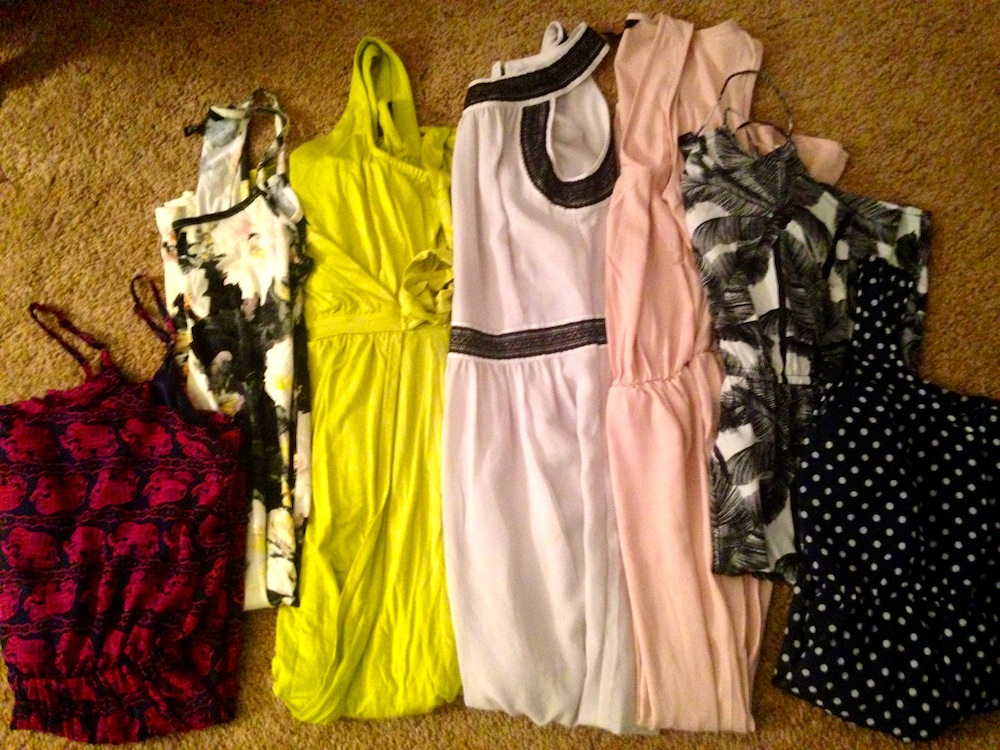 Dresses are one of the best items for women to pack to Europe in the summer. You always look more put together and fashionable with very little effort involved. I packed three maxi dresses, all solid colors. As they are longer and I am traveling for a long period of time, I didn't want to get sick of a pattern head to toe. However, with short dresses, I mixed in my patterns. I packed four short dresses, one polka dot, one floral, one print and a romper that I consider in the dress category.
7 T-Shirts
Plain colored t-shirts are every traveler's go-to while traveling for a long period of time. You can always dress them up or down depending on where you are going and what time of day. I packed white, black, gray, light pink/peach, turquoise, navy and royal purple t-shirts. By mixing and matching, all of these colors go with the bottoms I packed.
7 Tank Tops
I packed my tank tops similar to the t-shirts. I went with basic, neutral colors so that I could mix and match to create different outfits or to wear them under some of the blouses that I brought. I packed a peach, white, two black, two striped and one cream tank top.
7 Blouses
To keep my outfits looking less one-dimensional with solid colored t-shirts, I threw in seven more fun blouses. These coordinate with all of the colors that I brought, but have more patterned work or detail than a t-shirt. And as it is summer, I went with very light fabrics to save even more room in my bag. My blouses were peach, citron, royal blue, teal, two cream colored and a floral print.
7 Bottoms
The bottom department was something I could have edited better after being in Europe now for almost a month. I needed more cold weather clothes in the beginning. However, I did pack, one pair of jeans, one pair of black pants, three pairs of shorts (olive green, black and citron) and one yoga pant. While I am now battling the heat in Spain and cold weather isn't an issue, I do wish that I packed an extra pair of jeans and eliminated one of those pairs of shorts.
Other Odds and Ends
Rounding out my bag, I packed two pajama sets, one statement necklace and three pairs of shoes. I packed one sandal, a tennis shoe and one foldable flat. I have also been wearing a simple caramel colored leather jacket, which goes with everything and always look sharp.
In order to pack fashionably for several months in Europe in the summer, I also selected several colors to pack. I included the basic neutrals of black, white, cream and gray. To add some color, I packed items with peach, citron, turquoise and navy/blue. So far, everything has mixed and matched well, essential if you want to pack light but also look the part of a stylish European.
Why 7?
My packing list might sound like a lot, but everything fits in my tiny carry-on sized suitcase. It is actually one of the smallest sizes for a rolling carry-on at just 18 inches. I packed the number seven not just at random. As there are seven days in a week, I reasoned that I would be packing enough clothes for a whole month, meaning I would only need to do laundry roughly three to four times on my travels if that. For a full week, I could wear dresses. For another three weeks, I could wear all of my top and bottom combinations. I have 28 outfits in one bag. I am not limiting myself to one or two of certain items. This kind of formula can be followed for anywhere from one to four months in Europe during the warmer months of the year.
Lessons Already Learned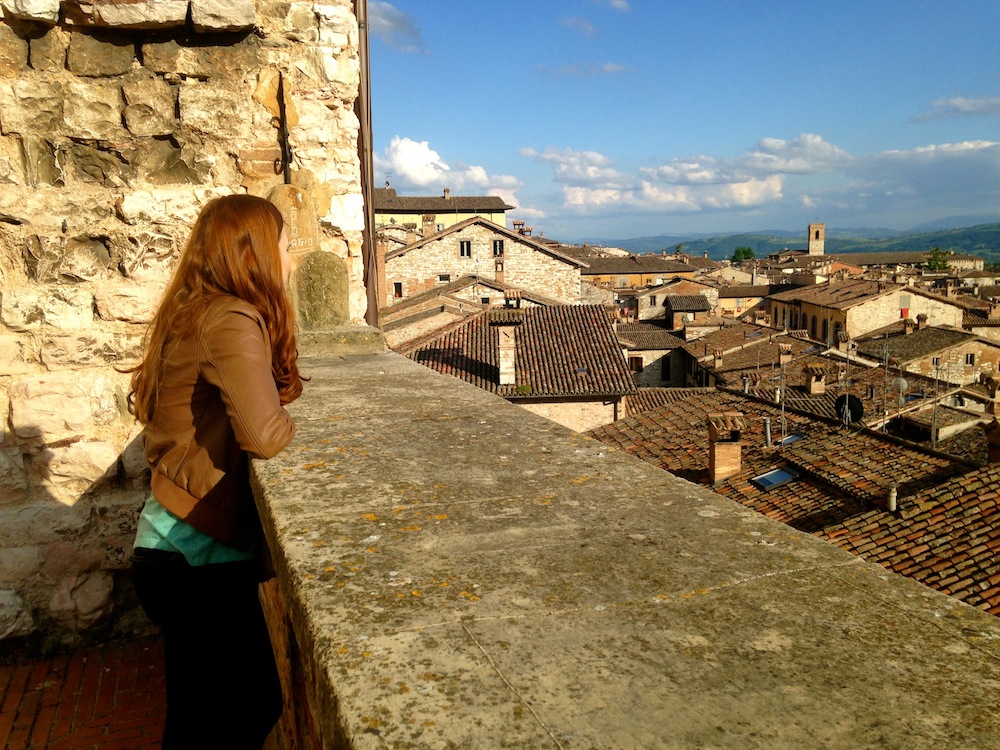 I intended to publish this packing list before I even left for Europe. However, I waited to see if this rule of 7 would actually work. In the end, I am glad I waited as I would advise adding a few cold weather items, namely a rain coat, an extra pair of jeans as mentioned and a long sleeve shirt or two in the T-shirt category instead of all short sleeves. I also would have added a large scarf or pashmina for covering up in churches so that I wouldn't need to lug my leather jacket everywhere. Overall, I have been able to zip up my bag with little effort, traipse around ancient cities without thinking my arms will fall off  and look and feel fashionable with very little math needed to get there.
How do you pack fashionably without over-packing for long trips?