A man nudges me aside to pay for his cigarettes. A woman plows through to pay for her full tank. Shelves are stocked with snack foods and sugary drinks. I'm waiting in line at a gas station, but this ordinary setting is not quite normal. An abnormal amount of barbecue sauce is up for sale and roughly a 100 of us are just standing in a makeshift line snaking around the store. The woman in front of me jokes, "Is this the line to pay for gas?" Her predictable line isn't funny to a grumbling stomach. I smile through my hunger and resolve to wait as I would for a Michelin starred restaurant.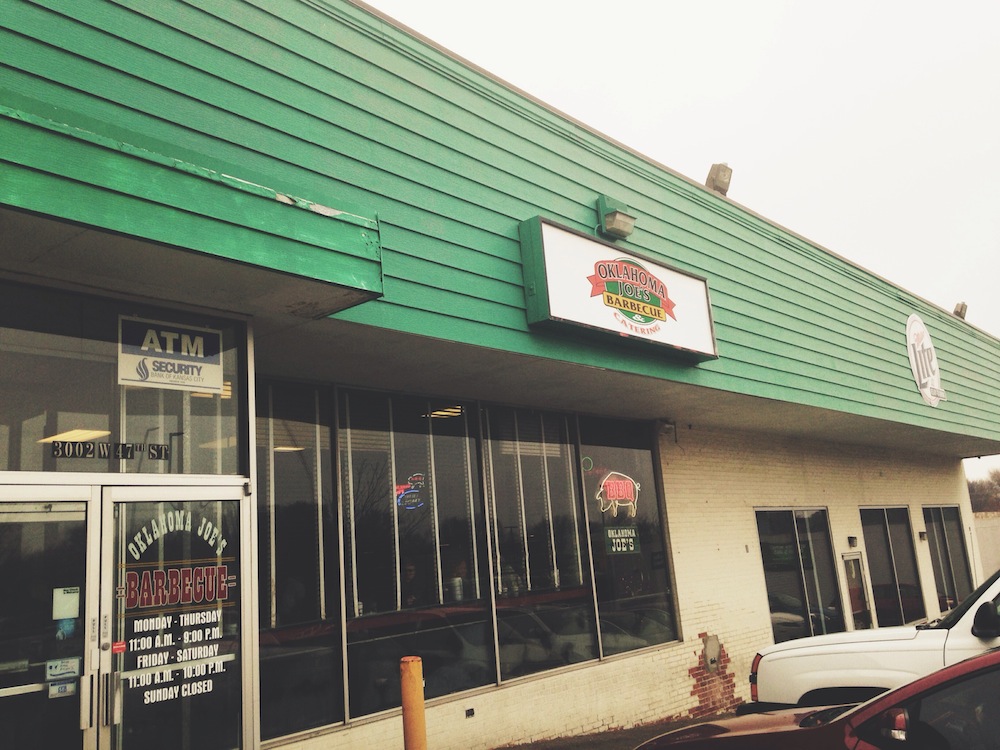 It isn't hard to believe some of Kansas City's most revered barbecue is in an uncanny location. Barbecue in this borderland town was born out of unsuspecting locations. The Father of Kansas City barbecue, Henry Perry, came to town in the 1920s and set up a cart in an alley to sell barbecued meats. Perry's selection wasn't a coincidence. Kansas City fell at the meeting of two major railways. It acted as an important river port and being at the center of the Midwest agriculture, specifically livestock, the community was destined for perfecting grilling and smoking meats. Once the Civil War concluded, slaves who mastered barbecuing meats on the plantations of the South ventured up to Kansas City where meatpacking was a major industry.
Perry would sell any kind of meat he could find, smoked and grilled to perfection. His knack for barbecuing eventually caught on around Kansas City. The greats of today's Kansas City barbecue joints learned from Perry including parties who went on to create Arthur Bryant's and Gates Bar-B-Q. Today, Kansas City practically covers in a cloud of smoke due to the over 100 barbecue restaurants.
I have been on my feet for well over an hour now. We have moved roughly 10 feet, but I can see the light at the end of the tunnel. I peek in on this gas station's "dining room". Heads are down and every hand either has a fork or a rib resting comfortably on the fingertips.
I found myself on the Kansas side of Kansas City in order to sample the barbecue of Oklahoma Joe's. Started by Jeff and Joy Stehney, I learned after one bite of pulled pork, the unique location of this barbecue pit isn't just a gimmick. The couple quickly gained acclaim for their barbecue after entering contests and competitions. They would partner up with Joe Don Davidson, founder and owner of Oklahoma Joe's Smoker Company. While Joe would sell off his shares of the business and close the first Oklahoma Joe's in Stillwater, Oklahoma, Jeff and Joy would keep the coals going by opening up in the gas station on the corner of 47th and Mission.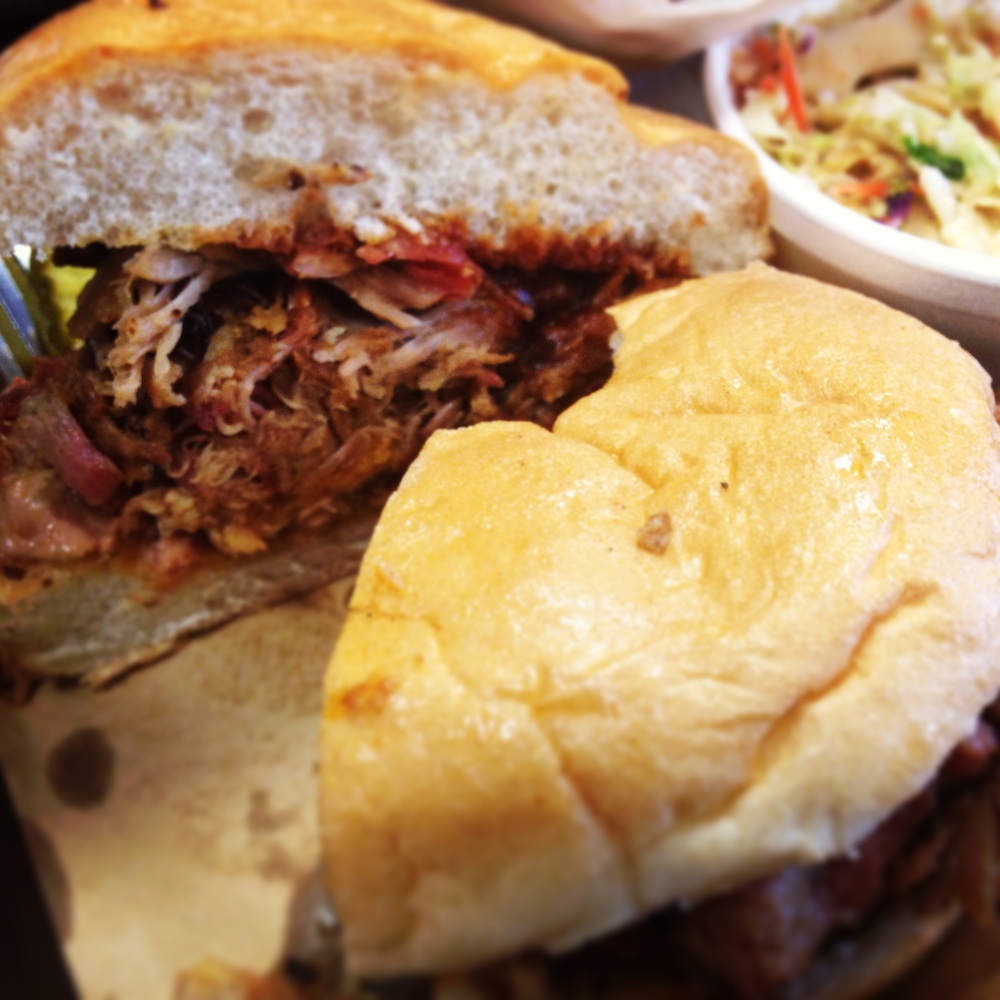 The owners of Oklahoma Joe's say they don't want to be the biggest in the business, but merely the best. I came to Kansas City seeking the best in barbecue for to get to know this city, you have to know barbecue. Kansas City barbecue differs from that of Tennessee or Texas, as one meat is not the sole focus. Just as Perry would smoke up anything he could, from opossum to pig, it's all on the pit. In addition to being not one set meat specialty, Kansas City barbecue is always slow smoked over wood, at times up to 18 hours. Usually a sauce composed of vinegar, black pepper and tomato for color compliments the smokiness of the meat. 
In many respects, Kansas City barbecue is the culmination of the barbecue styles around the United States. For me however, to be Kansas City barbecue, I argue that it must also be served in an uncanny location, from an alley cart to a gas station. Kansas City barbecue has come full circle. With a bulging stomach, I sit back and see myself in the others still waiting to be served. They look at me with a jealous eye and post pulled pork sandwich, I now know why.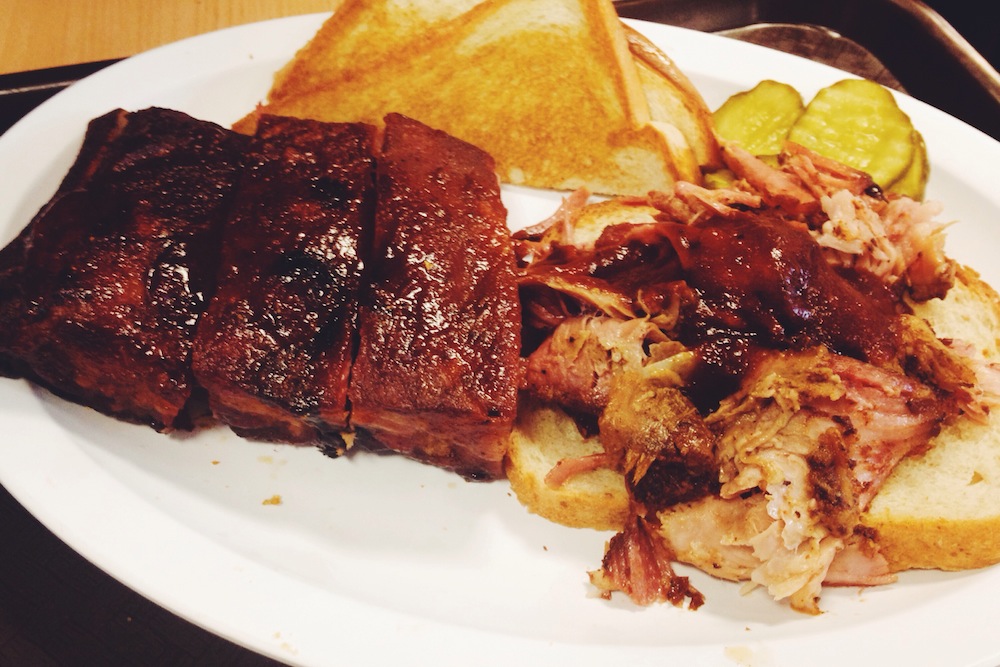 Have you had Kansas City barbecue? Weigh in on your favorite.