My bag took a tumble down the escalator as I made my way to airport security. Before being intercepted by a man, I watched in horror that I could possible take down someone before his or her flight. I could just read the headlines, "Girl loses control of suitcase, injures 1".
The scene at the airport, especially around this time of the year, is usually one of complete and utter chaos. You have your novice fliers, those who are just headed to grandma's house, their one trip of the year. Then you have your families, clustered together with a mom just hoping all will go smoothly with the three year old. And of course there are the expert travelers, those who have done this before, usually in a mad dash, and in this case, losing their suitcases on escalators they are in such a hurry.
While the holidays can be a stressful time in the airport, I have managed to get through these chaotic spaces unscathed. I guess I can't say the same for the people I have tried to take down with my suitcase.  While I might not be George Clooney in Up in the Air, I do know how to breezy through an airport in the quickest of fashions. It usually involves avoiding several types of personalities. However, there are those people, those who make this impossible at times. These are the people I can't stand in airports.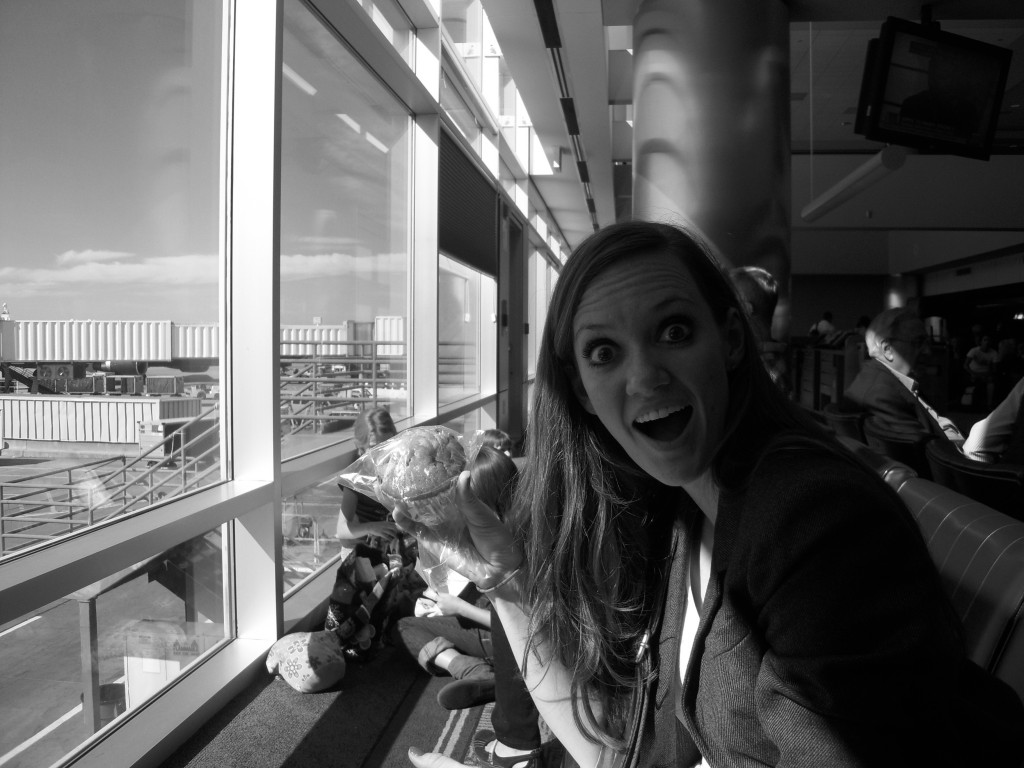 The Middle of The Road Saunterers
I encountered one of these just a few days ago. A mother of two and with her husband gets into the security line and decides this is the time to sightsee. She keeps stopping to look all around, as though she has never been in an airport. A whole line waits behind her with different stress levels. Some are worried about making tight connections while others like me enjoy the peace and clam that comes post security.
The middle of the road saunterers usually pick the middle of a walkway, escalator or line to just relax and enjoy the scenery. They are out for a Sunday drive in the airport apparently. These are people you must avoid at all costs and spot a mile up the road. If you are battling a tight connection, they could be your downfall. Middle of the road saunterers, please step to the side and saunter. You are not the only one trying to get somewhere.
Bluetooth Chatterboxes
The Bluetooth chatterboxes usually get to the gate and stand with their carry-on suitcase and laptop, chatting about some meeting that needs to take place or how Bill should have sent in the files. Why do you need a Bluetooth when you aren't driving? If you are stationary, would it really be too much trouble to hold a phone to your ear so I know you aren't just talking to yourself?
The Bluetooth Chatterboxes sometimes talk into their Bluetooth while in airport security. This is equally troublesome for yet again I think you are talking to me or to yourself. I once witnessed a woman chatting endlessly on her Bluetooth as she entered an airport bathroom stall. Can't the conversation wait so that flushing toilets aren't the background music? Airports are not always appreciated, often glazed over with Bluetooth conversations. Get off your Bluetooth. The meeting can wait and Bill will send the files. Watch the world of emotions going on around you.
Gate Hoverers
Gate hoverers only belong in one place, somewhere far, far below the earth. When the airport attendant gets on the speaker to announce the order for boarding, that isn't your sign to get up and hover. When the airport attendant gets on a second time to tell you to please sit down until your boarding number is called, that is still not the time to get up and hover.
Gate hoverers truly only make the process worse. I know you are overly concerned about overhead space or perhaps you just can't stand to have someone in front of you, but take a seat. You are delaying the departure of this plane and probably someone trying to weave through your grouping to get to their own gate.
The Power Tripping Security Agent
I walked up to airport security a few months ago. The security agent asked me if I had flown before. I said, "Yes, don't worry. I don't have a full-sized bottle of shampoo in my bag that I will be shocked when you take it away." He responded, "I'm guessing that has happened to you before." No, sir. The power tripping security agent usually lacks a sense of humor and will insult your intelligence in the process. They make some comment, knowing full well you have to grin and bear it.
I always look for the security line without these agents, but sometimes they are unavoidable. They can make you cry. They can make you angry. They are best avoided to ensure a pleasant airport experience.
Who can't you stand at the airport?