She rests her head on his shoulder as they contemplate the world, the world as seen on the departure board at the Munich Airport. Seemingly in no hurry, the couple embodies the airport for me. Airports are places of great emotional rollercoasters. We say goodbye and hello. We love them. We hate them. If ever there were a place of to loathe and love, the airport would be it.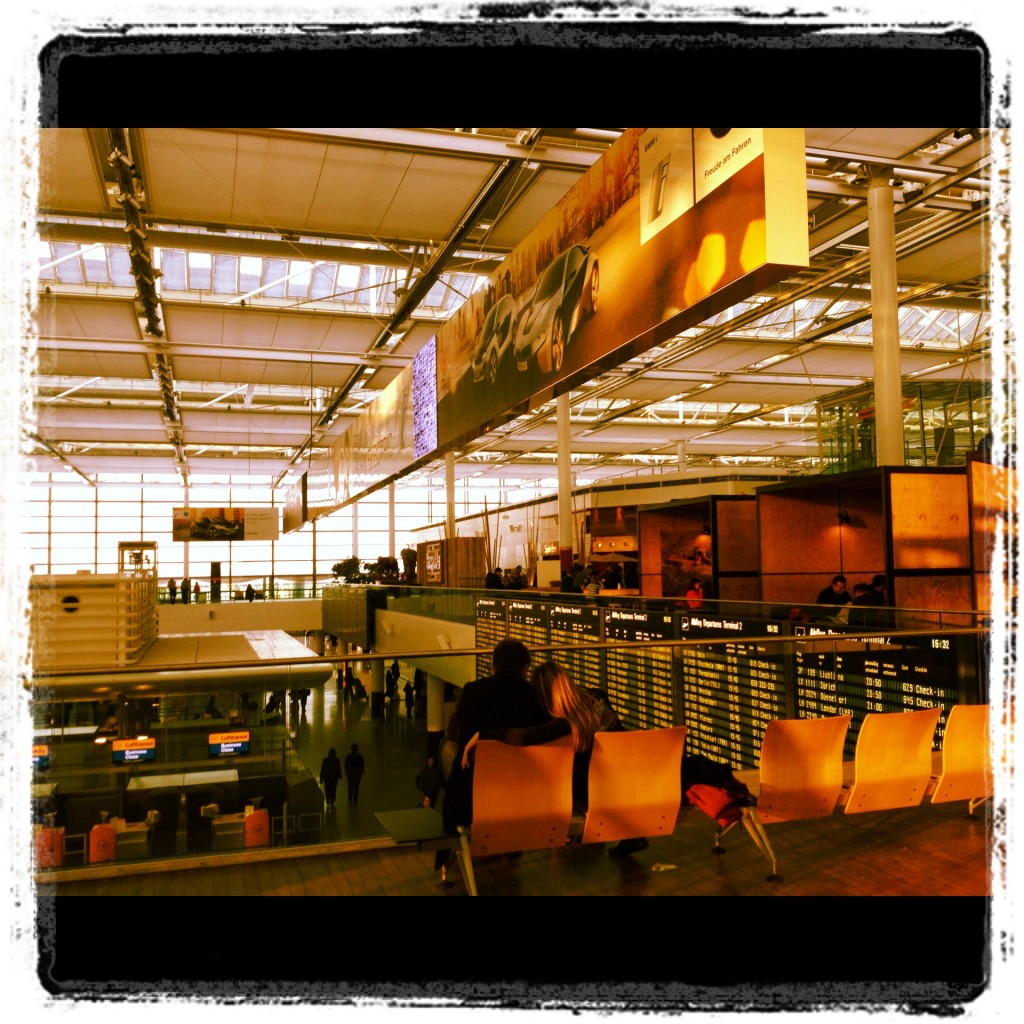 My flight back to Denver from Munich was set to leave the next morning. And when you are paranoid about being late, you don't want to stay too far away from the airport for fear of a flat tire or traffic. So I stayed in the airport to ensure I wouldn't miss my flight. I decided to roam Munich's great space of departure and arrival, much to the suspicion of several severe looking Munich police officers. I wanted to see the space without the hurry I usually see it in or without the cloud of intoxicating excitement of heading on a new adventure. I just wanted to see the airport as a casual observer.
My first stop was the departure board. I could stare at these screen for hours, contemplating who is headed to Dusseldorf or over to Angola. These boards, like the rest of the airport, can either send us into a fit of joy or just a fit over a delay or cancelation. We look to the screens for guidance, as many are doing today. They tell us where we are going and when. They suggest if we will miss our flight or make it. Our traveling fate lies in what the departure screens tells us.
I continue my tour of the airport as an observer to the typical airport sports bar. You know the meal here isn't going to be 5 star. It is merely sustenance for the road. There is always a game on to distract from the inevitable goodby or the exciting hello a flight away. We distract ourselves with games in the airport to kill time or prolong it. I have my last supper in Munich with many doing the same. It is where the airport breaks bread before jetting off to other lands.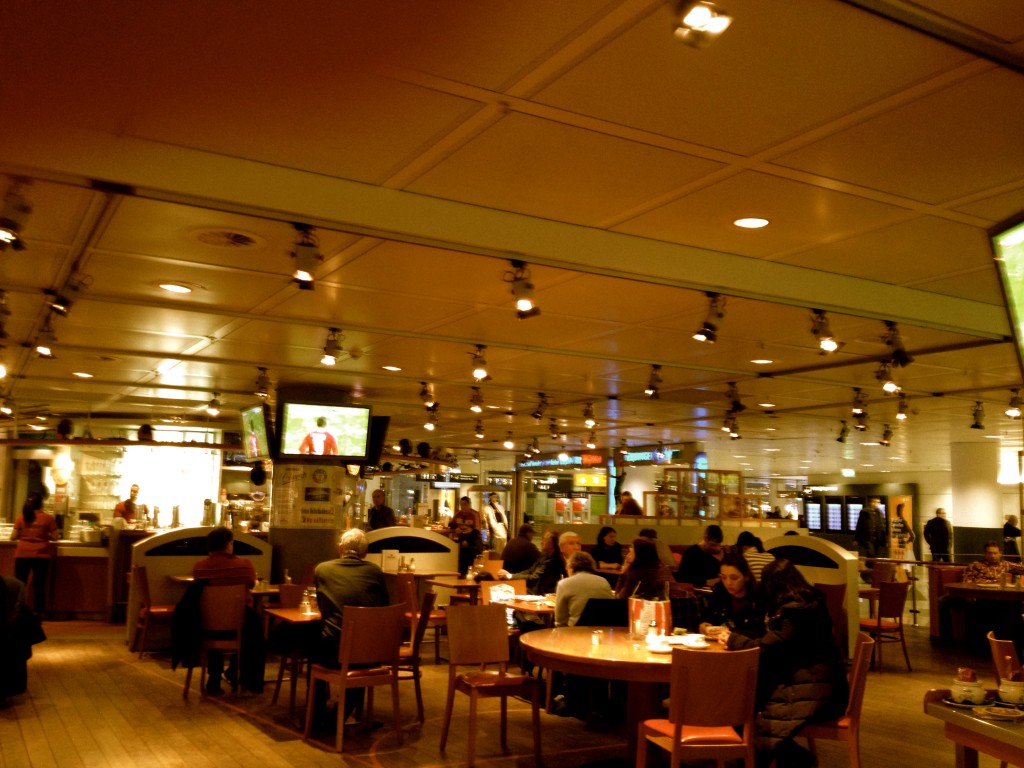 After a few too many suspicious stares from airport security, I decide to get a whiff of fresh air. The Munich Airport is almost cut into two parts, with a great space dividing two terminals. Right in front of my terminal is an expansive piazza, under a glass dome of a roof keeping it all together. It is where many take their first breaths of Munich, whether coming home or traveling away from it. The air stings any exposed patch of skin. Europe is still in the freezer and Munich is no exception. This is perhaps where the saddest of exchanges take place, those saying goodbye. It is the airport's "to be continued" scene.
While pondering those tearful goodbyes, I decide to head back inside to go see why so many love airports, myself included. A grouping of people, mostly without luggage, stand awkwardly dispersed facing a wall of automatic doors. With the opening of each automatic door, you can almost hear heartbeats skip. The eyes become more attentive, in search of the familiar face. And once they catch those eyes, it is never sadness you see here or anger for that matter. It is the joy of welcoming another to a new place. I watch as families collect their children or couples reunite. There is no more hopeful of a place.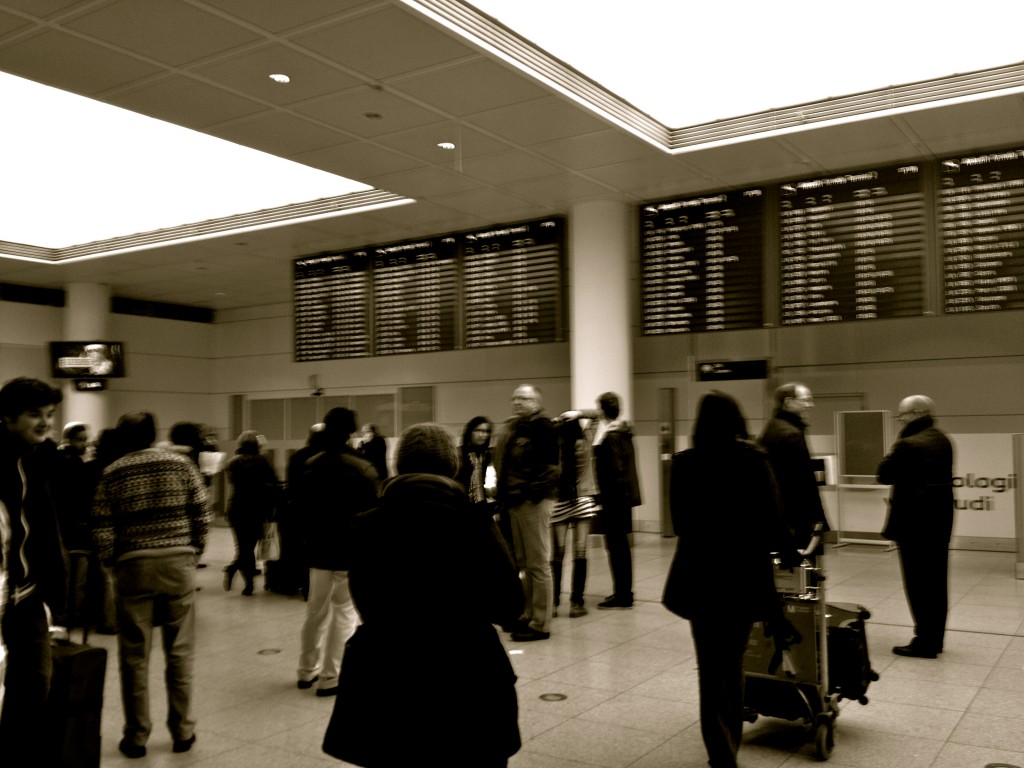 Now, it's my turn to say goodbye. I head through security, discovering the enhanced pat-downs in the U.S. have made their way to Germany. I perch at my gate after going through a second security. They must have the video footage of me trolling the airport yesterday. And finally, it is the other hope at the airport, the plane parked at the gate. I can breathe a sign of relief from this perch. No security line or airline mishaps are going to stop me from traveling today. And in looking at the planes parked at the gates in a uniform fashion, I realize my next plane ticket must be booked. The dichotomy of the airport has come full circle.