Another week of "Suzy Stumbles Over Travel" begins. In case you are new here (please stick around), each week I ask readers and writers to submit their favorite travel posts that they have read throughout the week. I read each submission and leave a comment, stumble the post using Stumbleupon, and tweet every entry on Twitter. I then feature my five favorite submissions the following week. The goal of this segment is to bring to light those posts you may have missed throughout the week, while promoting other writers' efforts.
Here is how it works. Leave a comment in the box below with your entry for this week. This can be a post of your own or from a different travel site or blog. I will read, comment, stumble, and tweet every submission. On the following Monday, I will feature my 5 favorites that were submitted last week. Keep in mind that you can only submit ONE post of yours per week. The piece must be travel related. Leave the link here rather than sending it to me on Twitter. Subscribe to my stumbles on Stumbleupon and follow me on Twitter to make sure I get to your entry. Finally, the deadline to submit is Saturday at midnight (US Mountain Time).
Before you leave your submission for this week, have a look at my five favorite travel posts submitted last week. Last week's theme seemed to be rich travel discoveries in some form or another. Some were more focused on the self, while others honed in on discoveries of new places. Once you are finished, leave a comment here with your submission for this week.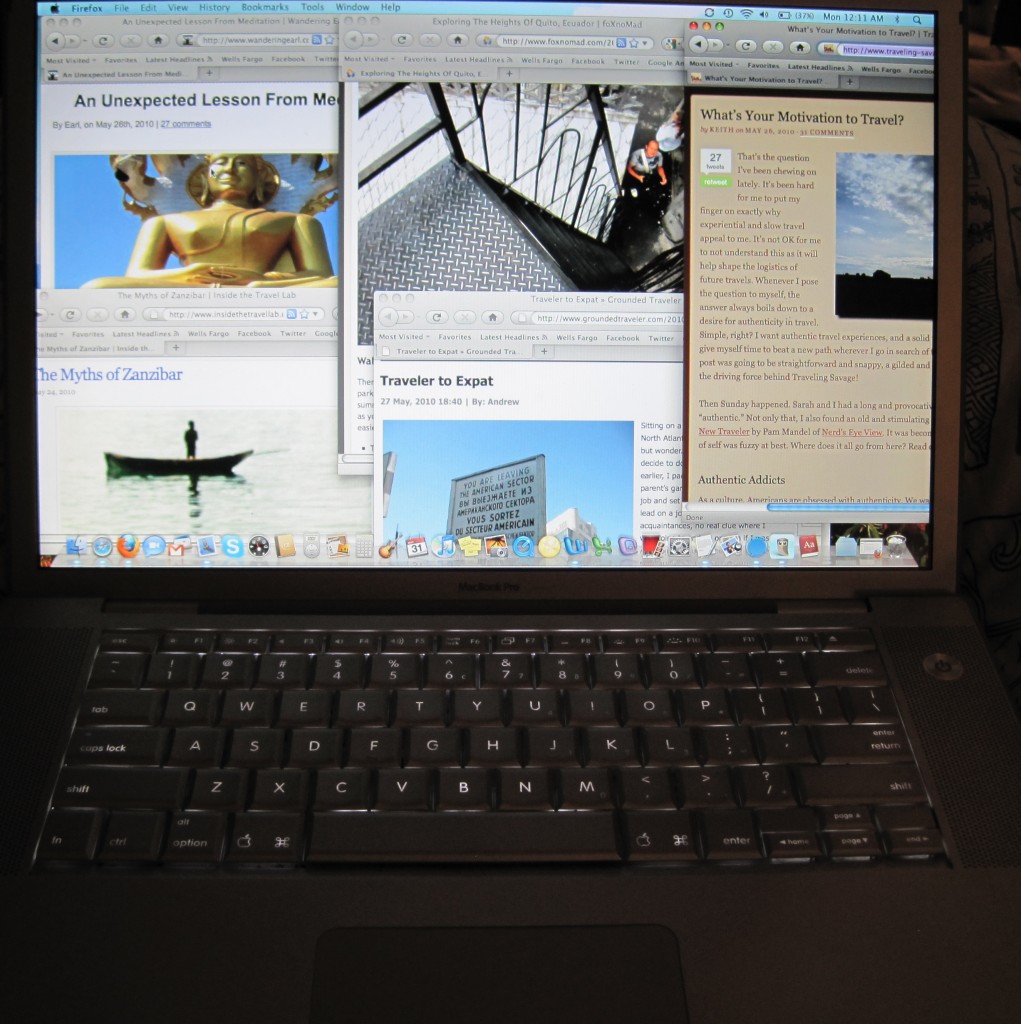 The 5 Favorites of Last Week
Submitted by Jenna
Travel lessons are often learned the hard way. We over pack and cough up an extra $50 at the airport. We take the bus when the train is faster. Earl learns a lesson while on a ten-day mediation retreat about people and judgments. As he sits in mandatory silence, he formulates stories about the characters surrounding him. Without giving away the lesson he uncovers, Earl presents an aspect to travel and life you might not always sit down and consider.
Submitted by Keith
It sounds simple enough. What is your motivation to travel? As I read Keith's post, I quickly realized it is not something you can pinpoint so easily, yet it is key to travel. Outlined are some underlying motivations for Keith that I think most can relate to. You want to experience the unknown. You are looking for some sort of authenticity. Always a thought provoking piece from this site, you will find yourself scratching your head with Keith on just what your motivation to travel may be.
Submitted by Anil
It is no secret that I love looking at cities from above. Anil apparently does as well, except he takes us through the heights, literally and figuratively, of Quito, Ecuador. Part of what I love about this segment is reading about new places I had not really considered yet for my next travel itinerary. After reading this itinerary on Quito, you too may find yourself yearning to discover these heights.
Submitted by Abi
While just a snippet of Abi's time in Zanzibar, the writing on this post left me wanting more. It also furthered the pattern of this week's entries about discovery. Many myths pertaining to travel come with some personal exchange. Sometimes these are myths we hear about a place and other times they are ones places hold for us. Abi discovers both, making for an interesting story. Like my new yearning for Quito, the photos on this post had me craving to head out to Zanzibar.
Submitted by Andrew
Closing out the travel self discovery this week, Andrew journeys from being a traveler to an expat living in Germany. He chronicles the process and his motivations behind living this travel lifestyle. There is some uncertainty, discovery, and the idea that being an expat may be the ultimate form of slow travel. If you need a boost towards deciding to live aboard for an extended period of time, for advice and reassurance, it is nice to read how someone else started their own journey towards being an expat.
Don't forget to leave a comment with your entry for this week.