Another week of stumbling over great travel posts begins. In case you are new to my stumbling series, each week, I invite readers and travel bloggers/writers to share their favorite travel posts of the week. I read, comment, stumble (using Stumbleupon), and tweet each submission on Twitter. On the following Monday, I present my five favorites submitted last week. The goal of this segment is to bring in more traffic to those posts that didn't get enough attention, while discovering some great travel reads you may have missed.
Below, please enjoy my five favorites in travel submitted last week. When you are finished reading, leave a comment here with your submission for this week. The link must be travel related. Only one link per person can be submitted each week. All entries must be submitted by the end of the day on Saturday (US Mountain Time). Please leave your link in the comment box below. Be sure to follow me on Twitter and subscribe to my stumbles to make sure I get to your post.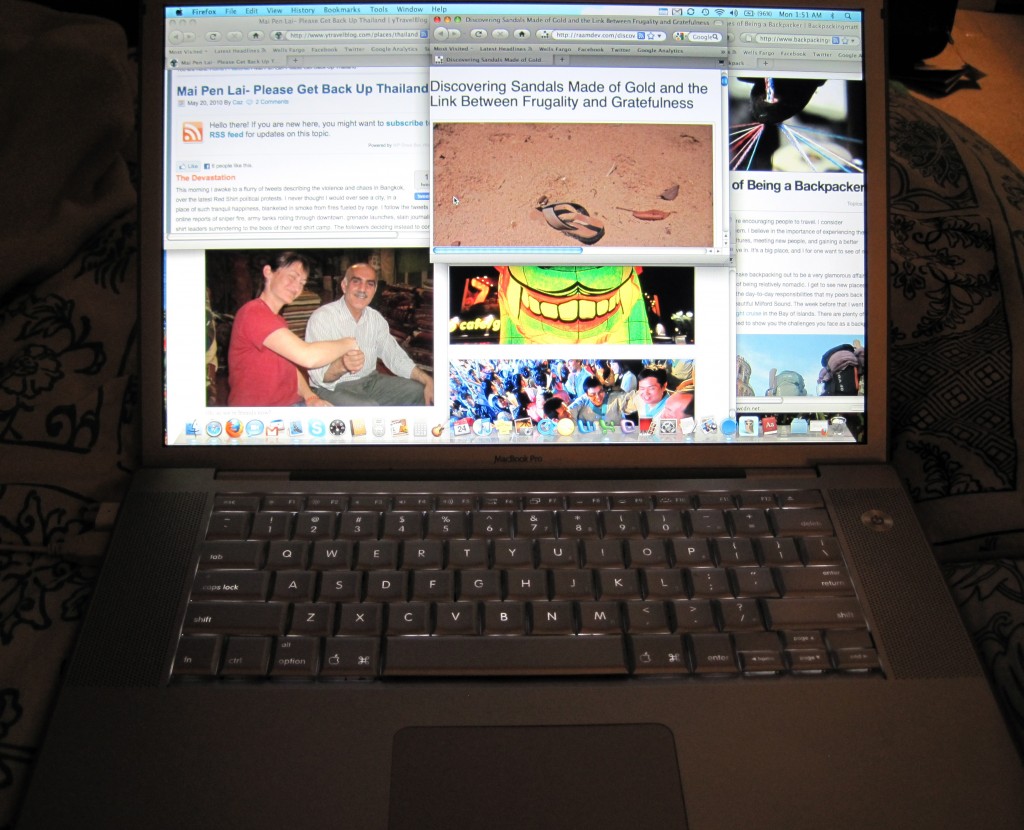 Last Week's 5 Favorites
Submitted by Dina
This post had me with its title and quickly enveloped me with its story. Raam journeys across the hot sands of Gokarna, India with one problem. He has no sandals. He quickly discovers a pair in the sands and something even more powerful a few moments later. The story deals with being grateful, helping me acknowledge something I sometimes forget: how powerful travel is toward instilling humility and perspective.
Submitted by Stuart
There may be nothing more intriguing to me than festivals from around the world. I love hearing about new ones and seeing images depicting the life going on behind them. Stuart brings us some remarkable photographs of the Lotus Lantern Festival in Seoul. The emotions behind the faces carrying out this tradition drew me to this photo post and brought be to the festival mentally.
Submitted by Jaime
While festivals provide great insight into other cultures, so too do exchanges with vendors trying to get you to over pay for their specialty goods. The duo at Seat of Our Pants takes on bargaining in Turkey for a Kurdish carpet. Known to be next to impossible to negotiate down, this competitive girl takes on "Carpet Selling Supermen". The exchange is humorous, but also informative as to what to expect when bargaining in Turkey, especially for carpets.
Submitted by Caz
After living in Bangkok, Caz is now faced with the violence she sees and reads about going on in her former home. This stirs up a sickening despair within her, something I imagine we all can relate to. There are places I have visited that ultimately meet some sort of violence or destruction I see flash before the television screen. I am back home, not recognizing those images of previously visited places put before me now. The feeling is almost indescribable. Caz writes an emotional and questioning piece. She presents the Thai way of life, Mai Pen Lai, no worries, never mind, something many could take note of around the world.
Submitted by Matt
Matt dives into backpacking, but not in the traditional sense. He isn't telling you how amazing it can be, but rather the challenges of strapping all of your belongings to your back across countries around the world. Aside from just an aching back, Matt presents some of the challenges he has faced while being a backpacker. Travel is certainly not all about sunshine and roses. It is always a good idea to equip yourself with practical and perspective riddled information like this post before hitting the road.
Don't forget to submit your favorite travel post of this week to be read, commented, tweeted, stumbled, and may be even one of the 5 favorites featured next Monday.