You know the drill. Each week, I ask travel writers and readers to submit their favorite travel posts of the week. This can be from your own personal site or another writer's post you enjoyed. I will stumble, comment, and tweet each submission. The goal behind this segment is without question to help those neglected travel posts get a little more love and attention. On the following Monday, I select 5 favorites submitted last week for a little more promotion from yours truly.
Keep in mind….
Please only submit ONE link per person each week.
The deadline to submit for this week is by the end of the day on Saturday (US Mountain Time).
The post must be travel related.
Leave a link to the post in the comment box here rather than sending it to me on Twitter.
Please enjoy the five favorites from last week and submit your travel post for this week.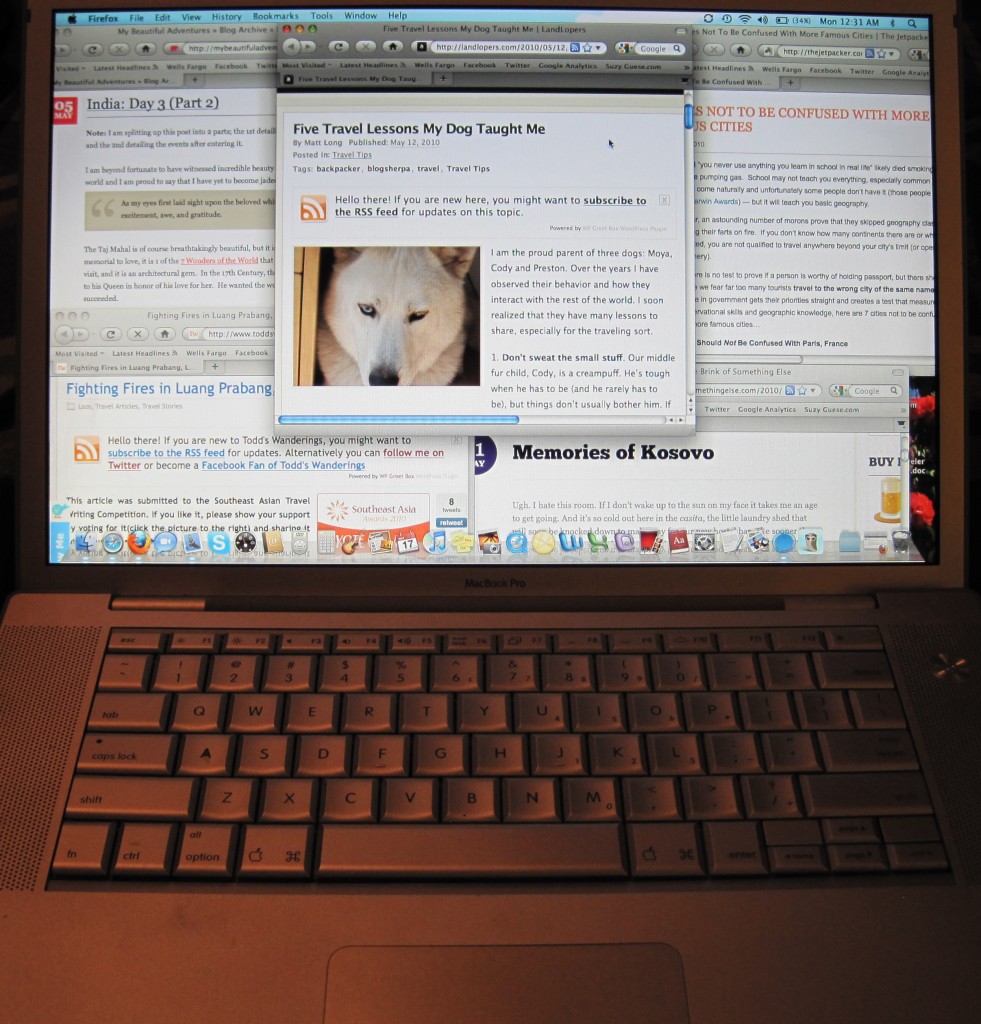 The 5 Favorites of Last Week
Submitted by Andi
Andi shares her experience at one of the Seven Wonders of the World. The photographs of the Taj Mahal are gorgeous and inspiring. However I particularly enjoyed her moments with celebrity while touring the area. Crowds beckon for a photo with the Taj Mahal and Andi, making for a good story and an even better experience.
Submitted by Camden
This piece had me at the first cup of coffee. As Camden explores Kosovo, the reader does as well. It is not a "what to see, where to eat piece", but rather an emotional telling of observations of Kosovo. The gritty feel leaps off the webpage.
Submitted by Todd
Travel is a learning experience, and this post reminds you of that fact. Part of learning about another culture comes through uncanny and uncertain situations. Todd saves a burning village in Laos. The last paragraph of this piece is exquisite, reminding me of just how important it is to embrace how your destination handles doing the right thing. Not every good task comes with applause.
Submitted By Matt
Experiencing travel is often encapsulated in the human mindset. We go into a new place with that fear, hesitation, and uncertainty. Matt instead presents travel through the eyes of a dog. He compares different aspects to how his dogs live their lives and how applicable these attributes are when on the road. Perhaps I'm biased having two dogs, but those canine souls have a deep insight that travel craves.
Submitted By The Jetpacker
This week's humorous post had me scratching my head that people actually confuse Paris, Texas with Paris, France, arriving in one with a disappointment and perhaps even stupidity. I guess this post helps out those who book tickets to Brussels and land in Wisconsin instead. We travel the world and yet some do not even know basic geography. Pull out the map before you purchase that flight to Sydney. You may be headed to Canada and not Australia.

Don't forget to submit your post for this week in the comment box below.