For the past few weeks, I have been stumbling, commenting, tweeting, and picking five favorites each week of travel posts, videos, and websites submitted for my "Suzy Stumbles Over Travel" segments. This week is no exception. Leave a comment here with your favorite travel post of the week. This can be from your personal site or another post you have read and enjoyed. I will read, stumble, comment, and tweet each submission. On Monday, I will select the five favorites of the previous week.
Just some things to keep in mind…
Only submit one link per person each week.
Leave your link in the comment box below here.
You have until the end of the day on Saturday to submit your post (US Mountain Time).
And without further ado, here are the five favorites in travel submitted last week.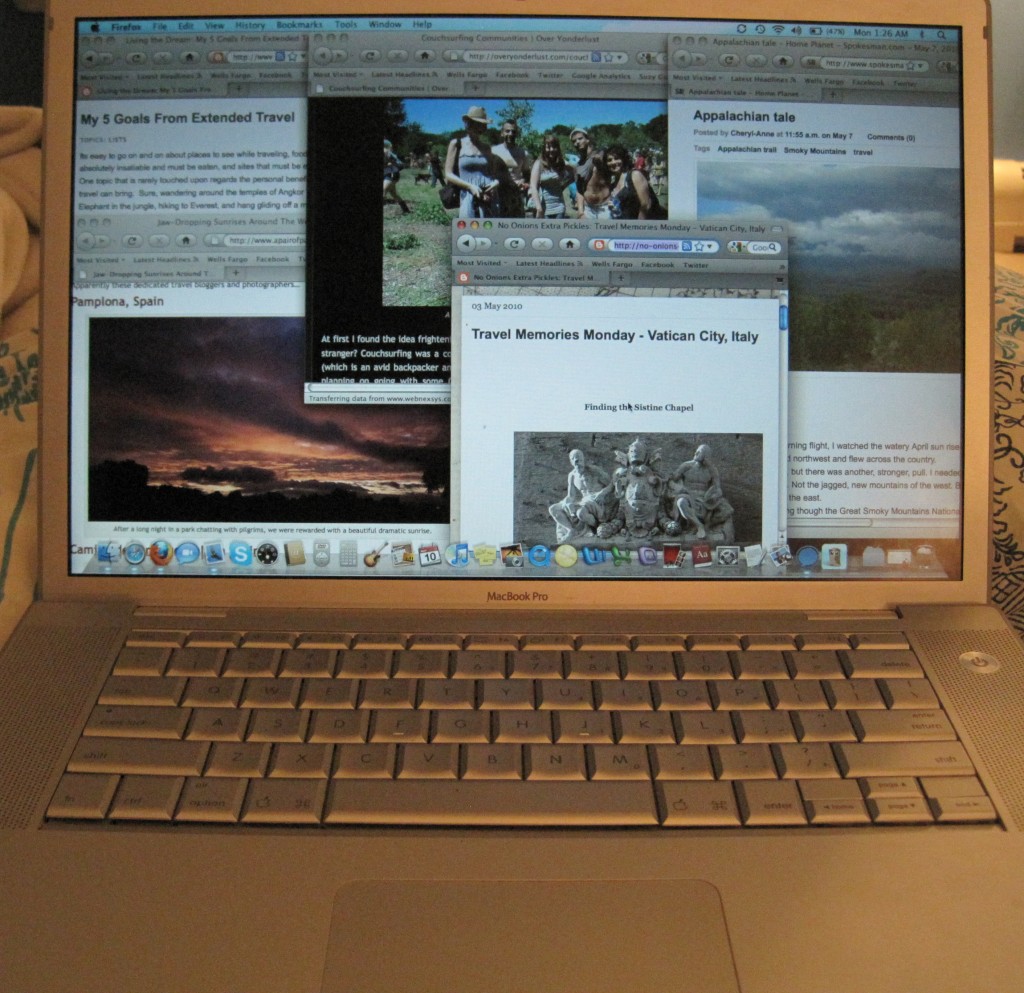 The 5 Favorites of Last Week
Submitted by Monica
Monica assembled quite the photo post here. Various travel writers and photographers submitted their favorite sunrises seen around the world. While we all seem to be suckers for great sunsets, these sunrise photos may motivate you to get up earlier when you are on the road. This post showcases the skies over several different corners of the world when the sun decides to make the first appearance of the day.
Submitted by Ashley
Visiting those famous museums, monuments, and landmarks can sometimes feel more like partaking in a competition. Ashley shares her experience at the Sistine Chapel. I enjoyed the humor woven into the post. Once the doors open for business to see precious art, everyone wants a piece, as though they are trying to squeeze through the gates of paradise. However, Ashley reminds the reader just why so many flock to see the famed ceiling. It is something the crowds and elbows in faces cannot really ruin.
Submitted by Jeremy
I often say travel is not just sightseeing and crossing off landmarks on that lengthy bucket list. While that is a part of travel, I try to be changed by the experience in some way. We all have our personal goals we hope to achieve on the road. Some want to just see it all. Others delve a bit deeper like Jeremy here. This post explains his personal goals from extended travel. Knowing someone's travel goals can inspire you to look at your vacation or trip a little differently. That is just what this post did for me. It brought to my attention just what my goals are and sparked some ideas for my upcoming trip. It is posts like these that make me appreciate travel so much more as you can get so much out of travel.
Submitted by Cherly-Anne
Cheryl journeys back to the Appalachian Mountains. This is not just a re-visit, but rather a journey through her life and connection with the area, from childhood to adulthood. The piece is moving in that a place can be so tied to who you are. I love that about travel and Cheryl highlights that fact as she explores the Great Smoky Mountains on her own. Once again, I am always drawn to those travel narratives and stories and this piece is no exception.
Submitted by Erica
This week I learned something new through my stumbling. Erica brought to my attention Couchsurfing Communities. I am probably the last person to know about these, but I always appreciate learning new aspects to the travel process through these weekly submissions. Erica discusses her initial fear with couchsurfing, getting over those fears, and just how to build up your couchsurfing resume by interacting with couch surfers in your local community. If you are trying to travel cheaply, this post is a nice introduction into traveling by couch.

Don't forget to leave your travel post for this week to be stumbled, commented, and tweeted by yours truly. Check back next Monday to see if it made my five favorites.