As I frantically throw three months of belongings into a suitcase and redesign my site, Suzy Stumbles Over Travel must go on. If you are new here, each week I ask readers and travel writers to share their favorite posts of the week in the comment box below. I read every submission, comment on each piece, stumble the post on Stumbleupon, and tweet the entry on Twitter. The following Monday I feature my five favorite posts submitted last week for some extra love and attention.
Without further delay, please enjoy my five favorites submitted last week. When you are finished, leave a comment with your post to be read, commented, stumbled, and tweeted. Only one submission per person is allowed each week.  The post must be travel related. Be sure to subscribe to my stumbles on Stumbleupon and follow me on Twitter to make sure I get to your post. You have until the end of the day on Saturday (US Mountain Time) to submit your post for this week.
The 5 Favorites of Last Week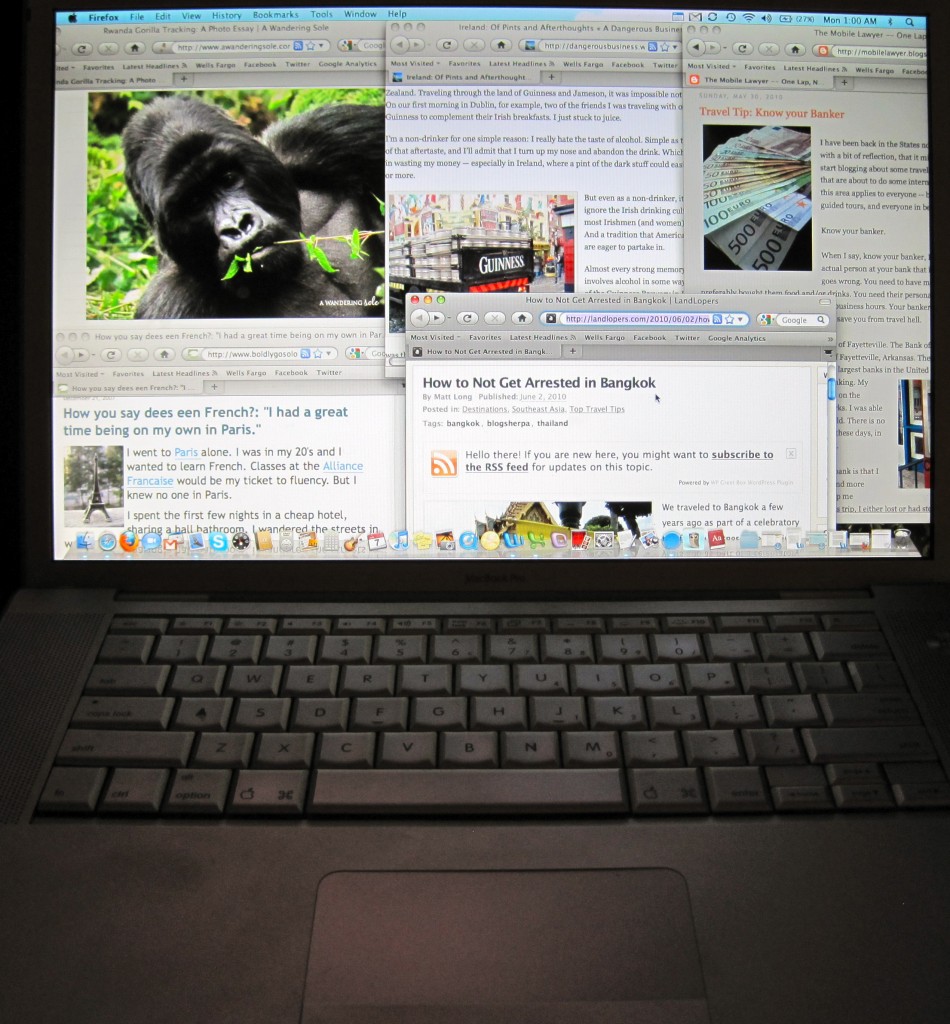 Submitted by Michael
I think most travelers are constantly searching for tips and suggestions to make their travels as painless as possible. I enjoyed this tip from Michael of knowing your banker before you leave on your next big trip. While not a traditional travel tip, Michael shares some of his experiences abroad and how much a personal relationship with his banker saved him from a financial trip disaster.
Submitted by Boldly Go Solo
Ellen revisits her time spent in Paris as a twenty something, learning French. This piece brought me back to my studying abroad days (not so long ago). The emotions and tales of being a foreigner surrounded by foreigners at a young age are told here in a narrative manner that had me vividly picturing each exchange.
Submitted by Amanda
While some may go to Ireland and leave with a hangover, Amanda does not. She presents her Irish experience as a non-drinker, yet surrounded by drinking. It makes for an interesting match up and had me thinking about elements that define some places for many. Most head to Dublin to imbibe Guinness. Not that that is a bad thing, but take the alcohol out of the equation and what kind of experience do you have?
Submitted by Matt
Part of one of my travel worries is getting arrested. Not that I think it will occur or I do something dangerous, but I think in the back of my travel mind, my worst nightmare would be getting arrested in a place so foreign I wouldn't know if I even got a phone call. Matt shares his experience of tangoing with getting arrested in Bangkok. The lesson behind this story is powerful and unexpected. Even if he is treated poorly and unjustly in this scenario, Matt makes sure to not turn sour on Bangkok as a whole.
Submitted by Laura
Finally, I leave you with gorillas in Rwanda. Laura captures some amazing shots of these giants. The emotions behind every face remind me that while taking pictures of local people provides insight into a place, so too do snapping shots of the faces of animals at that destination. Behind the eyes of every gorilla Laura captures, I have a feeling a great story lurks.

Don't forget to leave a comment here with your submission for this week.