Another week begins here in rainy Florence and Suzy Stumbles Over Travel this week goes on. If you are new, each week I ask readers and writers to submit their favorite travel post of the week. This can be a post of your own or another writer's post you enjoyed. You leave the link to the post in the comment box below. I read, comment, stumble, and tweet each submission on Twitter. The following Monday I select my five favorites that were submitted last week. The cycle continues each week.
Please keep in mind a few things. The deadline to submit your post is by the end of the day on Saturday (US Mountain Time). Only one submission each week is allowed per person. Leave the link in the comment box below. Follow me on Twitter to see your posts tweeted and subscribe to my stumbles on Stumbleupon to make sure I get to your post. When you are finished reading my five favorites from last week, leave a comment with your entry for this week.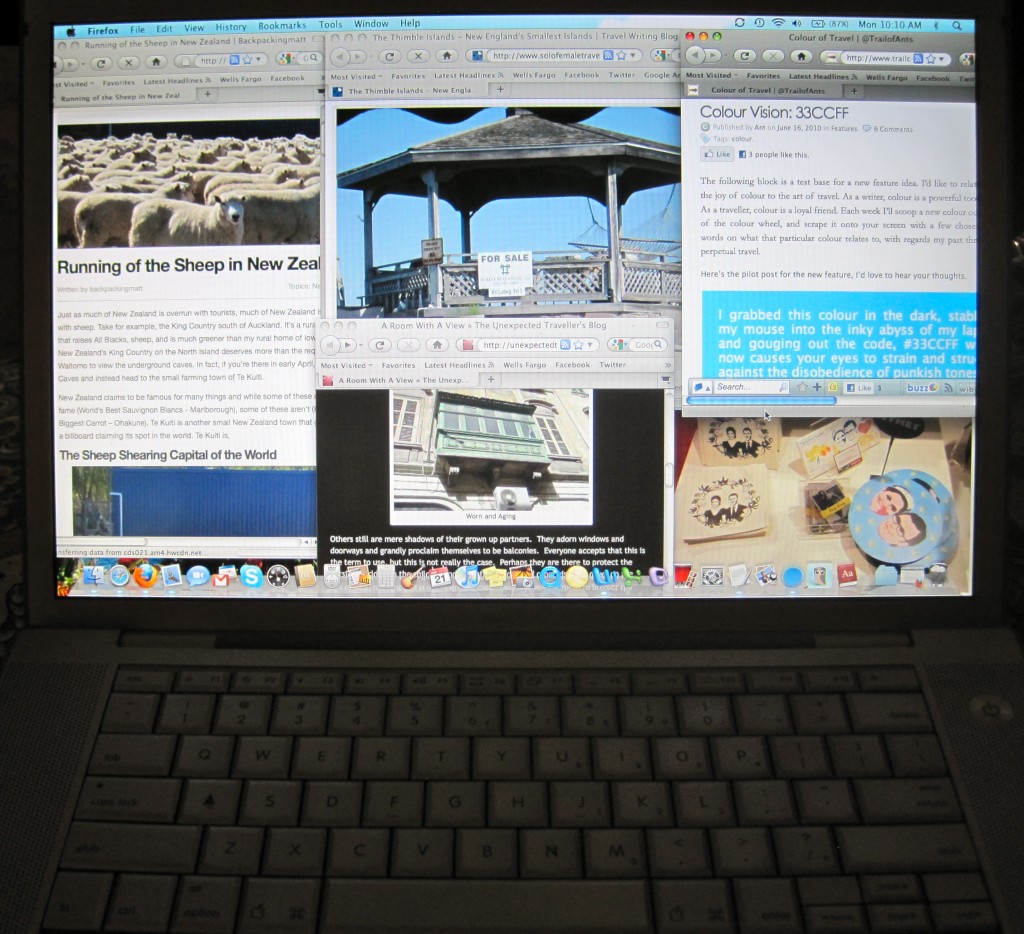 The 5 Favorites of Last Week
Submitted by Sabina
Often times if we live in a place for a while, we pass by signs to new locales we have never even considered. You forgot there is something undiscovered in your home or current residence. Sabina finally answers her wonders about the Thimble Islands in New England. These islands struck me as not only rare, but also incredibly rich in stories. Sabina takes a cruise out to see the Thimble Islands, lead by Captain Bob narrating the different on-goings of the islands over the years. One of the islands just consists of a gazebo. Oh, and did I mention it's for sale?
Submitted by Unexpected Traveller
Another writer also noticed something that is often overlooked, the balconies of Valletta in Malta. The Unexpected Traveller explains the difference between each with beautifully worded text. This is something I think we all can relate to. You pass by such interest or greatness everyday and never stop and wonder about it. Some of these balconies are old and ornate while others are young and green. Some even have plumbing.
Submitted by Ant
I have found yet another reason I love this segment. I read some pretty original ideas and thoughts about travel. Ant examines color and its ties to our travels.  A new feature on Trail of Ants will look at a color and what it relates to on his travels over the past three years. Ant begins this segment by looking at the color of footwear he wore throughout his globetrotting. This post had me face the music that we place a great deal of meaning in travel, thus the colors of our travels end up saying so much.
Submitted by Verity
Verity "attends" the wedding of the new royal couple in Sweden, along with hordes of other people. From a cultural standpoint, this post paints a well-rounded image of the events going on, the mood of locals and tourists, and the shops selling everything with Princess Victoria's face on it. I also appreciated Verity's conclusions about royal weddings and their "intimacy".
Submitted by Matt
You have probably heard of running with the bulls in Spain, but have you heard of running with the sheep in New Zealand? I hadn't but I had the pleasure of experiencing the interesting cultural event through Matt's observations. The event begins with a sheep shearing competition and closes out with the running of the sheep. I enjoyed how the sheep didn't actually run. They were too sheepish! Sorry, I couldn't resist.
Don't forget to leave a comment below with your entry for this week.