Back in incredibly hot Florence, I bring you this week's Suzy Stumbles Over Travel. I recently asked on Twitter to see if people were still enjoying this segment as the amount of submissions had dropped off significantly. While everyone expressed that they were still enjoying the stumbling, I received only 11 submissions this week. If you would like to see this segment continue, I strongly encourage you to submit posts you enjoy or your own travel posts and get the word out about this opportunity in any way you can.  I enjoy reading and hopefully helping bring in some traffic for others. I would like to continue doing so, but if there are no submissions, I can't really do my job. I will use this week as a test to see if the submissions increase before making a decision about the segment.
Just in case you are new here, each week I ask writers and readers to submit their favorite travel posts in the comment box below. I read each submission, comment on the post, stumble the piece on Stumbleupon and tweet every submission on Twitter. On the following Monday, I profile the five favorites of the previous week. The cycle continues.
You have until the end of the day on Saturday (US Mountain Time) to submit your post. Please only submit one link per person each week. Leave the link to the post in the comment box below. Be sure to subscribe to my stumbles on Stumbleupon and follow me on Twitter to make sure I get to your post.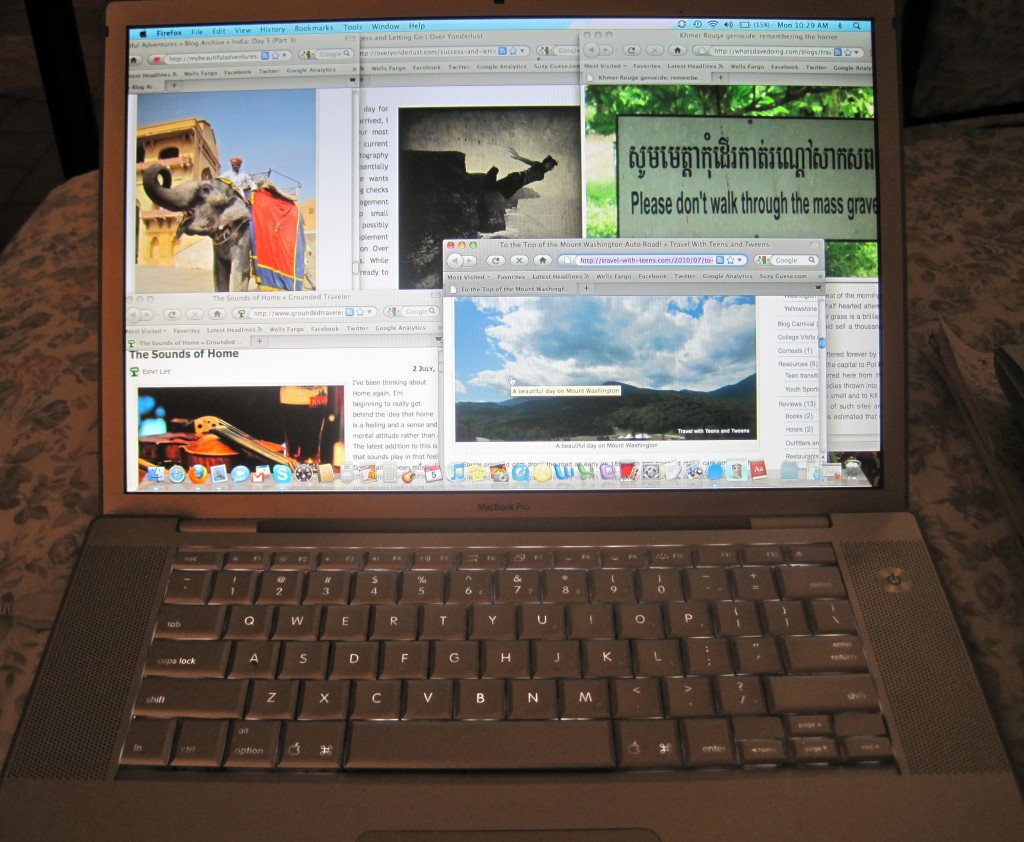 The 5 Favorites of Last Week
Submitted by Dave
So much of travel is viewing places of tragedy or horrific history. You have to look but you almost don't want to. Dave takes the reader through the Killing Fields in Cambodia, detailing the horror and heaviness that comes when viewing a place where thousands upon thousands of people died not so peaceful deaths. His words are powerful and indelible, making for a gripping, emotional travel read.

Submitted by Mary T
Mary and her teen make their way up to the top of Mount Washington in New Hampshire. The 6,288-foot tall mountain boasts some of the most extreme weather in the world, including what was once the highest wind ever observed by man. Not only is this a great informational post if you are thinking about making the drive up, but it sounds like such an unusual place. It's hard to imagine people used to go up Mount Washington in a house drawn carriage. The photos accompanying this post are also worth a look for a bit of travel inspiration.

Submitted by Erica
Before Erica and Shaun take off on their big trip, they must battle definitions of success at home. Often times we forget that by traveling, we are usually stepping outside the norm. People in our offices may perceive us as crazy or unsuccessful, but that isn't the case. Erica comes to terms with office politics, success and letting go of it all to explore other passions like their travel site and photography. I am all for people following their passions. That aspect is so key to travel.

Submitted by Andrew
Travel and home are often two different things, but Andrew explores the idea that home is just a feeling. The sounds that fill our travels can often remind us of those feelings as it does for Andrew. After living in Germany for some time now, Andrew gets a taste of some sounds of home, only instilling nostalgia in him for his southern roots. This post had me digging into my travels to think of moments when sounds from home made their way on my traveling path. Perhaps those familiar voices or languages help keep a little bit of home with us wherever we go.

Submitted by Andi
Closing out this week, Andi takes us for a ride on an elephant in India with this richly colored photo post. I found the photos told a story of her 20-minute experience, reminding me that a cab ride can really be so much more than that in another part of the world. From her "driver" to the colorful painted decoration on the elephants, she captures a great deal of emotion and feeling.

Don't forget to submit your favorite post of the week in the comment box below.