With patchy Internet this week and a road trip down to Puglia, Italy's heel, I picked the wrong time to travel, especially with my stumbling test. Last week, I asked for more submissions so that I could continue this segment. If I didn't receive them, I was going to stop the segment. I was completely blown away by the interest and submissions. Thank you everyone that participated and I hope you keep on participating. This segment will go on (cue applause).
If you are new here, each week I ask readers and writers to submit their favorite travel posts of the week in the comment box below. This can be a piece of your own or another article that you enjoyed reading. I will read, comment, stumble (using Stumbleupon), and tweet every submission. The follow Monday I profile the five favorite posts of last week.
Keep in mind that only one submission is allowed per person each week. The deadline to submit each week is by the end of the day on Saturday (US Mountain Time). Leave a link to the post in the comment box below. Be sure to follow me on twitter and subscribe to my stumbles on Stumbleupon to make sure I get to your post.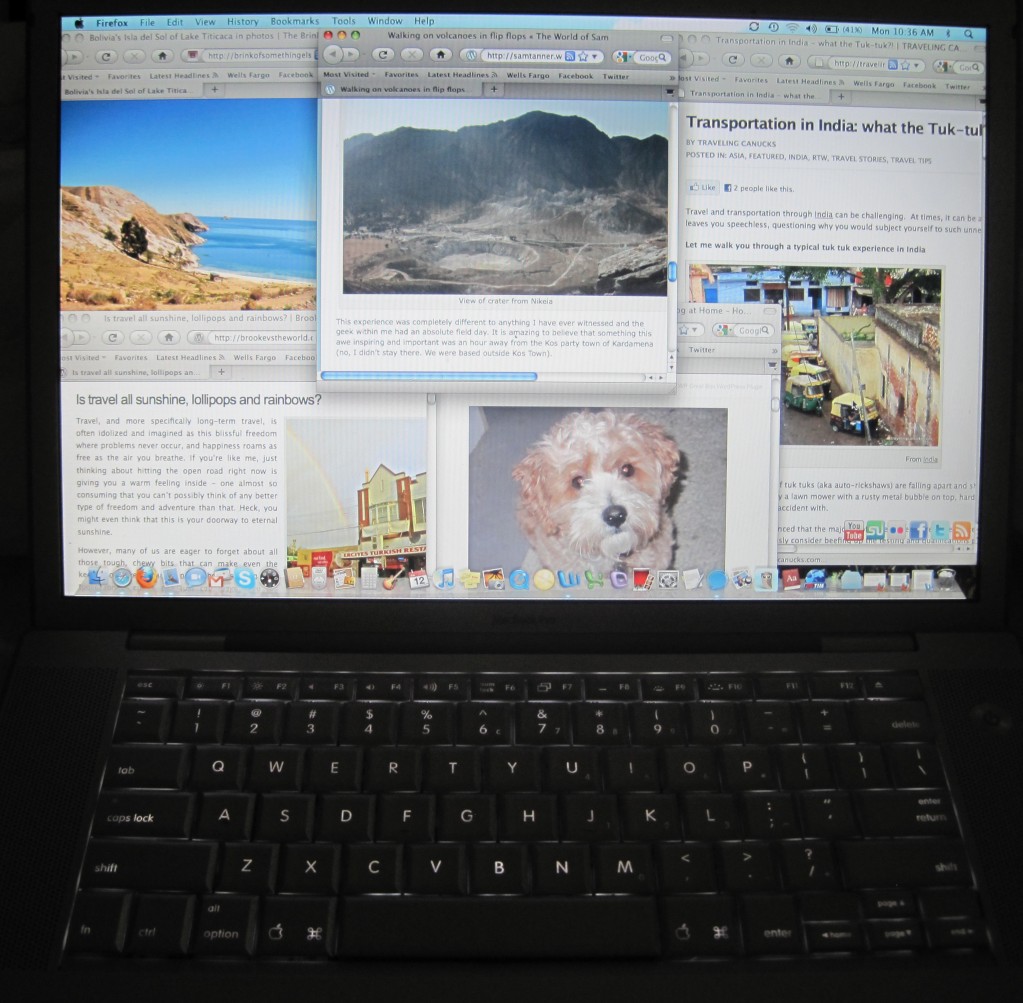 The 5 Favorites of Last Week
Submitted by Ashley
Perhaps it is the dog person in me, but I could completely relate with Ashley's post about how to deal with leaving your dog when you travel. Many are not fulltime travelers and do have lives back home. It is important to balance both travel and what you leave behind, including your relationship with your pet.


Submitted by Cam
The Traveling Canucks walk us through a typical tuk tuk experience in India. I found myself cringing at some of their observations at this kind of transport. Not only does this piece provide great cultural insight, but it also made me recognize how dependent we are as travelers. We have to get where we are going and unless we just walk, you are usually at the mercy of a crazy driver.


Submitted by Sam
Sam journeys to Nisyros, one of the Dodecanese islands of Greece. This post intrigued me with its described landscape. Sam really does walk on one of two active volcano craters in the world that you are allowed to traverse. It was also nice to learn about a Greek island I haven't heard much about, gorgeous photos and all.


Submitted by Andrew
If you have traveled long term or just even a month away from home, you can relate to this piece. Brooke points out the cons of travel, providing several other links to travel posts dealing with different aspects to the negatives of always being on the go. This post is a good reminder to anyone feeling lonely, wishing they had more of a routine, or annoyed at the toll travel takes on your body, that you are not alone. Travel isn't always sunshine and roses, but we keep doing it for many reasons you can't put into words simply and easily.
Submitted by Camden
Closing out this week's stumbles, I leave you with a bit of travel inspiration from Camden. She captures Bolivia's Isla del Sol in photos and I couldn't help but yearn to jump in one or two of them. Perhaps my next stop with be the Isla del Sol.

Don't forget to submit your travel posts below for this week's "Suzy Stumbles Over Travel".