Just arriving back from a weekend in Switzerland, I am a little late with my stumbles this week. I know you are all on pins and needles every Monday so here are the five favorite travel posts submitted last week and your chance to submit for this week.
In case you are new here, each week I ask readers and writers to submit their favorite travel posts of the week in the comment box below. I read, comment, stumble (using Stumbleupon), and tweet every submission. On the follow Monday, I profile my five favorite submissions from last week. The goal of this segment is to help bring traffic to other travel sites and posts that didn't get the attention they always deserve.
Just a few things to keep in mind when you submit, please only submit one link per person each week. Also, you have until the end of the day on Saturday (US Mountain Time) to submit your post. I can't take submissions on Sunday. Leave the link here in the comment box below. Follow me on Twitter to make sure I get to your post and subscribe to my stumbles on Stumbleupon.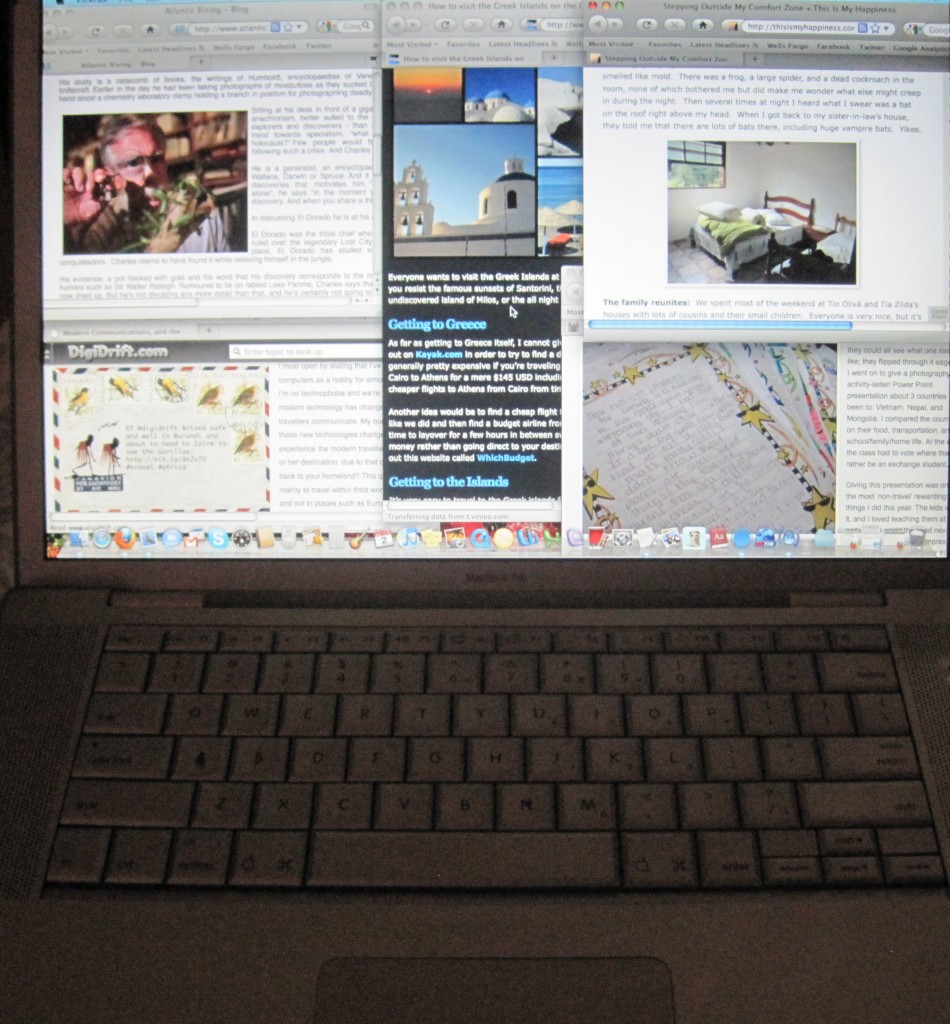 The 5 Favorites of Last Week
Submitted by Lynn
If you are in the mood to feel lazy, this post about Charles Brewer Carias will do just that. Charles not only has discovered the world's oldest organism, but he also believes he knows just where El Dorado may be. He is in essence a 19th century explorer living in modern times. I was captivated by this interview and suspect you will be too.
Submitted by Jenna
We all must step outside our zones of comfort at some point while traveling. Jenna must deal with bats above her head, being surrounding by family, yet feeling isolated, and overwhelming poverty while in Brazil. I found her post to be incredibly honest yet profound at the same time as she shares those feelings of lacking comfort while traveling.
Submitted by Ryan
I can't express how much I want to go to the Greek Islands, yet I can never seem to find a cost effective way of doing so. Pause The Moment breaks down their trip to the islands, showcasing the best ways to save money. Not only is the post useful if you are trying to go, but it also provides great insight into how something so impossible to do for me might not be so impossible. Santorini (hopefully), here I come!
Submitted by Earl
Sherry at OttsWorld gives a presentation to a group of 6th graders in Nebraska about travel and her experiences around the globe. She explains how rewarding this talk became for her as she combs through thank you notes from the class. Travel innocence in the eyes of many who have never left the country should be examined more when we make decisions to travel. Sherry contends we should approach traveling as not an aspect of life to be scared or afraid, but rather something a 6th grader finds "cool" and "awesome".

Submitted by Jason
Jason examines travel from the days of Poste Restante. If you don't know the term, I suggest reading this piece. He breaks down how much travel and communicaton back home have changed, opening up the discussion as to whether travel today with Skype, Twitter, etc., has changed the experience and emotion behind travel.

Don't forget to submit your travel posts this week in the comment box below.