When the chaos of the outside world grows, expands, and engulfs everything in my travel path, I head not to a museum, hotel, or restaurant for respite but rather to a church. Throughout Italy, a Catholic church seems to be the requirement in every town, along the same lines of having a supermarket or a post office. Those without are normally towns along the side of the road merely consisting of a café, bank, and tabacchi, the religious rejects if you will. The outside world whizzes on by. Cars honk loudly and vespas interject throughout most side conversations. When I need a break from that loud world, I go sit in a church. The quiet is usually enough to keep my travel sanity.
If it is Sunday, I try to participate in services. There is something about going to a religious gathering in another country. Traditions and customs are all shaken up, spilled out differently, exposing new sides like thrown dice. In Italy, instead of forming a uniform line up to the altar, little old ladies scramble, cutting in front on one another, vying to get their Communion first. It seems like a contradiction to the whole "the first shall be last and the last shall be first" saying, but for some reason, it is not.
Then, there is the language barrier. You may have no idea what is being said, but the emotions still carry. Going to Mass proved useful toward improving my Italian. The priest would ramble on and on, as I caught words like faith, prayer, and God. Apparently homilies are universal in any place.
My time spent sitting in churches around Italy also allowed me to appreciate architecture. Most cities poured everything they had into creating and maintaining these houses of worship. One after another, I am still impressed at their beauty. They lent me those peaceful thoughts I needed daily. If you are traveling throughout Italy, go sit on a few of these church steps and see what you uncover.
Santa Croce in Florence, Italy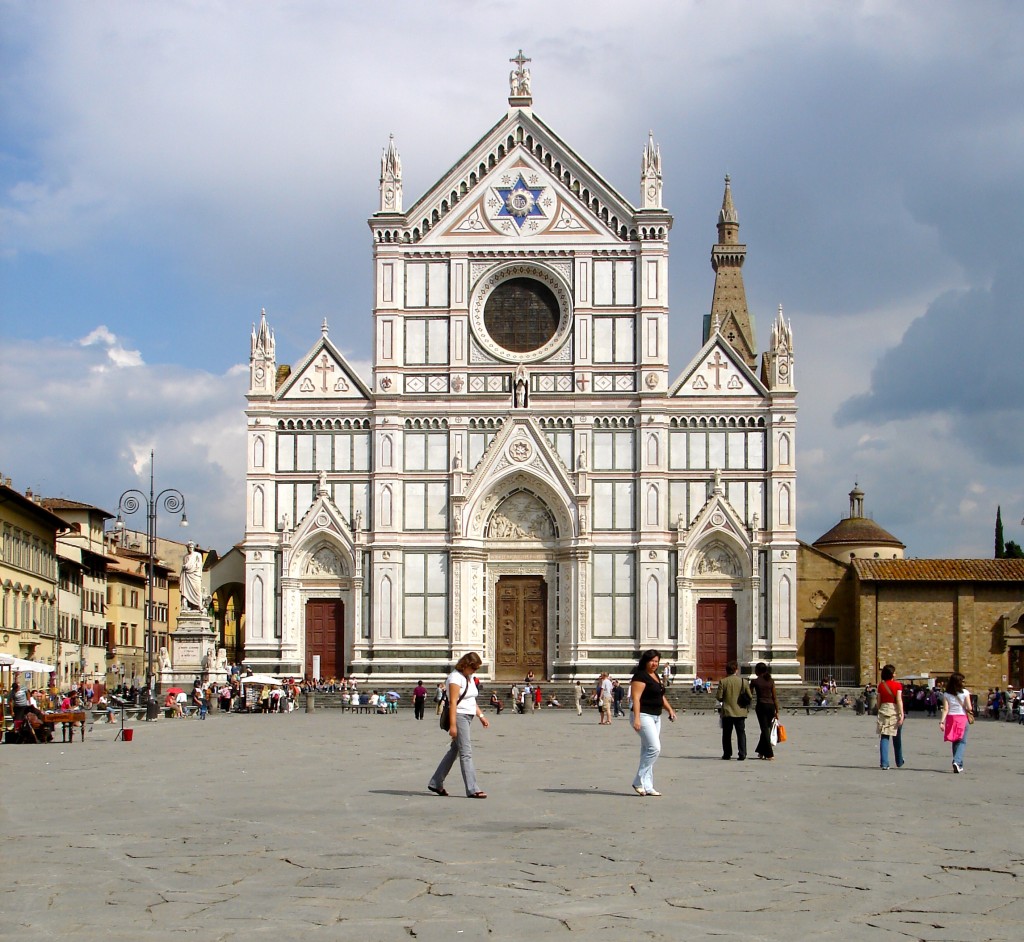 When I first laid eyes on Santa Croce, it looked simulated to me. Careful pink and green accents decorate the façade. Even more impressive are those that reside within Santa Croce. The tombs of Michelangelo, Galileo, and Machiavelli remain inside the church. My favorite moments with Santa Croce came just sitting on its steps outside. Tour groups would pass by and the occasional Italian man would sit on down, hoping to exchange phone numbers. Watching Florence go by from Santa Croce's steps gave me an inner peace and relaxation. It also granted my aching feet a break from traipsing all over Florentine cobblestone.
Cagliari Cathedral in Cagliari, Sardinia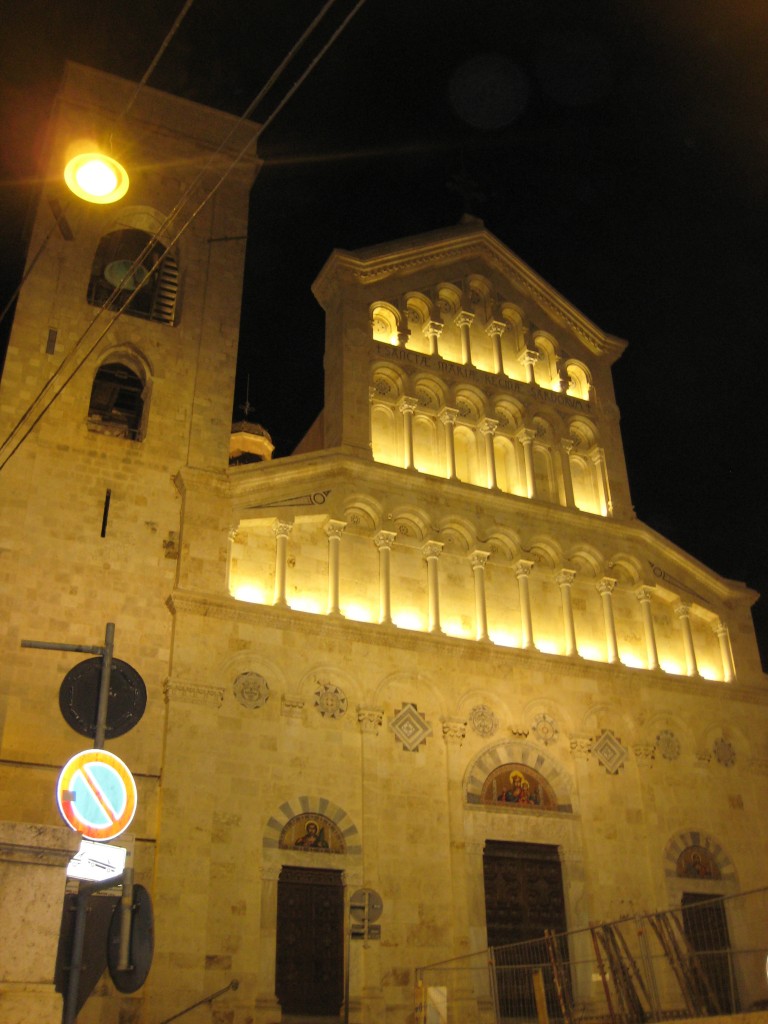 On a quiet summer night, I stumbled upon the Cathedral of Cagliari. Hinting at Pisan influences through its facade, the glow of the church radiated the heavenly. I plopped down on its steps, too late to enter. With Sardinian beer in hand, I probably appreciated the Cathedral a little too much, but there was just something so captivating about being the only one in its presence. Perhaps it was the time of night, but this Cathedral wedged into a small nook of Cagliari gave off humility yet glowed at the same time.
Duomo di Santa Lucia in Ortigia, Sicily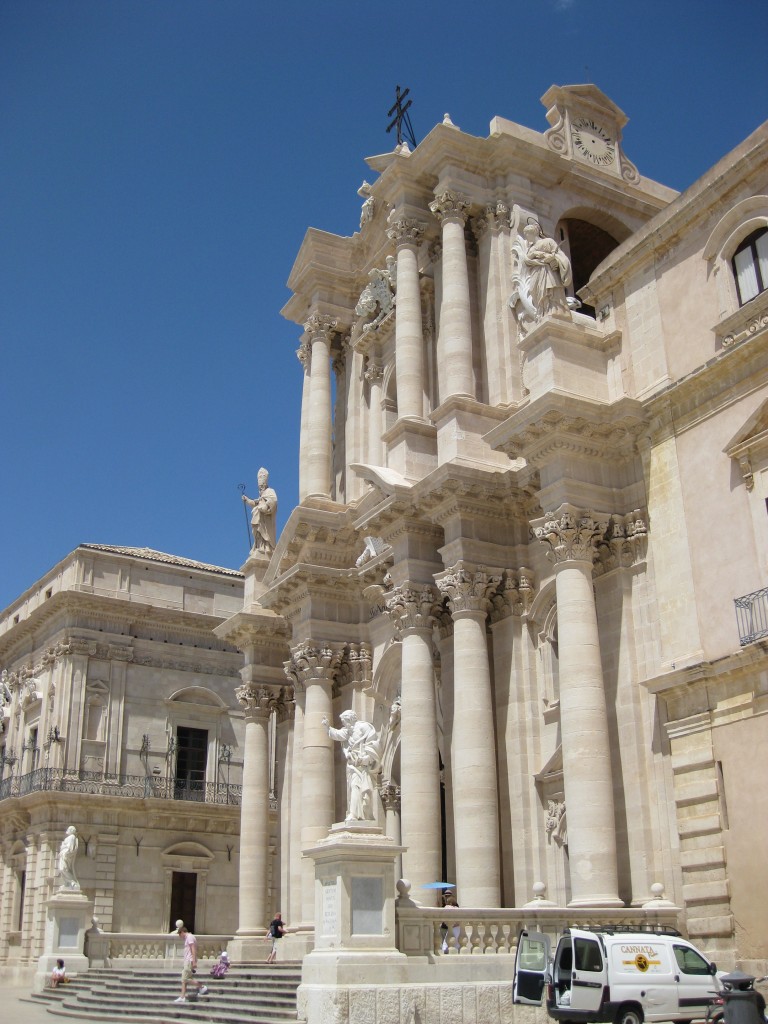 I entered the monstrous doors of the Santa Lucia Duomo in Ortigia, Sicily weekly. My knees would bend, parking in a spot on a wooden chair in the back. A few others scattered about the church. A man in tight jeans and euro-style yellow glasses seemed to be running the show. Little old ladies stared at me. I appeared to be the youngest person in this house of worship. Even the walls make me feel like a newborn. To my left, giant columns showed what this structure used to contain, a Greek temple. Originally the home of Athena now houses the patron Saint of Sicily in baroque fashion. The blinding white church made me feel a part of generations of practicing Sicilians.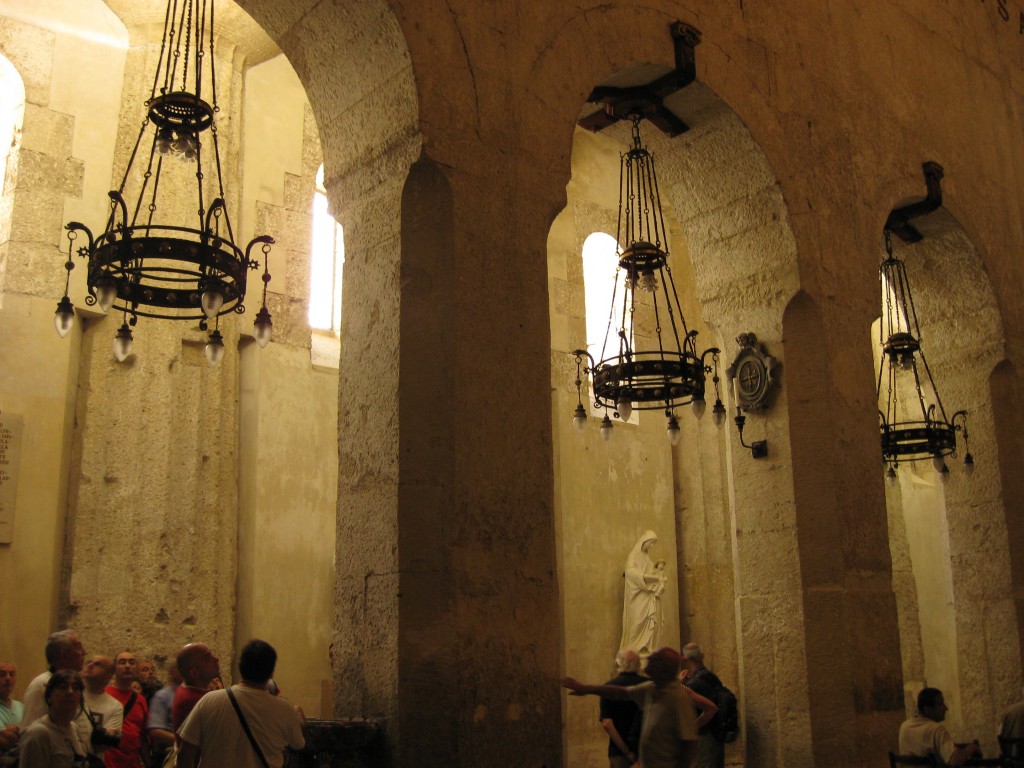 Most church experiences or other houses of worship start to blend after visiting a few handfuls. Some can't take entering just one more, while others, like me, seek out these religious refuges for a little time with whatever is dwelling in and around these impressive structures. You don't have to be religious to appreciate them. All you have to do is bend those knees and sit on down.

Where do you go to find a little peace, quiet and serenity when you travel?