Santorini was my dream. I kept it locked away for a special trip. Once I got engaged, I knew exactly where I wanted to go for my honeymoon. I had long seen photographs of the picture perfect blue domes and whitewashed buildings clinging to red cliffs rising from the sea. However, like any place we long to visit, I knew that I had to arrive to Santorini with a sprinkle of hesitation. I knew that it would be touristy, which isn't necessarily a bad thing. At the same time, due to my redheaded temperament, I can easily get annoyed with hordes of tourists. While I am one myself, for whatever reason being in a place overloaded with countless sun seekers doesn't always produce the best of trips.
Santorini was what I expected and also what I didn't expect. There were moments where I wondered why I longed to come here and moments where I didn't doubt the volcanic island. As one of Greece's most popular islands, Santorini is frequently featured for its beauty, but I really wanted to know what lurked behind that sunset. Aside from the shocking realization that Santorini only has a few blue domes, here are a few things I did not foresee in this Greek island paradise.
Pack Toilet Paper and Never Throw Said Paper in the Toilet
Santorini is unquestionably a romantic destination. The main activity of the day is to watch the sunset while throwing back a glass of wine. Couples stroll hand in hand.  You can tell they are honeymooners by the intense sparkle of their new wedding bands. However, Santorini is far from romantic when it comes to their bathrooms. While commonplace on all of the Greek islands that I visited on my honeymoon, even the nicest of hotels discouraged flushing your toilet paper down the toilet. I wasn't expecting this less than romantic practice from Santorini, but they have plenty of signs to make sure you don't clog up pipes on the island. While your hotel might have toilet paper to use, most of the archaeological sites I visited or museums in Santorini had a serious lack of toilet paper in their facilities. If I could turn back time, I would have added toilet paper to my packing list.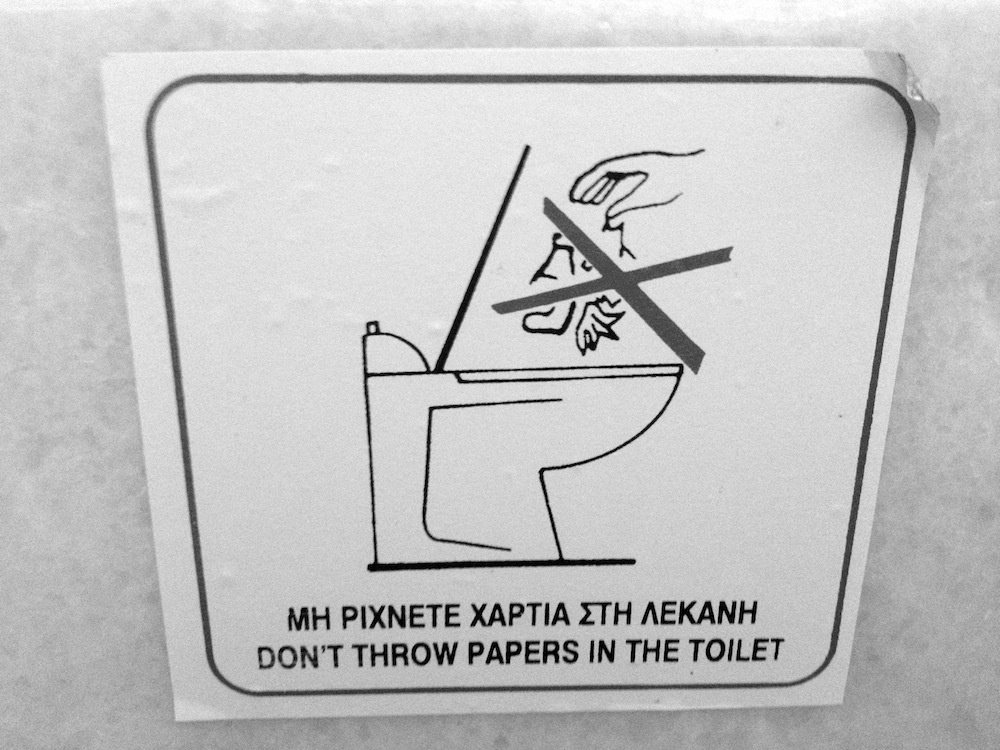 Check-Ins Can Be Lengthy
It never crossed my mind that in order to check-in to my hotels buried on the edges of cliffs on Santorini I would need a few extra hours in my day. Due to all of the stairs and ups and downs of Santorini's main towns of Fira and Oia, hotel check-ins can eat away at your day. For example, in Oia, Santorini's most photographed and picturesque village, most hotels require you to meet at a tourist office on the edge of town. They will then call your hotel to arrange for their "bag carriers" to come help you with your luggage. The overall check-in process stretched beyond an hour. By the time I finally reached my room, I wanted to collapse. If you are staying in the hearts of these cliff-clinging villages, be prepared for check-ins that could take up some of your time. Also, it is worth noting that if you rent a car, you might have to park and drag your bags a considerable distance before you reach your accommodations.
Pack Light and Be in Shape
Santorini is a never-ending staircase. There are ups and downs and those ups and downs can be steep. While I tried to be a decent shape for my wedding, I don't know if I was prepared to hike Santorini on my honeymoon. Especially if you are visiting in the heat of summer, those ups and downs can be downright painful. Santorini requires more effort to get around its towns clinging to the cliffs. Even if you aren't in Olympic shape, Santorini is still obtainable, albeit if you pack light. I had a medium sized rolling suitcase that was hard to maneuver on the island due to all of those stairs. While I would never abandon my rolling suitcase ways for Santorini, I would have at least tried to pack a little lighter to cushion the blow of all of those stairs.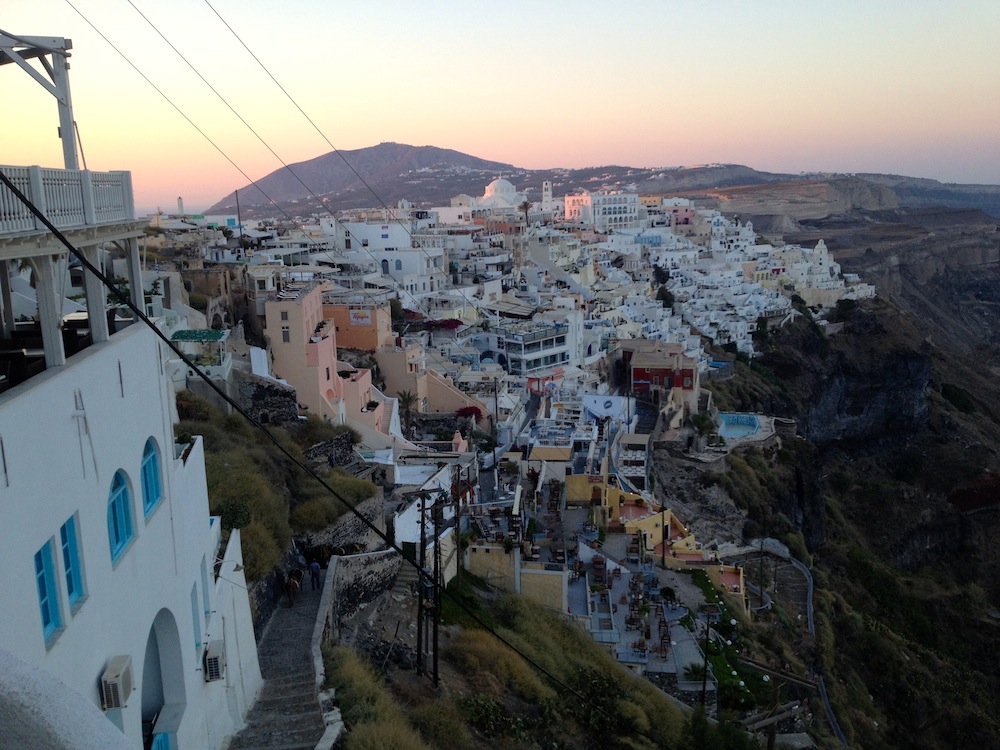 Mind the ATVs and Scooters
Santorini measures less than 30 square miles. As a result, you don't need much of a vehicle to get around. And due to its small size, I saw more ATVs and scooters than I had ever seen in my life. While we rented a car, if you could call it that, we were forced to deal with all of the ATV and scooter drivers, many of which were sunburned tourists who had never driven a scooter before their trip to Santorini. The roads would clog and with plenty of blind corners, we were trapped behind them. If you are going to visit Santorini at the height of tourist season or even at the end of it as I did, mind the ATVs and scooters on the road.
The Beaches Are Rocky
When you see photographs of Santorini, you don't often come across shots of the island's beaches. I found this might be due to their rockiness. Most of the beaches on the island are very rocky due to Santorini's volcanic origins. While this isn't necessarily a bad thing, I do wish I was more prepared in this department. You almost have to rent a chair and umbrella to even enjoy Santorini's beaches.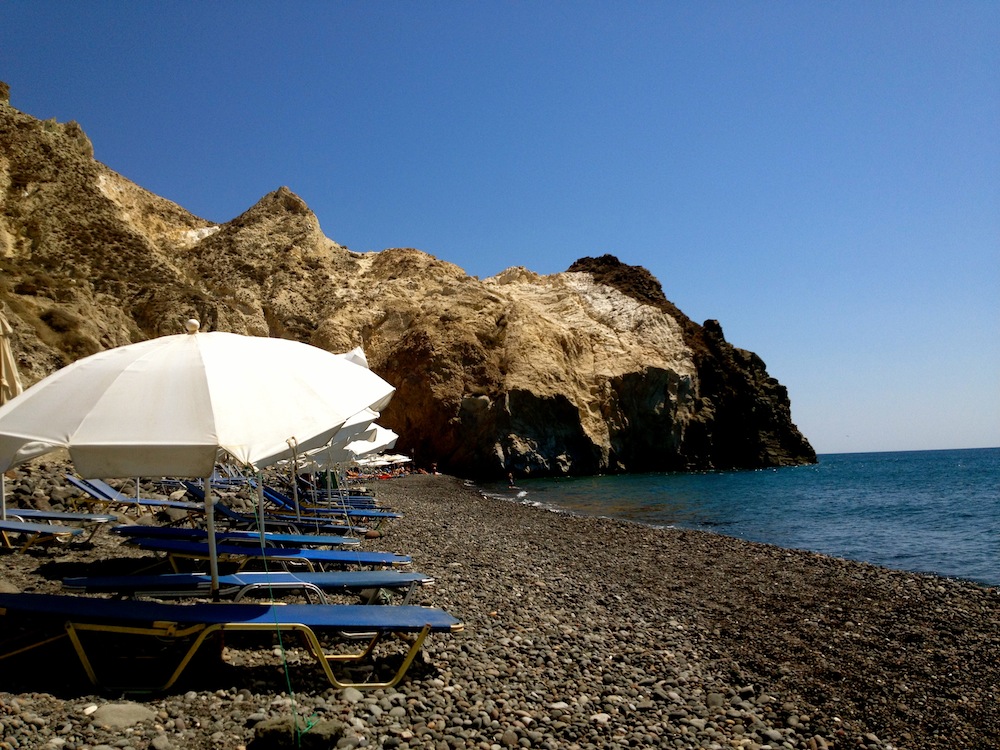 Have you been to Santorini? What were some things you didn't expect?