This week's Wish You Were Here photo comes from Melissa McKee of the blog for Collette Vacations. She shares a great view she experienced in Chile.
The park on top of Cerro San Cristóbal, the big mountain overlooking Santiago, was incredible.
I took the 10-minute tram ride to the top, where a few last steps (o.k., it was a workout) led up to the 72-foot statue of the Virgin Mary, who seems to be casting a protective eye over the bustling cityscape where the Andes Mountains loom large. It seems romantic couples head here as well to enjoy the epic view…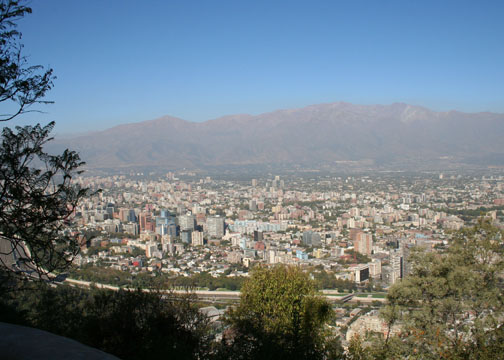 For more from Melissa, check out the Collette Vacations' Blog and follow her on Twitter at @prmelissamckee.
Would you like to have your photo featured here? Email me at suzy [at] suzyguese [dot] com.