"The path to paradise begins in hell."–Dante Alighieri
"I'll take the hot," I casually reply to the woman behind the counter. She stares back at me with a look of wonderment meets stupidity. "Have you been here before?" she asks. I quickly assure her that I can handle a little heat. In fact, I don't mind spicy food. My husband  smartly asks for his chicken to merely be in the medium range. I, on the other hand, am no chicken.
As we passed through Nashville on our way to Louisville that day, I realized lunchtime would be set perfectly in Music City. After a little searching, I discovered Nashville's food staple, hot chicken, had evaded me all these years. Typically breaded and coated with spices and heavy on the cayenne, you can find hot chicken establishments all over Nashville. Seeing that the first and original hot chicken eatery in town was right along my route, I directed us to Prince's Hot Chicken Shack just northeast of downtown Nashville.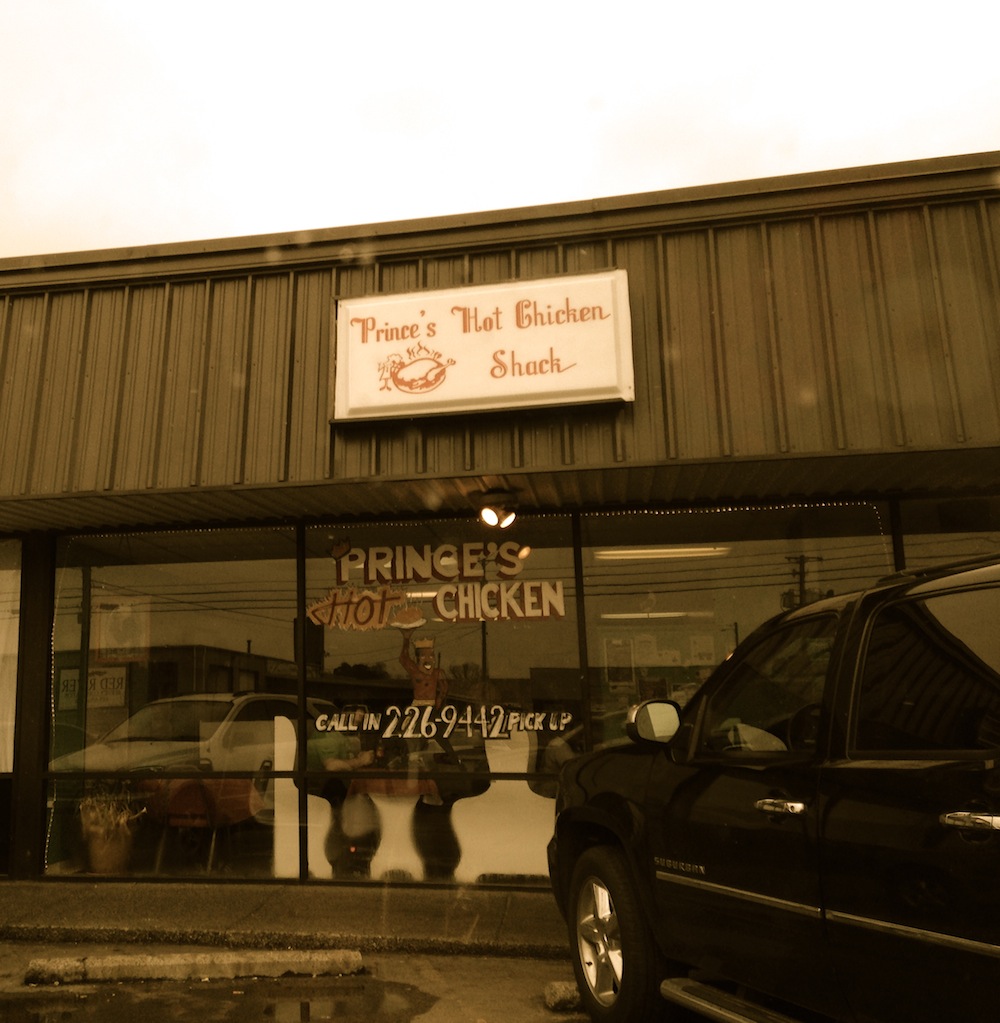 We step into the simple restaurant, composed of a handful of tables and chairs and plenty of chicken figurines. The trashcan is overflowing with napkins and plates stained a deep red, an indication of Prince's popularity. We step right up to the window and order our chicken marinated in buttermilk, breaded and sauced with the top-secret spice concoction. Prince's then pan fries the chicken in a cast iron skillet. With varying temperatures of mild, medium and hot, I press my luck and order the hot, despite reading they won't serve you hot if you are a first timer.
The idea behind hot chicken stems from Thorton Prince. Known for being a bit of a womanizer, Thorton returned home to his girlfriend after a late night out on the town. Tired of his ways, she decided to get back at him at breakfast by dousing his fried chicken in a spicy concoction. Thorton ended up liking the hot chicken and thus Prince's was born in Nashville. Prince's Hot Chicken Shack became known for serving up late night meals once the Grand Ole Opry got out in town. The decorated walls of Prince's tell how this hole in the wall establishment is five-star in its awards and culinary accolades.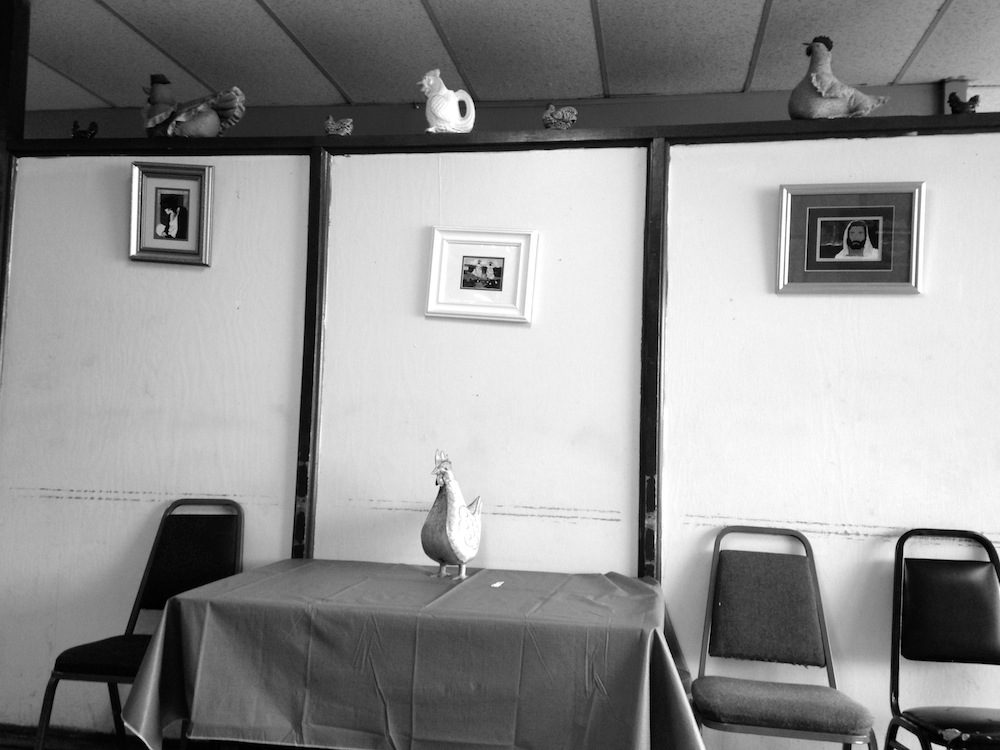 We drum our fingers against the table in a decidedly bittersweet anticipation, anxious over the supposed heat we are about to experience. At last, our number is called. My husband comes back to the table with a tray featuring two large servings of chicken perfectly placed on top of white bread and garnished with a bright green pickle. "Which one is the hot?" I ask. His reply, "I have no idea." We make an educated guess that one looks hotter than the other and I quickly snatch it up as my own. I pull off a piece and before the chicken can hit my taste buds, I can feel the heat. My lips start to burn. My eyes are watering. I begin to cough, the type of cough that only develops with an overly carbonated ginger ale or extremely spicy food.
Unlike any chicken I have had before, I resolve to press on through the heat. I eventually develop numbness to it. The juicy chicken coupled with a coating and crust similar to the color of the hair on my head has taken hold of me. My fork can't rest until there is nothing left behind. I look up for a brief moment to see how my husband is faring. Sweat is pouring from his brow. His eyes also look watery. Except, his face is a little redder than mine. A woman appears from behind the kitchen and saunters past our table. She almost passes us by and then she backtracks. She looks down at the chicken and then looks up at my husband. "Did you get the hot?" she asks. He replies, "No, just medium." She walks away with a conscious eye, knowing full well we seemed to have switched up who's chicken was who's on the tray. To eat hot chicken in Nashville and come out alive, you have to be a bit of a chicken and accept that you might have to order medium chicken instead of the hot. An idea born out of sweet revenge, it is most appropriate that hot chicken in Nashville takes its own revenge on the mind, body and soul of the feaster.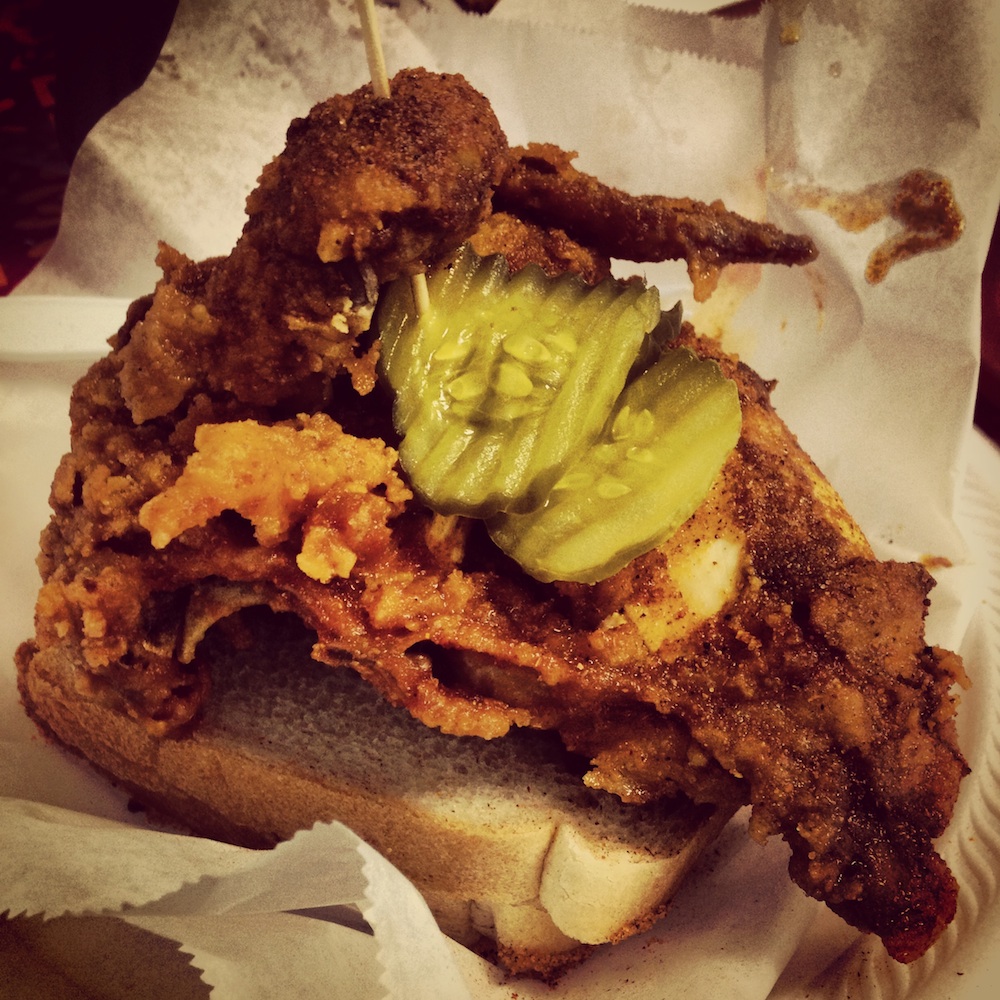 Once we accept defeat, we add our battle scars to the trashcan like the others before us. Hundreds of miles from Nashville and hours later, my lips are still burning and my stomach feels like it has camped out in its own ring of hell. As I glance over at my husband who appears to be in a bit more pain than myself, I quietly think, "Good thing I didn't get the hot."
Have you had hot chicken in Nashville or Prince's Hot Chicken? Could you take the heat? 
More Information:
Prince's is cash only. It is located northeast of Nashville in a strip mall at 123 Ewing Dr #3. I'm told there is usually a line but I visited around 2PM on a Tuesday and didn't have to wait.