"Take me to Texas," I said. I wouldn't be the first to utter such a demand. I can only imagine what this request would mean for a fourteen-year-old orphan from Mississippi in the late 1800s. This was Bettie Howard's predicament. She just wanted someone to take her to Texas.
Bettie would find her transport in James Howard, a surveyor rolling through Mississippi. She made him a deal. She wouldn't promise to love him, but if he married her and took her to Texas, she would bear his children. It's not a deal you hear everyday. I feel bad for poor James for a moment. This woman was seemingly using the man just to get to Texas.
I quickly learned just why he put up with such a business agreement. Arriving to Texas by 1867, Bettie barbecued meat by searing it then slow cooking it on the wagon train. Her barbecuing skills are what her great grandson Scott Roberts has made into a full-blown barbecue business just outside of Austin.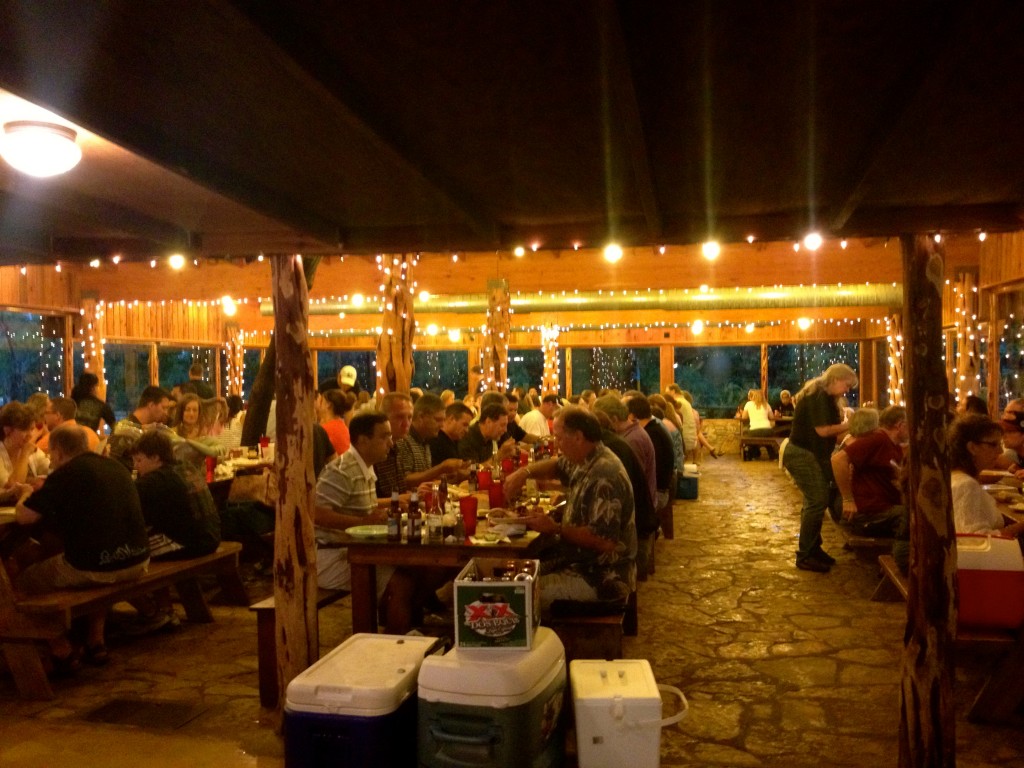 The Salt Lick may have been slow cooking in the family since Bettie's wagon train barbecues. Scott's father Thurman borrowed Bettie's ideas for barbecue when he founded the Salt Lick in 1967. Wanting to remain close to his family and yet still make a living, he brainstormed a list of 54 ways to stay in the town of Driftwood in Texas Hill Country. Opening up a place where people could feast on barbecue just happened to fall on the list.

Thurman put his idea into action, building a barbecue pit and cooking meat beginning on Thursday of each week. He would sleep by the pit until all of the meats sold, giving a whole new meaning to sleeping on the job. His tasty barbecued meats grew in popularity, so much so that his family built a porch around the pit. The Salt Lick would grow and grow to become what it is today, one of Texas' most famous barbecue joints.
The traffic is heavy out of Austin and for a minute I contemplate turning around. Is this place founded on a not so romantic relationship going to be worth the trip? I decide to press on, as the road turns from city action to country calm.
A steady stream of cars follows me as the sky starts to light up. In typical Texas fashion, a summer thunderstorm is approaching. With each crack of thunder and lightening, I wonder if barbecue is worth risking your life over. I don't know what I was wondering about to be honest. Of course it is.
I turn off to the Salt Lick, what looks more like a private family ranch. The parking lot brims with cars. For a minute I think I am invading some family reunion in the Hill Country. The skies don't look kind but they haven't cried just yet. I reach for the porch-like door and take a seat on a wooden bench. The heavens open to a downpour just as I place my order. It's a barbecue miracle.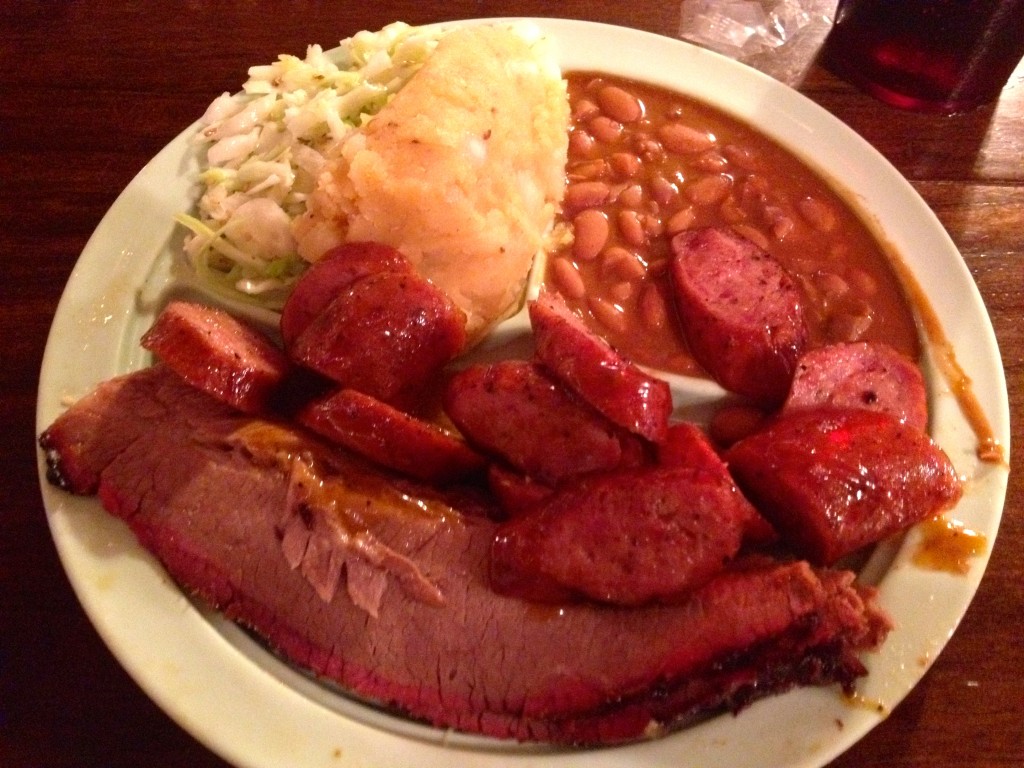 I start to notice coolers next to tables, spilling out with beer. It is bring your own beer here, only furthering my feelings that I have crashed a family affair. My waitress remarks, "You made it just in time," motioning to outside. At the Salt Lick, you are surrounded in windows. You really do feel as though you are on someone's closed in porch for dinner. Adorned in twinkle lights and packed full of people, this is one big family picnic.
I order up a combo plate of brisket and sausage. The brisket is easily the Salt Lick's best meat. Dry rubbed, seared on high heat and then barbecued in a sauce, the brisket is practically like butter. As it melts in my mouth, I can completely justify almost being struck by lightening for a taste.

The barbecue pit looks very much like I imagined, large and covered in meat. The smells radiating from it are beautifully toxic. I resist the urge to jump over the counter as I remain politely seated.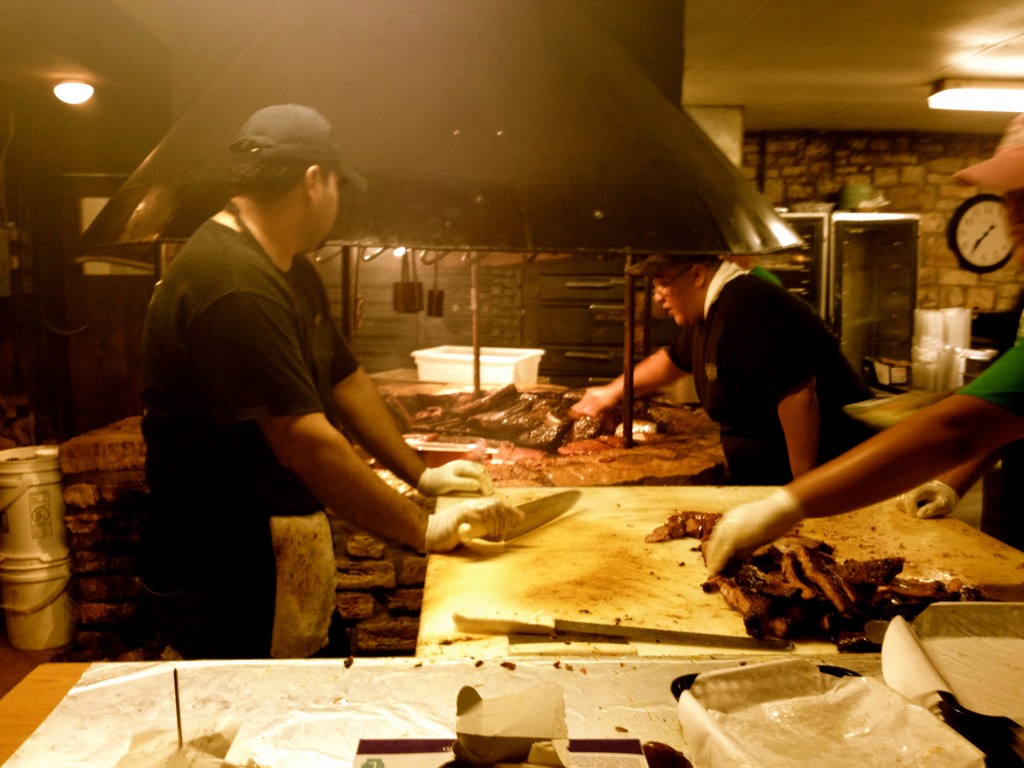 After practically licking my plate clean, it's time to head out into the elements. Around one hundred people are waiting outside in the pouring rain for a chance to taste the Salt Lick's brisket. Normally I would question people for waiting in a storm for a simple meal, but I don't after my taste of the Salt Lick. This meal is as complex as Bettie's relationship to James must have been.

Bettie wasn't willing to promise to love the man that brought her to Texas, but I imagine if she saw what her barbecuing on the wagon train led to, she would probably open up her heart. A man can't be all bad if he brings you to Texas and he just might be worth loving if he brings you to such barbecue. It may not be a candle lit, linen tablecloth meal at the Salt Lick, but it is still romantic. You can fall in love with brisket and the whiffs of meat emanating from the pit. I sense the love of family around a giant pit of meat and thank a man for kindly bringing me to Texas.
Have you been to the Salt Lick just outside of Austin?