Full Disclosure: This is a sponsored review. While I was compensated for reviewing Travel Grove, my thoughts and opinions are my own.
What is TravelGrove.com?
Travel Grove is a travel search engine, compiling together searches for flights, hotels, car rentals, cruises and vacation packages in one spot. Travel Grove aims to find the best travel deals for users in a easy and convenient way. The goal of the site is to weed through all of the travel offers and information so you don't have to, while finding the price you want.
Features
I did some playing around with Travel Grove's features, beginning with the flight search. Looking for a flight to San Francisco, Travel Grove presented a number of flights options. If you find a fare you want, you click on it and Travel Grove takes you to the site offering the rate. You can narrow down your results by time, airline and price as well. For each flight, the number of award miles you can receive is listed below each option, right in the search results. On the main Travel Grove page, there is also a cheap flights section where current fares on flights that are inexpensive are displayed. Under the deals section, you can find more extensive information on say cheap flights to London or cheap flights to Atlanta.
I also searched for hotels and a rental car. In the hotel search, you can click what amenities you are looking for in accommodations. There is also a "More Info" section with each listed hotel, telling you a description of the hotel, its amenities, photographs and where it is located on a map. The car rental search allows you to pare down the results by car rental class, company and price.
Travel Grove also features a travel deals section. While I tried searching for deals in Ireland at the moment, I didn't have much luck. Perhaps there are no deals at the moment. Travel Grove also has a Travel Guide Section with content on a number of locations around the world. In that section, you can also see Travel Grove members who have been to your destination along with their tips on that particular place.
While you don't have to register with Travel Grove, if you do, you become a part of its Community feature. Here you can write travel journals, share photographs and talk to other travelers on the forum. It is a way for travelers to meet who have the same travel interests.
What I Liked
A feature I really found useful comes during the flight and hotel search. I liked how you could click on an icon and see the complete flight or hotel details, rather than having to click on the flight, be re-directed to another page and stuck trying to get back to the search results when you figured out it wasn't the flight you wanted. I also found the display of the award miles I could receive to be convenient, as most travel search engines don't really list that information in their results.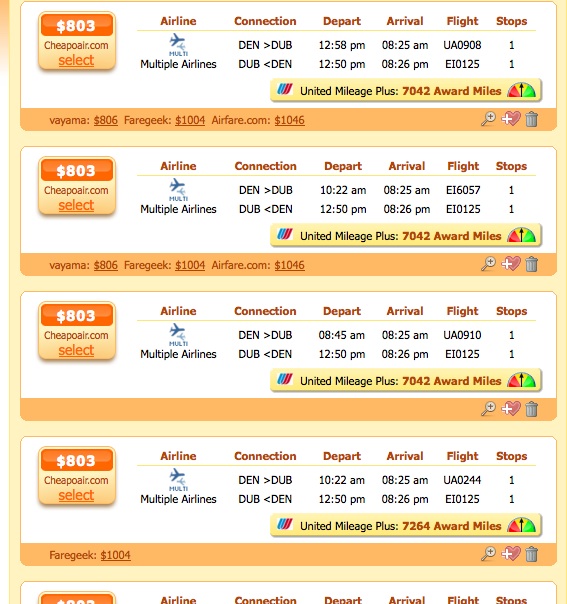 I appreciated how the Travel Grove Community feature is set up. You don't have to register if you don't want to, but if you do, you have another way to connect with travelers maybe in the same location as you. If you don't want to be a part of the Community, you can still read tips from people on different places around the world and even have a peek at the forums for tips and ideas.
I also like how on the Travel Guide pages, current deals in that location are listed. This is nice as you might not know the right keywords to search in the travel deals section of Travel Grove, so you may find what you are looking for in this section.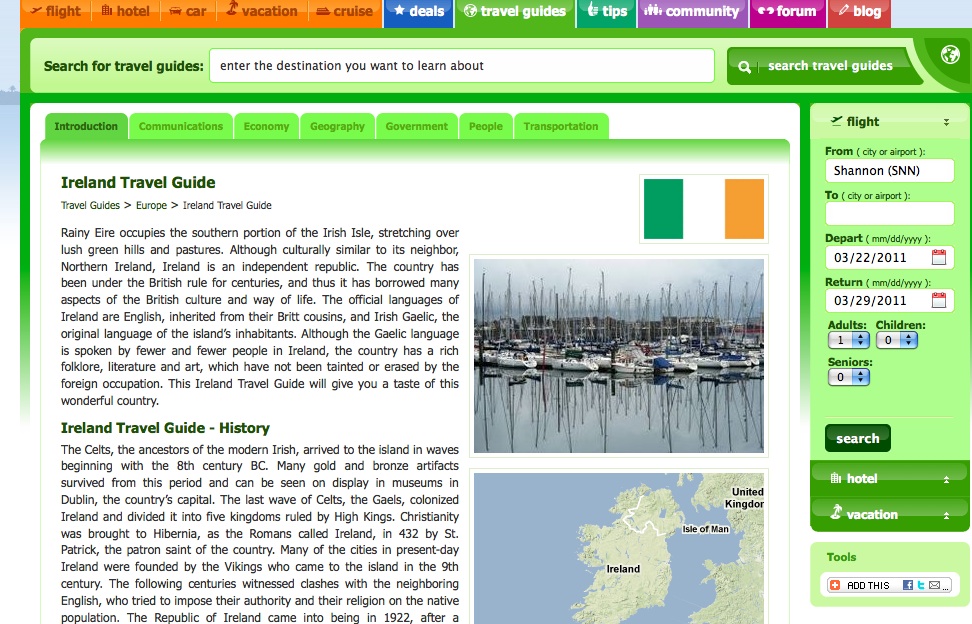 What I Didn't Like
After some searches, Travel Grove couldn't come up with any results for me. I searched for a car rental, typing in "Dublin Airport". At first it only had one option. I tried just typing in "Dublin" and it came up with a bunch of results picking up from Dublin Airport. For me, it seemed like the search results could be somewhat quirky and temperamental.
There are also a lot of boxes and features on the sides of the search results. It can seem a bit overwhelming searching on Travel Grove as you almost don't know where to look. It is not the simplest of designs as I was constantly finding new little features and boxes when I was just trying to do a basic search.

Overall
It never hurts to do some searching for travel deals and have another venue to do so. Especially if you are interested in your travel search engine having a community and a bit more than just search results, Travel Grove goes beyond searching for deals. I recommend trying out Travel Grove for yourself and seeing what you think.
Have you used Travel Grove? What do you think about it?