Full Disclosure: This is a sponsored review, meaning I was compensated in exchange for checking out HotelCalculator.com. Regardless, my thoughts about the site are my own. No one has ever told me what to do or what to write so why now?
What is HotelCalculator.com?
Called "the hotel search engine", HotelCalculator searches over 20 travel sites in over 13,000 cities worldwide, detailing over 100,000 hotels. The website aims to save time by doing the hotel searching for you, condensing the results into one simplified list.  
Features
I did some "fake" searching for hotels, beginning my research with Florence, Italy. Searching for a hotel for three nights in January, Hotel Calculator comes up with a simple list of hotels, organized either by rates per say or rates per night. You can place the rates into virtually any currency you want. You can also narrow down the results pertaining to the location, amenitites, types of accommodations, and guest ratings. 
Once you have found the hotel you want, you can click on it for more information. Hotel Calculator supplies general information, the map and location of the hotel, photo gallery and guest ratings by a number system. A list of available rooms, rates and what sites are offering the rate appears, allowing you to click on the site offering the rate you want. I also did some searching around for hotels in smaller towns to see Hotel Calculator's selections. For little towns in Italy I searched, I found dozens of options.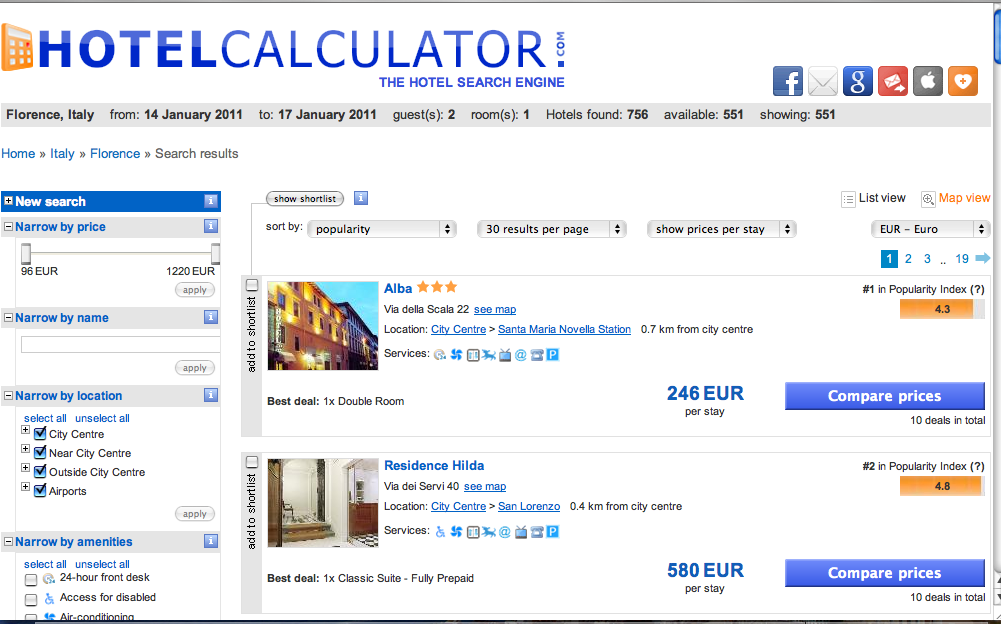 What I Liked 
Probably my favorite aspect to Hotel Calculator was its simplicity. I liked how it wasn't overly complicated with ads and links. The overall appearance of the hotel search engine is very clean and user friendly. You punch in where you want to go, when you want to go and how many people you want to go with you. If you are looking for a hotel search engine that is very easy to use, Hotel Calculator is one of the easiest hotel search engine sites I have tried. 
I also liked how the hotel photos were of good quality. Photos of accommodations are very important to me so it was nice to see Hotel Calculator had quite the selection. I also appreciated the option to see the rate by stay rather than just per night. Knowing what the lump sum will be simplified the process even more. 
What I Didn't Like 
Hotel Calculator gives you the option to save a running list of accommodations you are considering. When you click to see your running list, the site presents a link you have to copy and paste to your email or notepad on your computer. It would be nice if the site had some sort of login where you could register with an email address and password and have your saved hotels on one page. 
Another downside to Hotel Calculator, it only searches 28 hotel sites. While I expect that number will increase over time, I did find it somewhat lacking in choices compared to sites that search hundreds of hotel websites. 
iPhone Application
HotelCalculator also has an iPhone Application. The application searches for hotels near your current location. It has all of the same features of the main website and comes free of charge. I did some playing around with the application on my phone. I found it to function just like the website. I could see it being useful if you were on the go and just realized you wanted to head to Chicago tomorrow and needed a great rate in a hotel. 
Overall
I would recommend you try out Hotel Calculator for yourself. It is always nice to have a site that simplifies one aspect to travel that can be tiring and daunting. Let me know what you think in the comments below once you check out HotelCalculator.com. 
Have you tried this site? What did you think?