Full Disclosure: I received a complimentary New York TV and Movie Sites tour with On Location Tours. All of my opinions about the tour are my own. Your opinions may vary.
As part of my September of travel, I was lucky enough to squeeze in a mother-daughter trip to New York City at the end of the month. My mom and I were graciously invited to take an On Location Tour on a rainy New York day. On Location Tours take travelers on various tours in New York, Washington D.C., and Boston, focusing on the sights of cities as seen through the movie and TV camera. In terms of New York City, On Location Tours has several tours you can take such as tours of Sex and the City sites, Sopranos Sites, Gossip Girl locations and a New York TV and Movie Sites tour.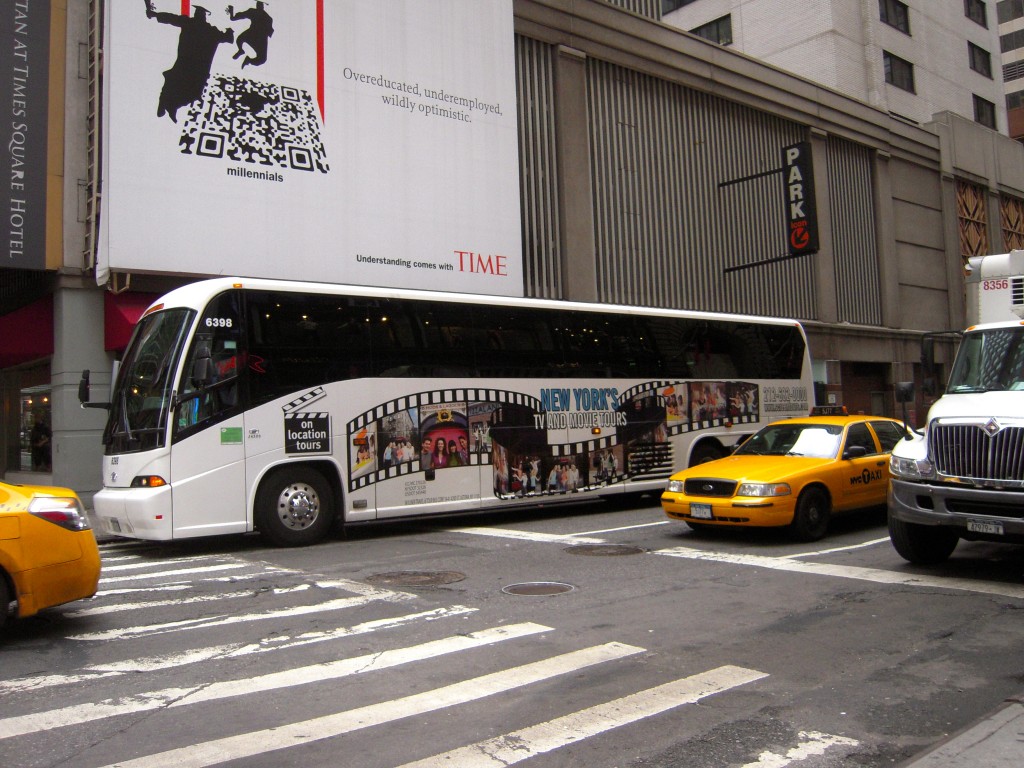 I selected to go on the New York TV and Movie Sites tour to see all of those places New York has appeared in film and on television. The tour begins just shy of Times Square where a peppy tour guide will greet you. The On Location Tour guides are generally actors and actresses in the city, such as my tour guide Bianca.
I boarded the large bus, mostly filled with Australians, one of which told me I was the first American he met in New York. TV theme songs from Friends and Felicity blare across the bus speakers to get you in the mood as you board the bus. Once everyone was on board, we began traveling through New York, going through Central Park South, Fifth Avenue, the Flatiron District, Chelsea, Greenwich Village, Soho, Tribeca and the Lower East Side.
Most of the tour consists of, "That building was in _____ and _____ . And that landmark to the right was in _____ and ______ ." Being the most filmed city in the entire world, you can expect to see loads of locations from several different films and television shows. In between seeing the sights, film and movie clips are shown on the bus, reminding you of those buildings and subway stops in case you don't remember them from that Friday night movie two years ago.
At a few stops you are invited to get off the bus and go take pictures. You get off the bus to see Washington Square Park & Arch, seen in I Am Legend, Enchanted, August Rush, When Harry Met Sally, Deep Impact, Friends and Remember Me.
The bus also makes a stop at the Friends Building on Bedford Street. This seemed to be the big draw for many on the tour. The building was used as the shot of the exterior in most opening scenes of the TV show. However all of the interior shots were on a set in Hollywood. The restaurant at the bottom you might also recognize from No Reservations.
Another stop on the tour is to see several houses along  St. Luke's Place, featured on The Cosby Show, Wait Until Dark and Autumn in New York. Bianca pointed out how filmmakers and producers like the street for its great lighting. Australians apparently love The Cosby Show too.
What I really enjoyed about the tour was not so much seeing all of these locations from random films and television shows, but rather the little fun facts the tour guide knew. It is amazing how much information the On Location guides can remember. Bianca pointed out streets certain celebrities live on along with how to find movie active locations on your visit to New York. These pieces of information I wouldn't know from a guidebook. I also appreciated the general tour of New York as you go through neighborhoods and areas like Alphabet City and Chelsea. You would have more trouble seeing these spots on your own with public transportation and cabs.
The tour does take 3 and half hours, with a 20-minute break in SoHo to grab lunch or to shop. It could probably be shortened to two hours. As New York is the most filmed city in the world and it is free to film on the streets, there are so many films the tour guide would mention that I hadn't necessarily seen. You might want to watch I Am Legend, Hitch, Enchanted, Spider-man and throw in a few episodes of Seinfeld, Friends, Gossip Girl and Sex and the City before you go on the tour. If you want a more focused tour, you could go on one of their specific TV show or location tours.
The New York TV and Movie Sites tour does provide a great view of the city of New York, television in the city and film in the city. While a costly $38 per person, you don't have to worry about walking to all of these places or taking cabs. I also think the information the tour guide provides, especially those fun, not so well known facts, make the tour worth its value.
Have you been on an On Location Tour? What did you think?