Full Disclosure: This is a sponsored review, meaning I was compensated in exchange for checking out AwardWallet.com. Regardless, my thoughts about the site are my own.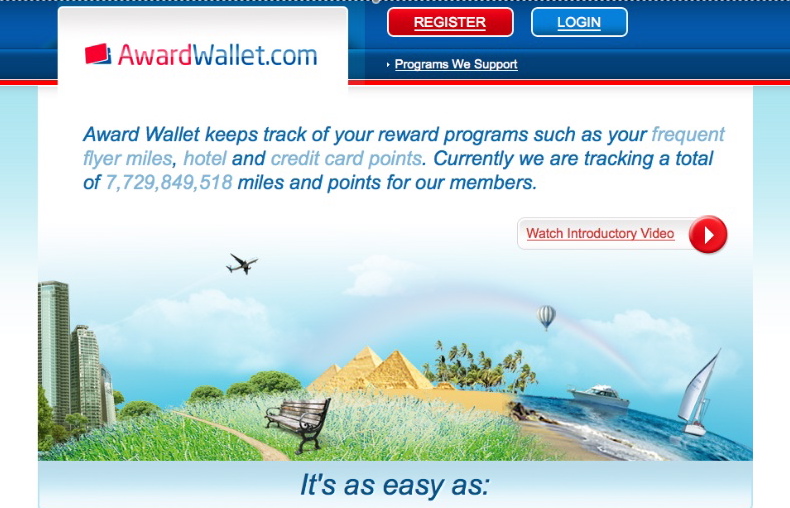 What is AwardWallet.com?
Award Wallet keeps track of award program balances, from airline miles to hotel points. Those who travel frequently and join award programs constantly can have all of their balances and expiration dates on points in one place. Similar to HootSuite tracking all of your social media accounts, you can keep tabs on many different travel award systems with Award Wallet.
Features
After you register with Award Wallet, you are presented with your profile where you can add award programs. Some of the programs they have listed include airlines, hotels, credit cards, shopping, car rentals, dining, trains, surveys and other miscellaneous award programs. If your service isn't listed, you can add it yourself. Once you do add an award program, you will see it listed on your profile. For example, I added my United Mileage Plus account. From the Award Wallet screen, I can see my account number, my mileage balance and when those precious miles expire.
In addition to tracking your award programs, you can also have Award Wallet track your coupons and gift cards. Award Wallet can email you before those cards and coupons expire. The site also features a connect option. You can get in touch with other members you know or add other names to one Award Wallet account. I could see how this would be good for families that have several mileage numbers and need to keep them organized. Award Wallet also has a forum where you can discuss all things reward related such as mileage offers and deals with other members. To make things easier, if you have an iGoogle account, you can add Award Wallet to your Google page.
What I Liked
I really appreciated  how easy it was to set up Award Wallet with all of my award programs. All you need to register is a user-name, password, name and email. The whole design of the site is very simple and straightforward. I added my United Mileage account and hotels.com rewards system account in a matter of seconds. You need your user-names and passwords to whatever award program you are looking to track and Award Wallet will add it to your list.
It was also nice to be able to click on whatever award program on my list I wanted and be directed to the site and my account there, right from Award Wallet. I didn't need to type in passwords as they are already in your Award Wallet account. Remembering passwords all the time for different award programs can be exhausting, but Award Wallet eliminates that hassle.
What I Didn't Like
Award Wallet does have an email notifications feature where it will email you with new travel plans. While I suspect if you are traveling every week, this might be nice, I know I already get emails from my airline the day before a flight. Their alert seems somewhat trivial.
I also found it confusing to discern between a free account with Award Wallet and an Award Wallet Plus account. The FAQ page does have a chart comparing the two, but the price for an Award Wallet Plus account said, "you get to choose". This seemed confusing to me, but upon further digging, it appears you can say how much you want to pay for an Award Wallet Plus account.
I also didn't really see the benefits of going with the Plus account over the free account. The Plus Account apparently displays extra reward account properties and a historical account balances chart. It also allows you to export your award balance into an Excel format and lends you unlimited expiration notices.
iPhone Application
Award Wallet also has a free iPhone application. I played around with the app on my phone and found it to be very basic. It seems like a great way to keep up on your balances and points in one touch while on the road.
Overall
Award Wallet is designed for people who travel, as it is basic yet helpful. Keeping track of award program balances helps those who travel all the time or join travel clubs constantly not miss out on a free flight due to expired miles or a free night in a hotel because you forgot you belong to a certain hotel club. I recommend you try Award Wallet yourself and see how much more organized you are or are not. The first 15 comments on this post will be emailed a special promotional code to upgrade to an Award Wallet Plus Account.

Have you used Award Wallet? What do you think of the site? Do you want a code for the Award Wallet Plus Account? Leave a comment below saying you do. The first 15 comments will be emailed the promotional code.