I used to tease my Mom growing up that she packed by set colors. For every family trip we would go on, she would select two to three colors for the packing "theme" so to speak of the trip. She would then toss in basics of black, white and tan. I used to mock that idea, thinking it would be a trip where it looks like you are wearing the same thing, over and over again. And the wise sayings, "You're mother is always right" or "Listen to your mother" holds true in how I packed for a month in Ireland.
Packing is generally a dreaded activity. I may moan and groan about packing, but secretly, I love it. For this trip however, I knew it would be a challenge. I am gone for a total of 28 days, making it hard to pack enough clothes to not have to do laundry or too little clothes you will need to do laundry along the way. I also only wanted to bring one rolling suitcase and a tote for my computer. While I don't enjoy lugging extra weight around, I also don't like to travel and look like an unmade bed all the time. How you present yourself to the world can reflect how you are treated.
The trouble comes with finding a balance of Goldilocks' descriptions, not to0 much and not too little, not too sloppy and not too dressy. In hopes of helping those in the middle of packing hell, here are just a few of my tips, and my Mom's, that can make the process easier.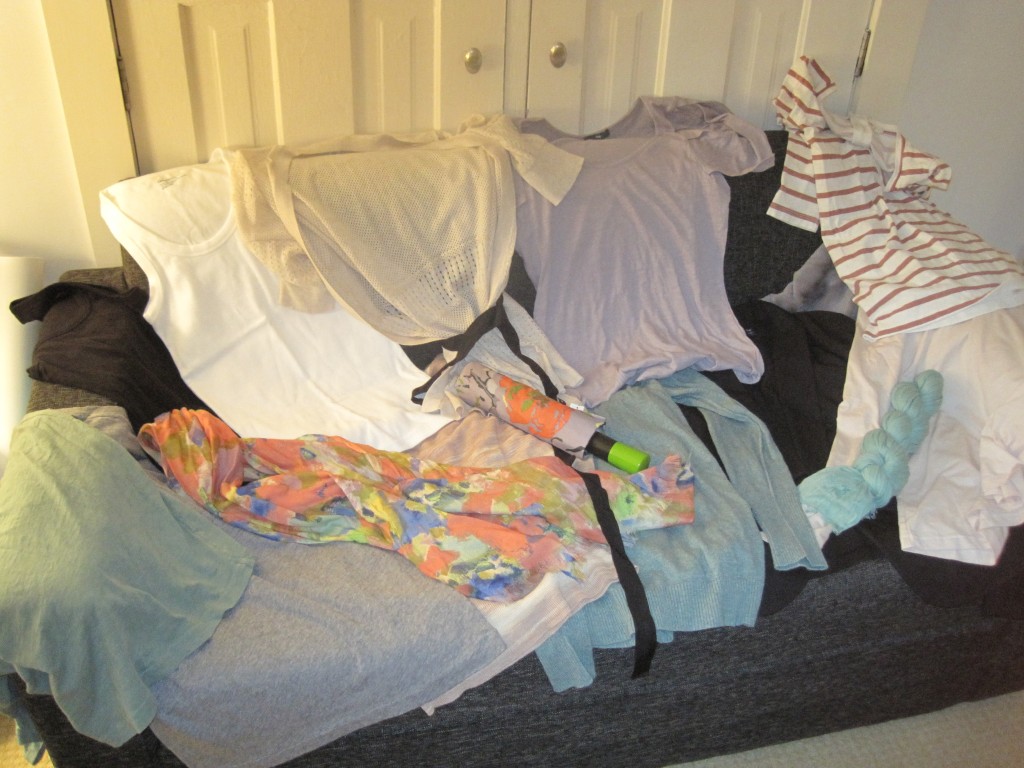 Pick one to two pieces and paint the packing picture
For my month in Ireland, I selected two articles to build my entire packing wardrobe around in terms of color. It is much easier to pack when you have a plan for what colors you want to take. I selected an umbrella and a scarf as my inspiration. I drew colors from the two patterns so that everything can be mixed and matched, leaving the window, or bag rather, open to endless outfit opportunities.
Key pieces are key
Depending on where you are going, for how long and for what reason, key pieces are key. I packed a black suit-like jacket that can go over T-shirts and instantly make an outfit look dressier. The material is such it can be folded up into a ball easily. It is a piece that takes up very little room, but that is also something you can wear again and again. I also packed a classic trench coat along with a few sets of black and white tank tops and T-shirts. These key pieces help make it easier when you travel. You don't have to worry about what goes with what as they are classics. They go with everything.
Go With Items That Can Be Worn More Than Once
Maybe I am strange, but I will re-wear jeans, tank tops and sweaters. If I only wore something a few hours and if I wasn't running a marathon in the clothes, chances are I can re-wear an article. Shout wipes and tiny packets of detergent make it easy to ring out items in the hotel sink.
Scarves, Scarves and More Scarves
It is truly amazing how a gray T-Shirt can look completely different with various scarves. I packed four scarves, two patterned and two solid colors. Throwing on a scarf can make you feel more fashionable and turn any outfit into a completely different one. Scarves also make packing for a month easier as they take up little space.
Stick to Your Colors for Multi-Use Items
For my trip this month, I am wearing the classics of black, gray and white, but also the main colors of peach, soft teal and light lavender. If I had packed colors not in this palette or same color scheme, it would be hard to find use for those random tops that don't seem to go with anything. As I learned from my Mom's way of packing, just because you love the shirt, doesn't mean it should go in your bag with clothes of a completely different color. Birds of a feather, flock…you know the rest.
How to do confront packing challenges? Do you pack by colors or just throw it all into a bag and not worry if it goes?