It's roughly just after noon as I take a sip of bourbon. I don't have a problem. I can wait until 5 o'clock somewhere but when in Kentucky, bourbon consumption and education starts early. I am following the Kentucky Bourbon Trail. Needless to say this isn't a path that follows the straight and narrow. It is a trail past honest Abe's log cabins and over rolling Kentucky bluegrass. In between the history is a culture for bourbon, a path that never did run smooth but a course of bourbon finishes that might be.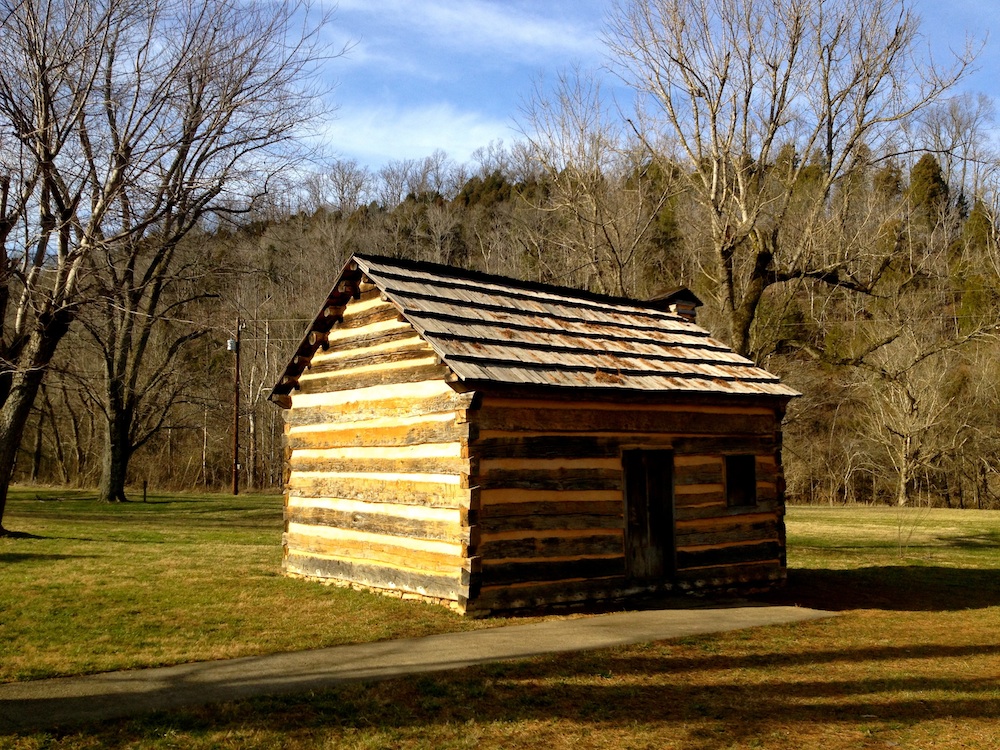 Formed in 1999, the Kentucky Bourbon Trail is the work of the Kentucky Distillers' Association. Several of Kentucky's distillers wanted to create a path of bourbon distilleries for travelers to follow in order to discover the art and science of crafting bourbon. With seven distilleries on the trail, sadly I only have time to stop at two.
Whenever I hear someone remark on how the U.S. lacks a true culture and identity, I now think of the bourbon trail in Kentucky. The first settlers to the area began converting corn and other grains into whiskey. One of Kentucky's three original counties was called Bourbon County. Farmers from Bourbon would ship their whiskey down to New Orleans in accidentally charred oak barrels. Those long trips in charred barrels would age the whiskey into something entirely different. The new alcoholic spirit was named after the county stamped across those barrels, Bourbon County. By 1964, the caramel colored drink would be declared by Congress as a distinctive product of the USA. Today, bourbon is often referred to as America's official native spirit.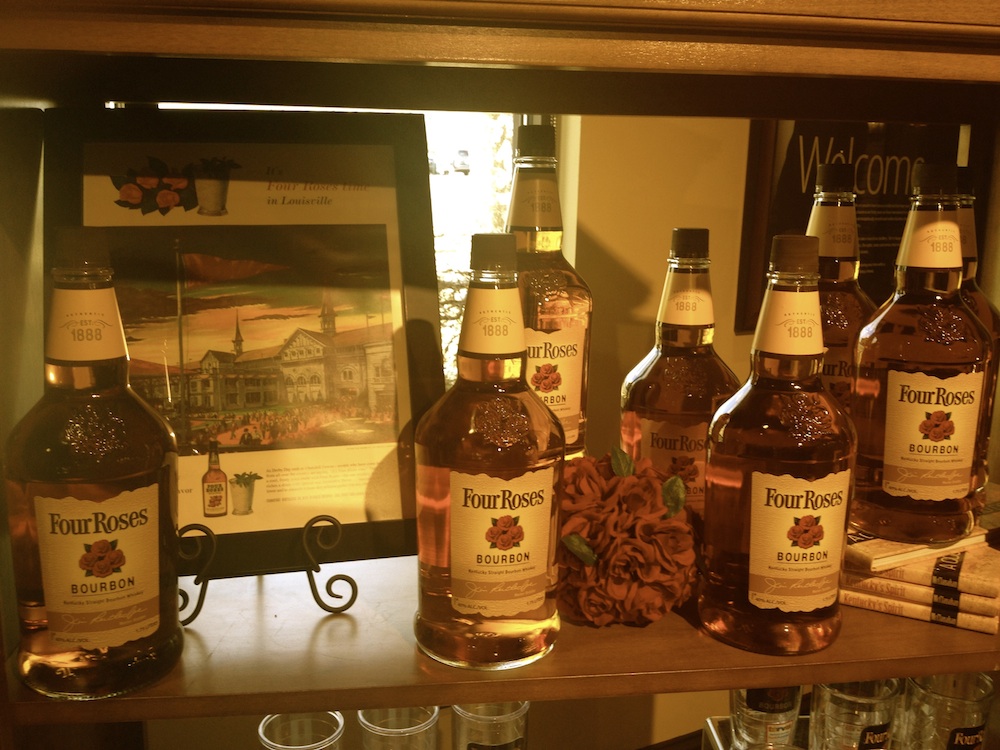 With no official beginning or ending, I dive into Kentucky's sea of bourbon distilleries with a visit to Four Roses. One of the main benefits to visiting Four Roses in the dead of winter is that production is in full swing. The Kentucky heat of the summer halts production and keeps the visitors out of boiling distilleries. However in the heart of February, the business of bourbon is in its distilling stages.
Built in 1910, Four Roses looks nothing like a Kentucky dream. The distillery boasts a Spanish mission style, one that has landed Four Roses on the National Register of Historic Places. Its name comes from founder Paul Jones Jr. When he proposed to his Southern belle, she said her answer would be yes if she showed up to a ball with a corsage of roses. She arrived with four roses on her wrist and Jones never forgot her affirmation.
I begin my accidentally private tour of the distillery with a film on bourbon's history and a talk from my guide. I learn that Four Roses was virtually absent from the US market until 2002. Now it is climbing back into the bourbon scene of Kentucky, garnering awards and acclaim. My guide of just about 5 foot tall leads me through the distilling process. The barrels of bourbon are fermenting below, bottles of bourbon in the making.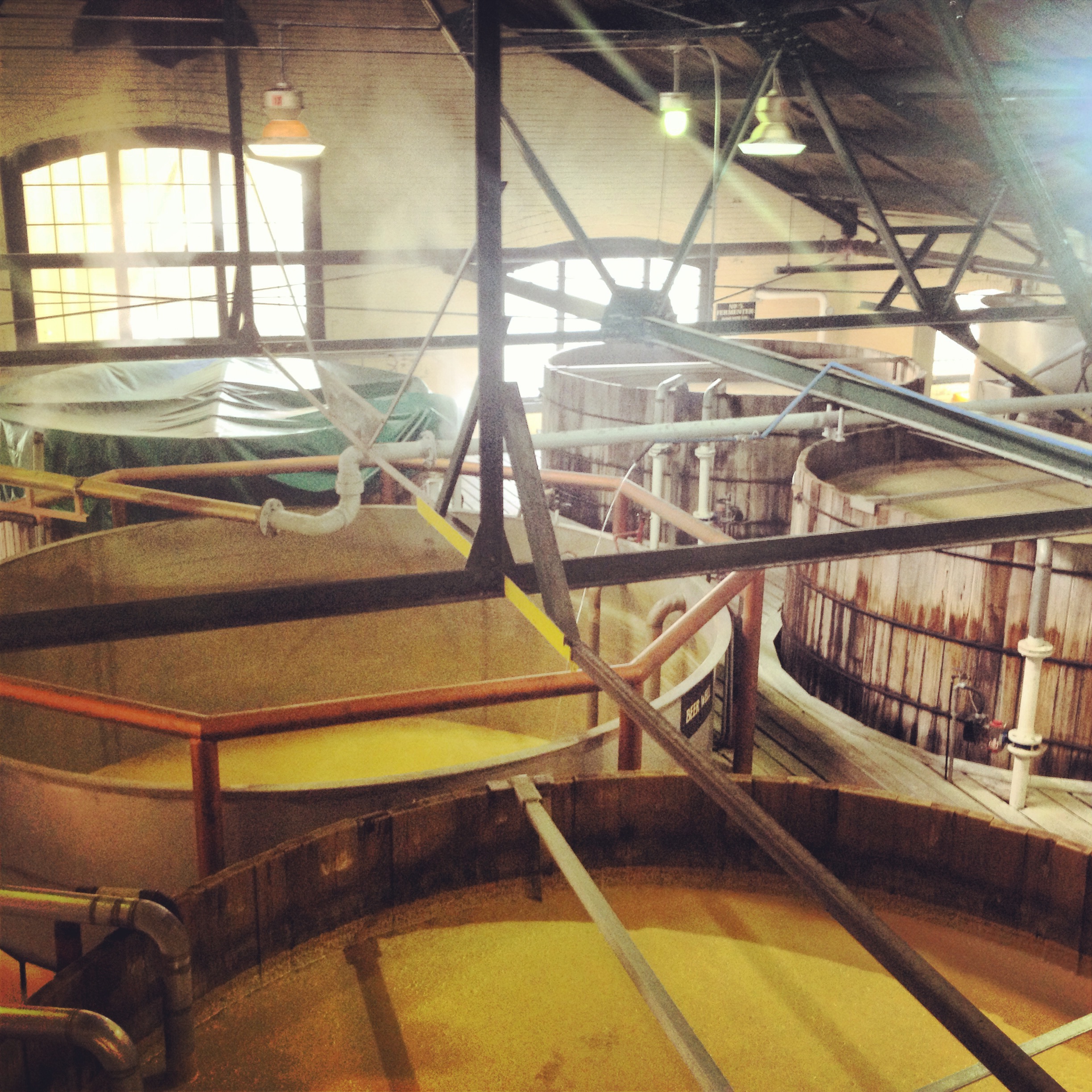 Not knowing much about bourbon, I quickly learn just what makes bourbon, bourbon and not whiskey. In order for the liquor to be classified as true bourbon, it must be aged in new, charred oak barrels. The charred barrels lend a caramelized layer of wood that gives bourbon its amber color. Bourbon must be distilled with at least 51% corn. It can't have any artificial colorings. Like most of the attitudes that I encountered in Kentucky, what you see is truly what you get with bourbon. To this day, bourbon remains the only alcohol distinctive to the United States. More than 95% of the world's bourbon is distilled and aged right here in Kentucky.
At the end of every tour on the bourbon trail, visitors get to taste what they have seen in the making. In front of me sits several glasses of bourbon. 5 o'clock is still in the distant future as I sip on my first taste of Kentucky bourbon in bourbon country. The bourbon slides down my throat, leaving a long and lasting finish, one that warms from the winds of winter howling outside. I head out for Louisville with perhaps an added bourbon spring in my step. Once five o'clock has passed and when in Kentucky, I order up a bourbon drenched old fashioned and appreciate America's spirit with a little buzz. 
Have you been on the Kentucky Bourbon Trail?