I have two old suitcases in my apartment. I have stacked one on top of the other, making for a side table of sorts. I love luggage. Being able to incorporate that love into my everyday life when I am not traveling, even if it is a side table, helps keep travel close to me.
Found at a second hand store, one of the old suitcases that acts as a table is perfectly peach. It still has the former owner's luggage tag attached to the handle. "Lois" I imagine had some adventures with this bag. Maybe she didn't, but my imagination can't think otherwise. A woman who was able to pull off a peach suitcase with magenta cloth interior had to have a spirit for travel. You just don't see that color, shape or style at the baggage claim everyday.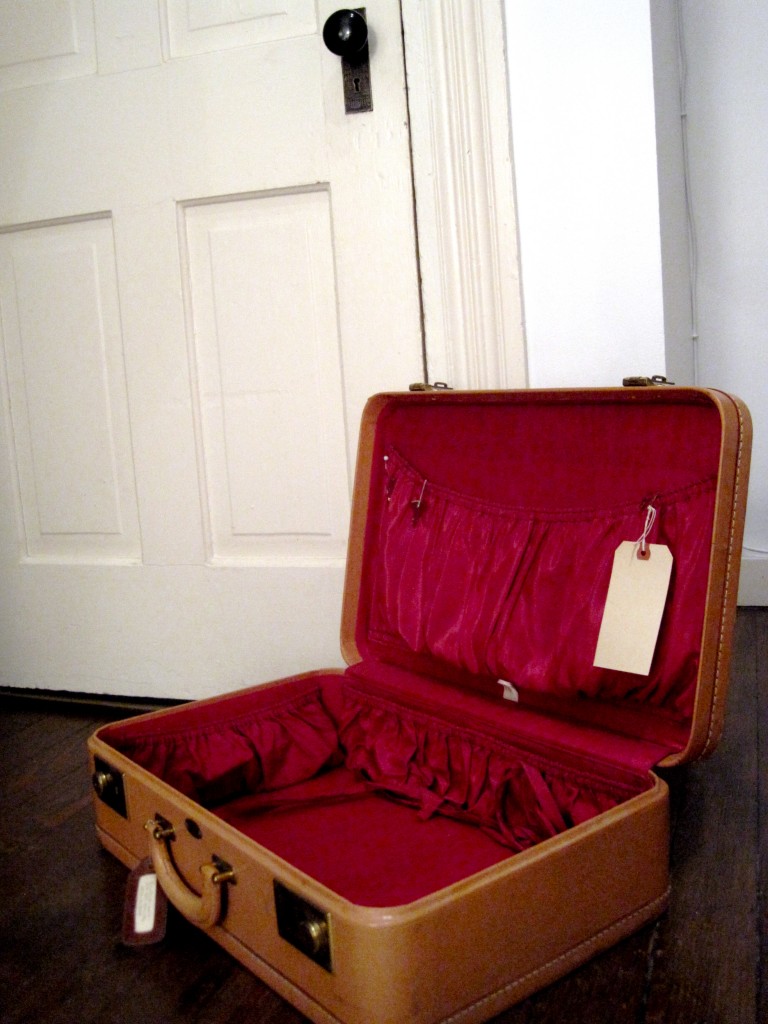 After a year filled with travel, I am faced with another year of travel. And strangely enough, I am inspired by that peach suitcase I walk past every day. There is one element that holds back my inspiration, money. I don't have oodles of cash flowing out of my pockets to travel. I think that is what keeps most of us at home. While I have found you can travel quite modestly, even in Europe of all places, I am still in those saving stages for the next great redheaded adventure.
Attached to Lois' former travel companion is a penny encased in silver. A phrase surrounds the penny, "Keep me and never go broke". I think Lois had the right idea about travel. She kept this penny attached her suitcase, a bag that she must have traveled with, near and far. Travel, I imagine, for Lois embodied that attitude. You don't need much to be rich when you travel, making it clear why this simple saying was attached to her suitcase.
As I fight my bank account and resist purchasing plane tickets on a whim, I am drawn to that peach suitcase and its wealth of wisdom. Wear and tear appear through the peach color, reminding me, Lois traveled with a mere penny and she traveled well.
I don't think I am alone in hesitating to travel due to costs. For some, it can be student loans. For others it is the everyday expenses that prevent travel. Then again, it could be that hestiation is merely not aided with the right inspiration. For me, that inspiration today comes not from reading about travel, not from flipping through photos, but rather from a worn down suitcase that wasn't even my own. Seeing travel everyday, being reminded that Lois traveled and with very little keeps me inspired that enough money will come so that I can be enriched by travel yet again.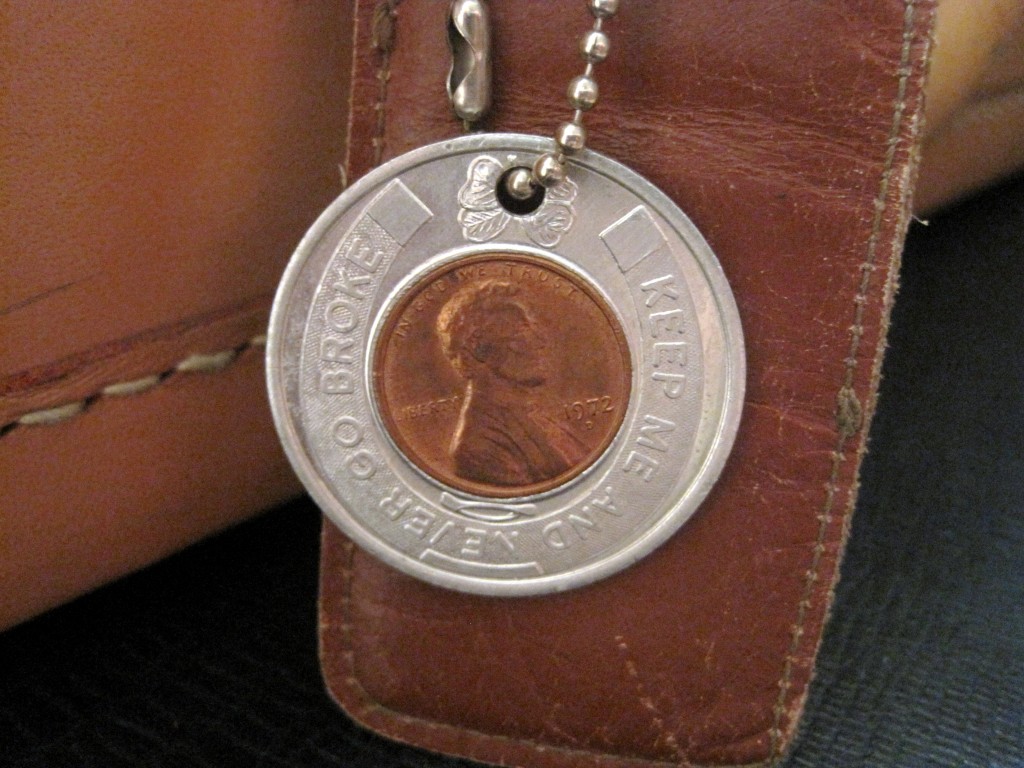 I wonder what kind of traveler Lois was and where her suitcase has been. Old luggage is often hard for me to give up. I keep thinking, "That thing has been to Europe and back. How can I give it up?" That bag of security is with you in your times of triumph and sorrow while you travel. Maybe it is stolen, lost or damaged in the process. And in that process, luggage is a lot like the traveler. You could be lost and damaged, battered and bruised, but open you up and there are stories within, photos to show, mementos that make the process of travel all the more enriching. Your bank account may have taken a few bullets for that trip, but in the end you are a worn down suitcase that has been lucky, enriched and all the wiser by travel.
For those who don't have a Lois and her suitcase in your life, I give you these words of wisdom to write on your luggage tag. "Keep me and never go broke". If you have little money to travel, you will find much more on the other end of where that suitcase takes you. All I need is a suitcase to push me out the door and a peach one is doing a good job so far.