This week's Wish You Were Here post comes from Cynthia of CynthiaOrd.com, Thoughts on Tourism, People and the Earth. Cynthia is fascinated with travel and tourism as an industry and its impacts.  She likes to visit unlikely places and see how many people she can convince to go there.  Be sure to check out her blog and follow her on twitter at @cynthiaord.
When visiting Uzbekistan, save your stacks of cym for Khiva. Cym is the local currency of Uzbekistan, and depending if you go formal or black market, the exchange is about 2,400 cym per U.S. dollar.
Once you turn in your dollars for cym, there is no need for a wallet; the stacks and stacks of bills will only fit in a purse or small bag. Carrying sacks of money around along the Great Silk Road, an ancient trade route that runs through Central Asia, you are transported back to the earliest days commerce.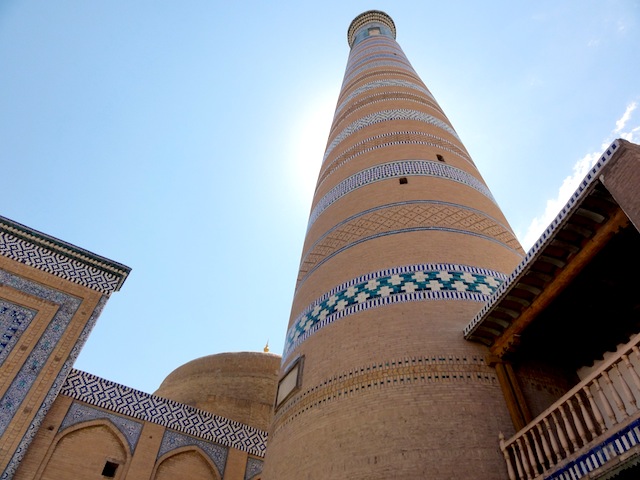 Tours of the Great Silk Road often include visits to the country's three major ancient cities — Samarkand, Bhukara, and Khiva — in that order. Each one of these highly atmospheric cities has gained status as an UNESCO World Heritage Site. All three allure the eye with countless majolica tiles that cover surface after surface of mosques, minarets, copulas, and madrases (ancient Muslim universities), mausoleums, and monuments.
As you visit site after site of gleaming turquoise mosaic and ornate carved wood columns, the stops along the Great Silk Road will start to blend together as one long, dreamy foray into the streets of the New Testament or the movie Aladdin.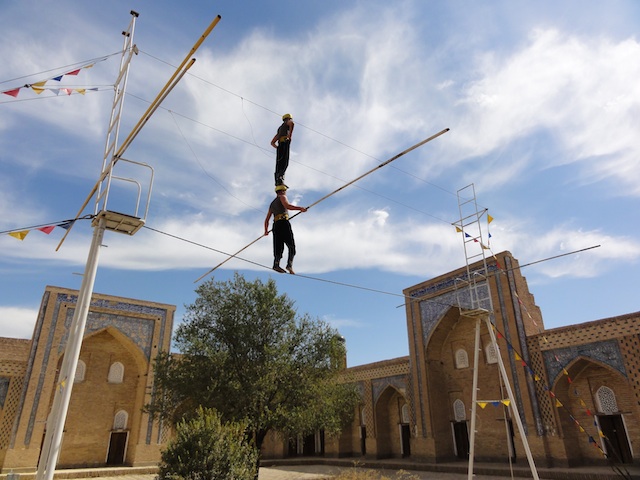 With each day that passes, the weight of your cym will lessen. Samarkand and Bukhara have their share of bazaars and markets for you to test your haggling skills. But before you exchange all your wads of cym for the vendors' wares, save some for Khiva.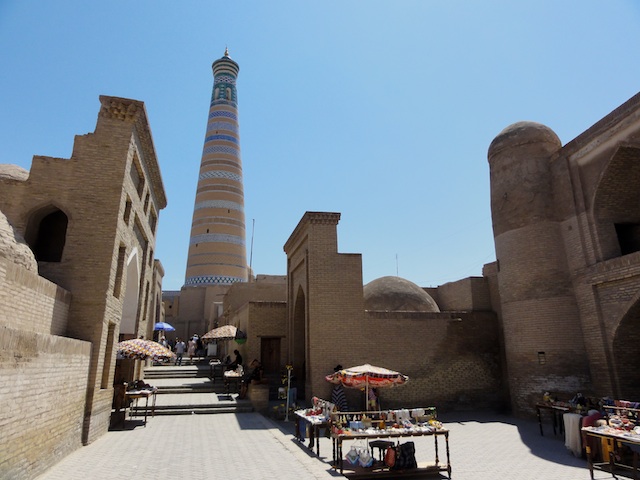 Of all three cities, Khiva is the most immersive ancient citadel experience. Within the walls of the old city, you are transported back to the markets of old. Here, you will also find some of the best artisan products and local craftsmanship in the country. Be sure to add these items to your shopping list:
Scarves
In Khiva, just when you think you have found the best scarf vendor with the widest selection and the lowest prices, you'll turn the corner and find yet another. Don't let that stop you from diving in and haggling with the first one you see. You'll want to bring back a small collection of silk and kashmir scarves. After all, this is the Great Silk Road. Don't underestimate the power of group buying — you can get the best deals with a handful of people buying multiple scarves.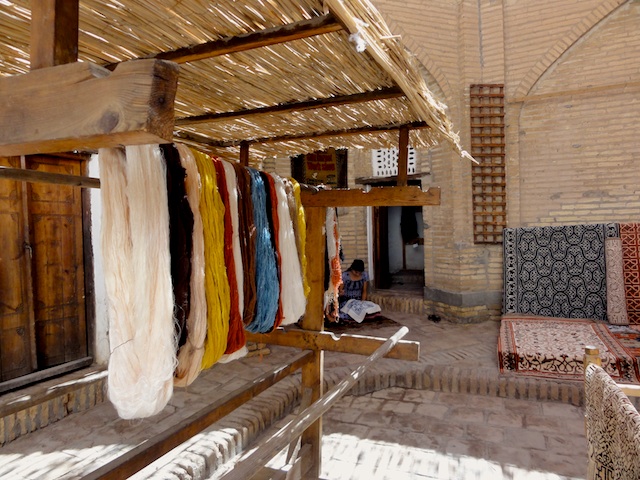 Wood carvings
Uzbekistan is a strongly regional country, and Khiva's region is known for its top-notch wood craftsmanship. Follow the scent of varnish to hidden courtyards where artisans in action. Young boys are apprentices to master craftsmen. In one workshop, you might see a great tables and pieces of furniture of Persian-style lounging. On one masterpiece, the combination of scale and intricacy is stunning. How long did this take to carve? "One year," says the craftsman. "We produce one per year."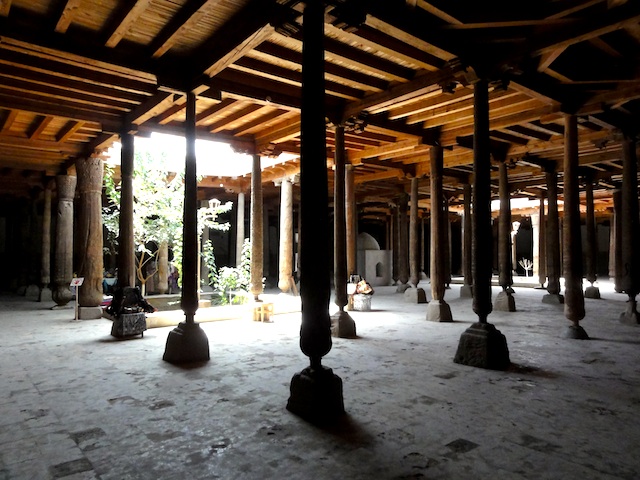 Ceramics
Pottery is another trademark item to bring home from Uzbekistan. The turquoise blue and white ceramics of Khiva are specific to the area and cannot be found anywhere else. Relive the tea culture of Uzbekistan by taking a delicate tea set with you. Or, if antique is more your style, you may even find vintage ceramic platters.
Carpets
A real highlight of Khiva is the carpet workshop, where you can wander in and observe the ancient craft of carpet weaving still in practice today. Seated and focused on their looms, women follow the tiny grids of colorful patterns that mirror the majolica tile patterns covering mosques and monuments. From spinning fibers into thread to dying to weaving to the finishing trims, the entire carpet process comes alive.
Woolens
Early or late summer is the best time to visit Uzbekistan, and under the blazing sun it's hard to imagine buying the thick hand-knit woolens that women have on offer. Even if you can't use them today, think ahead and take a hat or some unique slipper socks with you. Wool is one of the available raw materials for local women in Khiva. Purchasing an item from them is one practical way to help them support their families and send their children to school.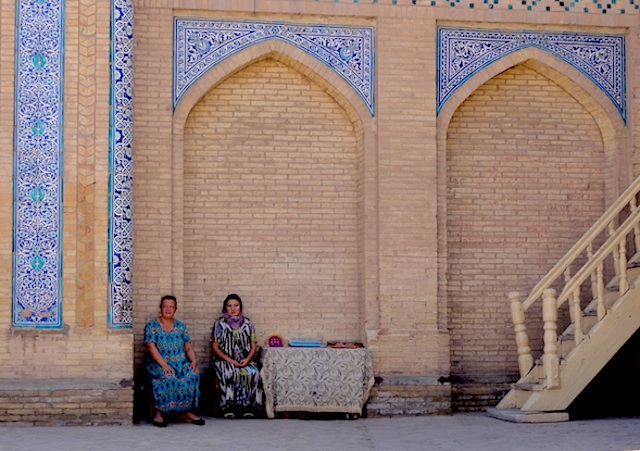 The tourist visa process to Uzbekistan can be complicated, and independent travel is still in its early stages, so it's best to go through an experienced tour operator like Afsona to arrange your travels.
All photos by Cynthia Ord