My eyes are transfixed on a faucet flowing with chocolate. A man dressed in head to toe white creates a chocolate Santa. Ever so nonchalantly, he occasionally dips his tools into the free flowing chocolate foundation to create the eyes, nose and buttons on good old Saint Nick's suit. The air perfumes in the scent of a freshly broken chocolate bar as employees shuttle about this cocoa heaven with trays of ample samples. A truffle hot off of the presses finds its way into my hand and quickly heads for my mouth. And from the minute this piece of chocolate hits my tongue, I am on another planet, the Swiss chocolate shop in Zurich amidst this sweet treat's creators, sculptors and artists.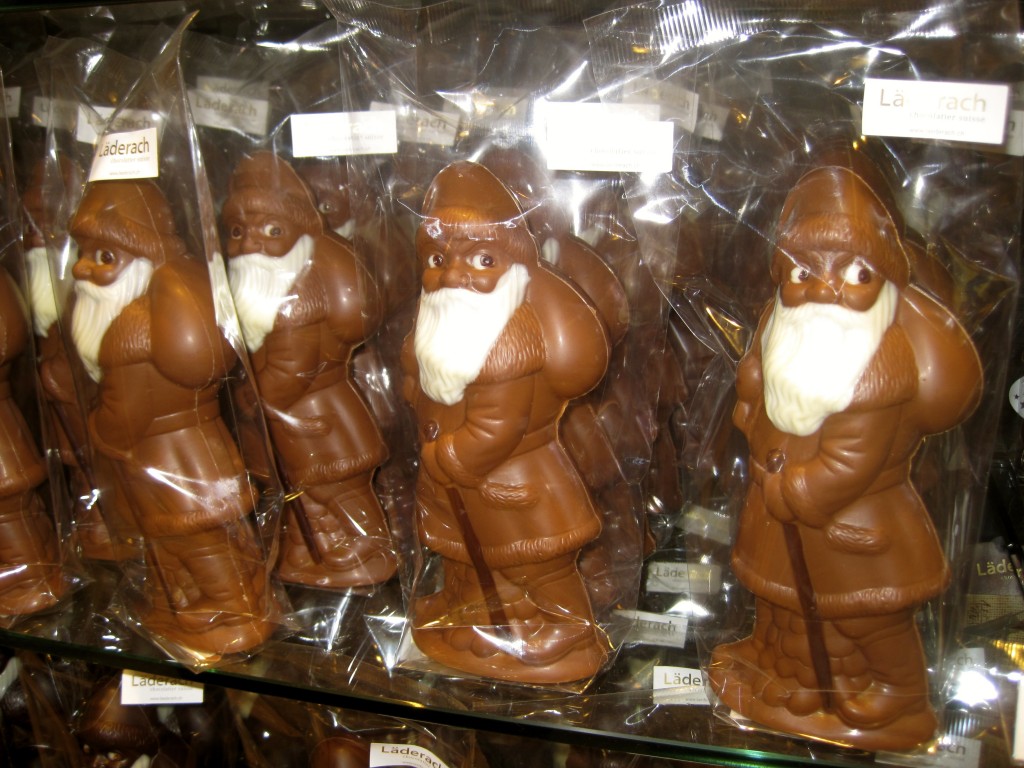 To discuss chocolate, superlatives are always in the conversation. In Switzerland, where the average person reportedly consumes around 24 pounds of chocolate each year, the conversation about chocolate is always far from negative. In this country, you cannot only just sample chocolate. You can ride on something called the Chocolate Train or if you wish, bath in chocolate at a spa. I prefer to go the more traditional route as I watch chocolatiers create their masterpieces at Läderach in the center of Zurich. Läderach is one of the few spots in Zurich where you can witness chocolatiers in action. Right before my eyes, they demonstrate how a truffle, praline or just plain old chocolate comes to fruition. This miracle of miracles for the chocaholic comes without forking over a Franc.
 A girl squeezes in front of me, blocking my view of the chocolatier in action. I build up with a sort of rage, as only redheads do. Chocolate can make people crazy to the point of irrationality. A little elbowing later and I am front and center to the chocolate process. I never said chocolate brought out the best in me.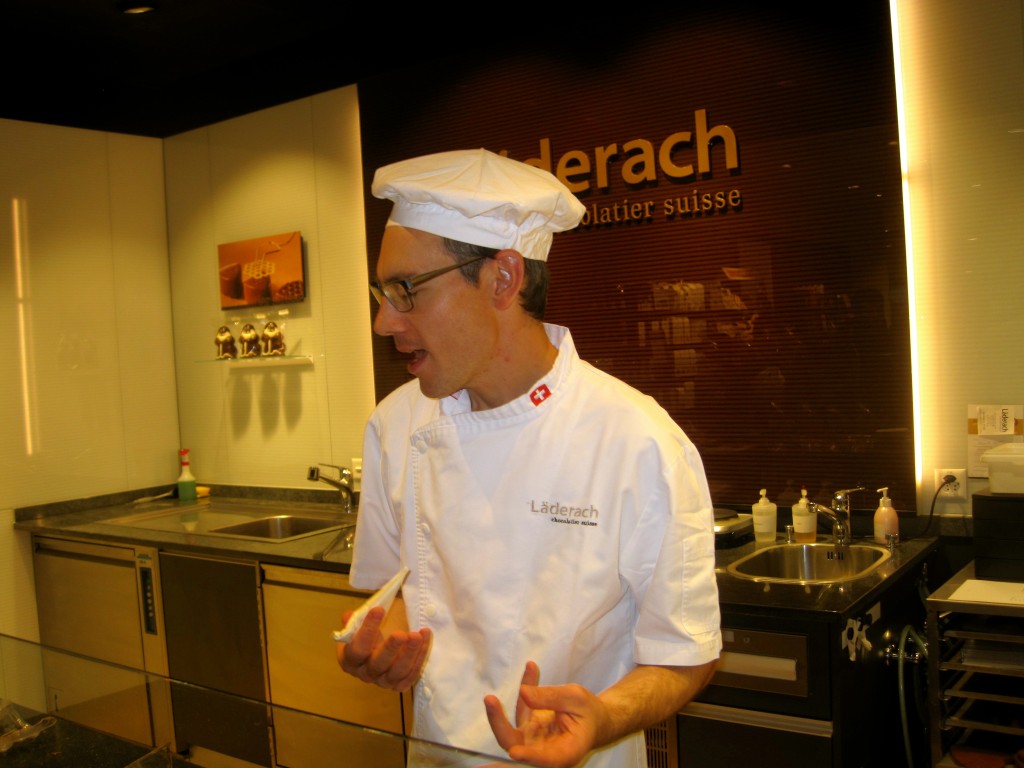 The Läderach brand was founded in 1962 in Switzerland. Today is boasts of being the biggest Swiss confectioner. The company's founder Rudolf Läderach should be appreciated by anyone who has ever tried to make a truffle. In 1970, he invented and patented the revolutionary process of manufactured thin-walled truffles. The innovation is what made the process of manufacturing truffles easier and of better quality.
 I grab a piece of dark chocolate, littered with hazelnuts. You need to have something to chew on while pondering the idea of a country becoming world famous for a product it does not grow. The innovations of the likes of Läderach are what made Swiss chocolate not just a product, but also a major tourist draw. It was Francois-Louis Cailler who opened not just the first mechanized chocolate facility in Switzerland in 1819, but he also is credited with creating the solid and smooth chocolate bar. Another Swiss contribution to the chocolate world came from Daniel Peter when he figured out how to marry chocolate and milk in 1875. Milk chocolate was born.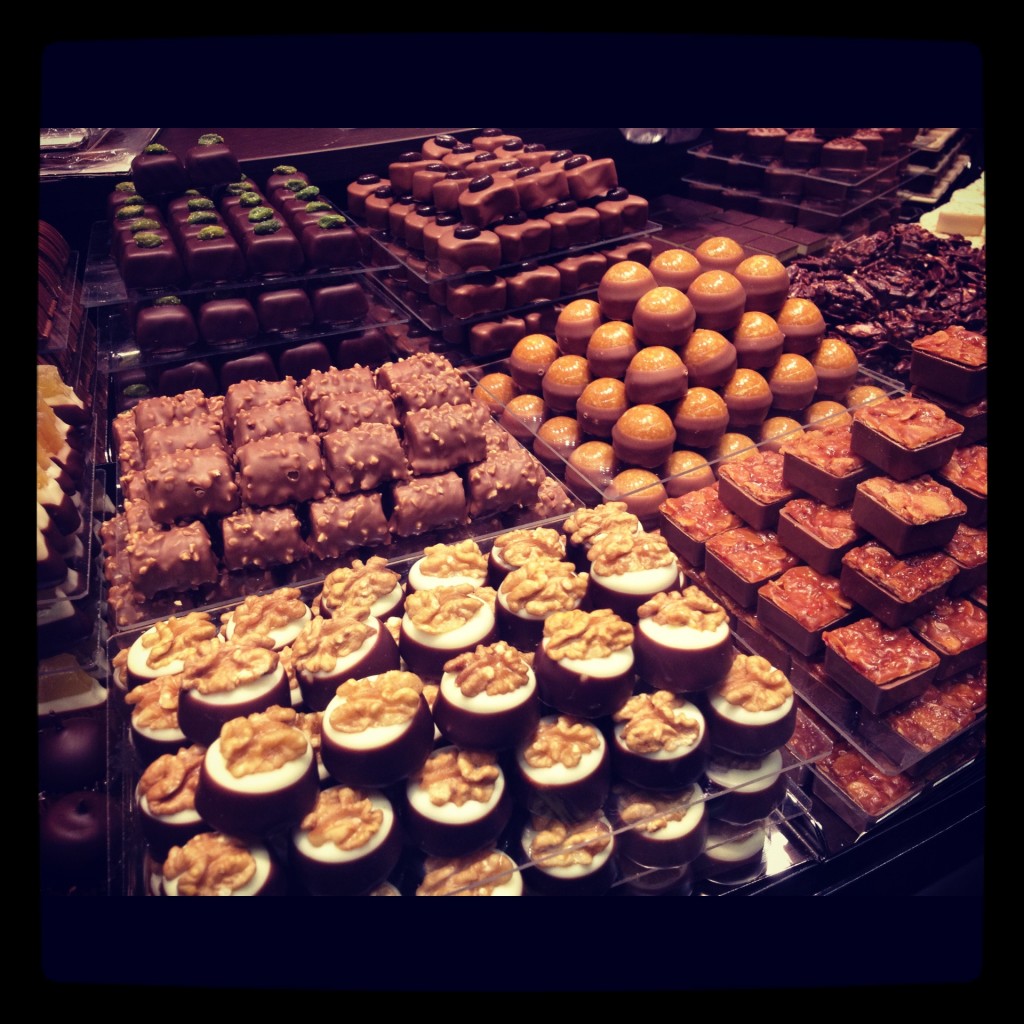 With such innovations taking place, Swiss entrepreneurs found something that they were good at and in a short period of time, Swiss chocolate had a world reputation. From 1890 to 1920, Switzerland became a world power of chocolate, with three quarters of its product exported. Swiss chocolate has had to battle through not just the good times but also the economic crises of the 20s, 30s and 40s along with the restrictions on sugar and cocoa during World War II.
I take another bite of Läderach's chocolate, except this time I go for the classic milk chocolate. I ask the chocolatier how he got into this line of work. He shrugs his shoulders as if I asked a rhetorical question. He mumbles something about the artistry of being a chocolatier. We are so often consumed with the idea that chocolate is just something to taste, to enjoy and for people like me, to crave. It isn't just about taste and consumption in Switzerland. It is about the general appearance of eating the fine, delicate, melts-like-butter piece of chocolate. He gets back to creating the chocolate Santa. It's just another day at the office.
Have you consumed chocolate in Switzerland?
My trip to Läderach and Zurich was made possible  by airberlin, Läderach and Zurich Tourism.