It is so quiet you could hear my fork drop on the plate ever so lightly, that is, if I ever put it down. My waiter makes certain to place my Erdäpfel-Vogerlsalat, a vinegary potato salad with lamb's lettuce, down in such a manner that I wouldn't ever have to give my fork a rest. My dining companion tells me this is customary in Germany and Austria to place your fork in your left hand and your knife in your right at all times. Almost like dinner gloves, you wear these tools until the plate is clean. My plate tonight is a golden dream, a Viennese specialty, Wiener Schnitzel.
The traditional Wiener Schnitzel, by Austrian law no less, must be prepared with veal. Other schnitzel varieties exist including pork and chicken, but the real deal can only be veal. A veal cutlet is pounded thin and then breaded and fried until golden. Topped with a lemon wedge for squeezing over the schnitzel, this is Vienna's dish, or so they say. The history of Wiener Schnitzel is somewhat debated. Some say it came from today's northern Italy and became popular during the Habsburg's rule. Others claim Vienna's creation is merely the work of the first civilizations. Regardless, it's all Wiener Schnitzel to me in Vienna.
The first time I tried schnitzel, I didn't order it myself. I was young and naive, believing anything called "schnitzel" must be disgusting. My Dad ordered it in Germany and let me have a taste. That taste turned into cleaning his plate and a lifelong love affair with schnitzel. And being in the home of Wiener Schnitzel, literally translating Viennese schnitzel, I naturally had to try all types, from the overly touristy to the corner, quiet restaurant.
The Touristy and Trusted: Figlmüller
When you boast of having Vienna's "most famous schnitzel", you certainly don't have much room to lie. I ventured out into the snow of Vienna for this iconic schnitzel. Began by Johann Figlmüller and in its fourth generation, this schnitzel homeland boasts its own version of schnitzel, Schnitzel á la Figlmüller. Claiming to be bigger, thinner and crispier than all of the other schnitzels in the land, it is no wonder you need a reservation four days in advance to get into the original cellar. Figlmüller still accommodates the overflow with another restaurant just around the corner, serving up much of the same, schnitzel included.
My schnitzel rating for this one was much higher than expected. As I heard the loud clamor of English and plenty of camera flashes and comments like, "Ohhh, schnitzel", I wasn't expecting much. When my grand, 34 centimeter in diameter schnitzel arrived, I could see why this was deemed one of the best in Vienna. Figlmüller uses the tenderloin for a better tasting schnitzel and less puffy texture when frying.
The Medieval Atmosphere: Zwölf Apostelkeller
While not known for its Wiener Schnitzel, the next night I went underground for my schnitzel search to Zwölf Apostelkeller, otherwise the Twelve Apostle's Cellar. Mentioned in city documents in 1339 but with stonework from 1100, the schnitzel here was much more puffy and greasy than Figlmüller.
However it was the setting, the medieval cellar and green candles dripping that made the meal taste truly from an original Viennese kitchen. Tavern musicians circle the tables only furthering the tone. I might have come to Zwölf Apostelkeller for the schnitzel, but it was the atmosphere that seemed to make the meal.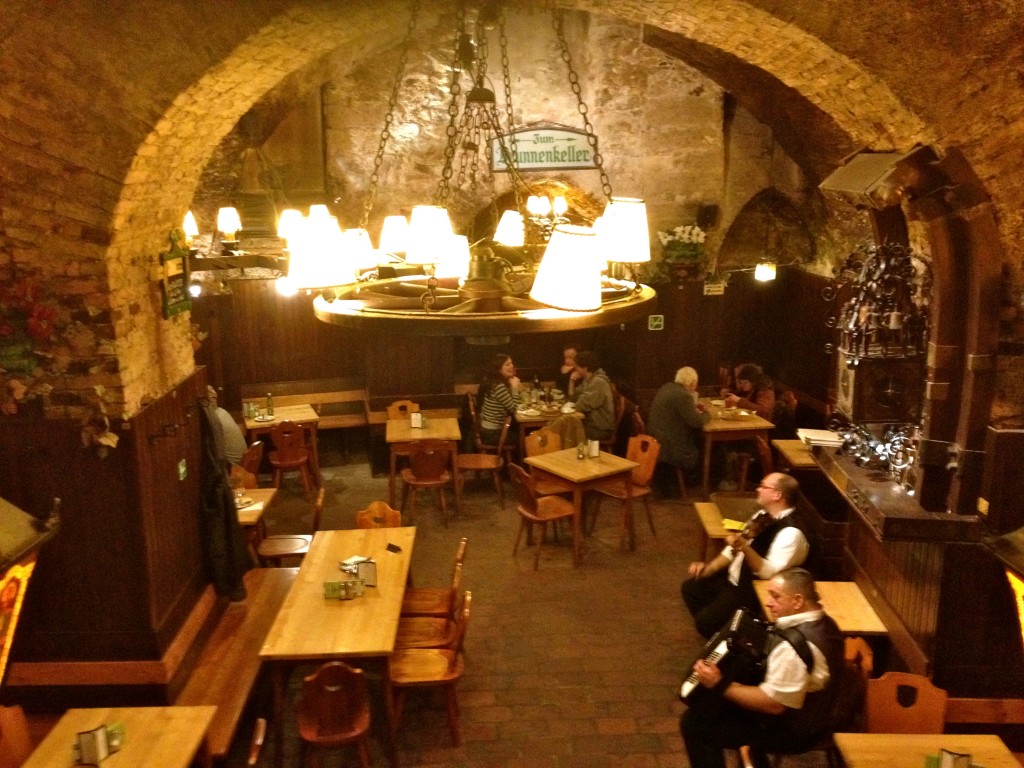 The Corner, Quiet Restaurant: Restauration Zur Goldenen Glocke
Tired and freezing cold, I stumbled upon Restauration Zur Goldenen Glocke merely by accident. It was the closest place to my hotel with Wiener Schnitzel on the menu. With no diners in sight, I sat down to that deafening silence complimented only by the quiet German of a waiter in a complete tux.
Since 1886 in Vienna, the restaurant focuses on comprising dishes with ingredients from local suppliers and farmers. Zur Goldenen Glocke serves classic Viennese cuisine, including Wiener Schnitzel. It was the sort of place where the chef comes out to peek over your table so subtly, just to make sure you are enjoying your meal. The quality of veal was apparent, along with the breading. Not greasy or overly puffy, this Wiener Schnitzel and its atmosphere were just right.

If you find yourself in Vienna, I encourage you to try these options and any others you may find. However, after such careful research, I would have to say it was the corner restaurant, the one I didn't know or plan on that served up the best Wiener Schnitzel, from atmosphere to taste. In search of schnitzel in Vienna, it's a tough job but someone has to do it.
Have you tried Wiener Schnitzel in Vienna?