A woman with a plunging neckline welcomes visitors to Carnevale in a Tuscan town. As if her dress does not showcase enough free spirit, her billboard hands flail in the air, hinting at the mandatory carefree atmosphere that surrounds. Confetti covers La Passeggiata, a long stretch in the seaside town of Viareggio. Papier-mâché floats conquer this stretch throughout January and February as people come from all around the world to dress up in outrageous get-ups.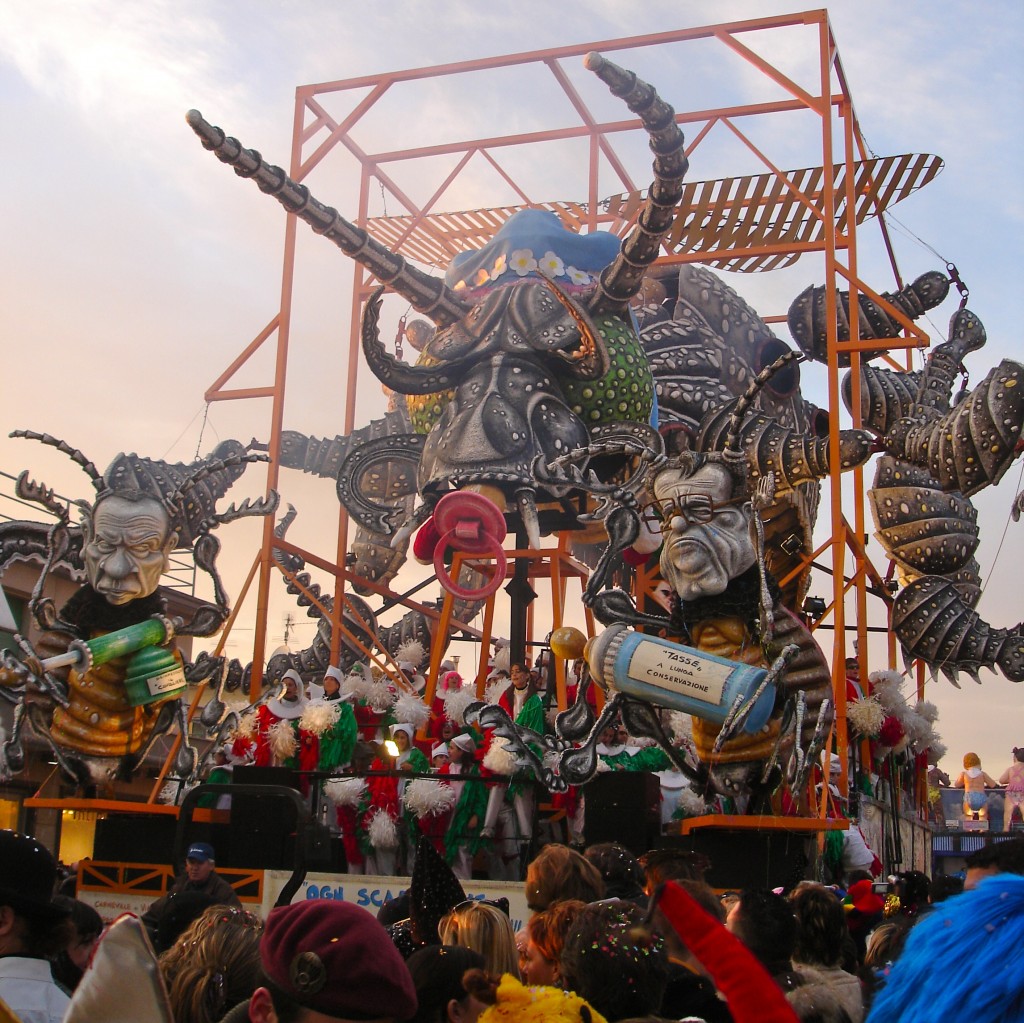 Shots ring out. These are not gunshots but rather quite the opposite, innocent shots of silly string. Children and adults with silly string squirt unsuspecting passersby. I just happen to be one of them, probably looking wide-eyed at the chaos that surrounds me. My hair is drenched in plastic smelling goo. I just hope this Italian silly string does not alter my hair color. I guess I will look past my silly string locks and let my hair down as per the billboard woman's example for I am at Carnevale in Viareggio after all.
Attracting more that 1,000,000 visitors a year, Carnevale in Viareggio is truly a unique celebration. Back in 1873, locals assembled to create the first procession of decorated floats. The floats interpreted humor and the people's dissatisfaction with daily life. Today these displays still bear the same purpose, composed mostly of papier-mâché while showcasing allegorical themes.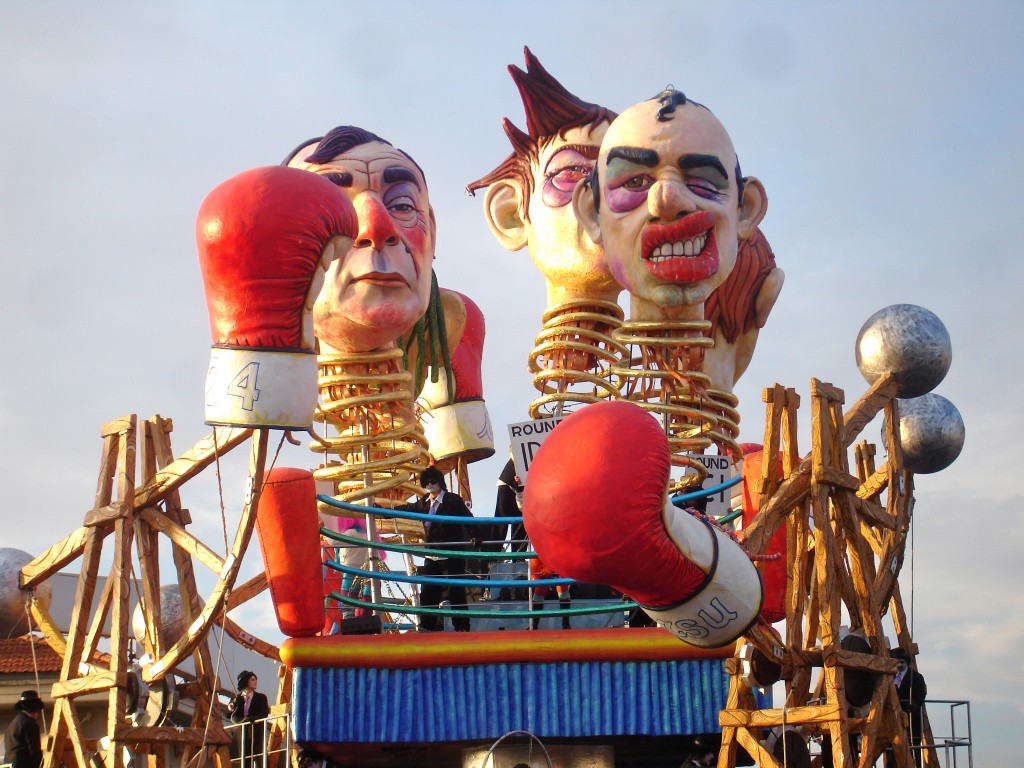 Some of the biggest floats weigh up to 40 tons. Artists spend the entire year beforehand composing and creating the bizarre and expressive faces that end up making awkward eye contact with visitors. The more ornate floats feature mechanically moving eyes and hands. Politicians, entertainers, and intellectuals become subjects of ridicule for these massive floats. A boxing ring of politicians passes by as one of the faces looks directly at me, almost gazing down for help just after a big slug from a papier-mâché glove. By the looks of his battered and bruised face, I do not think my nonexistent biceps could be of service.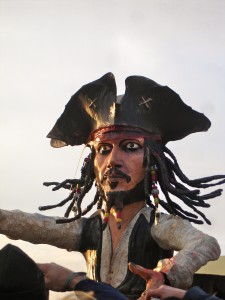 In true Italian fashion, there are no barricades to keep spectators from the procession. Rather, visitors become a part of the parade. Your only job is to get out of the way before the giant "Captain Jack Sparrow" turns you into a pancake or a small piece of confetti.
Viareggio, like any place, has experienced quite the opposite of joyous events like Carnevale. Last June, a freight train derailed in the town. The 14-car train was carrying liquefied petroleum gas. The train exploded, engulfing neighborhoods in flames while killing many and leaving hundreds homeless. Two years ago, I came to Viareggio for their unusual Carnevale. This last summer, I watched the Italian news in Florence as stations covered the horrible disaster. For me, it was hard to imagine a place so full of life, so full of fun and whimsy, to look more like the site of a bombing.
Despite such tragedy, the beauty of the Italian people comes in their ability to continue that love for life after such unexpected and horrific events. In Viareggio they do this with the overzealous usage of silly string.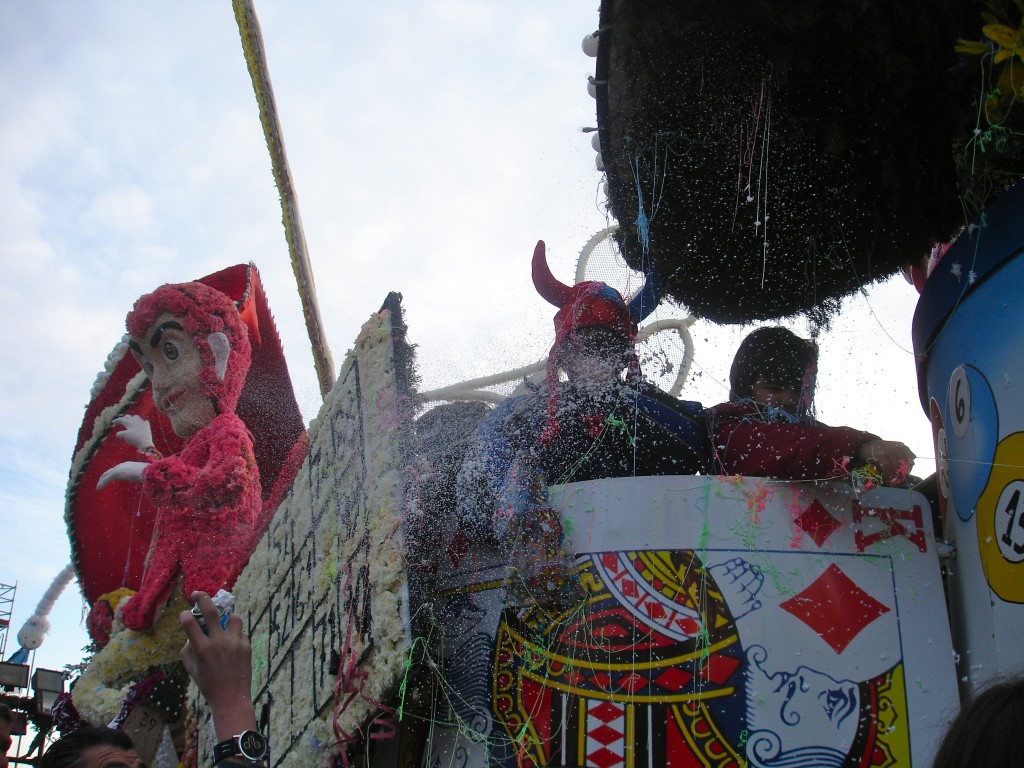 Nothing makes sense here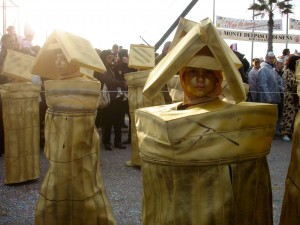 . Children and adults dress in the most random of costumes, from little columns to big Dalmatian dogs. People who are probably lawyers by day adorn full body lion and clown suits. They walk up to newcomers like me saying "Bahah!" in a loud shout while throwing confetti directly in my face. I spit the confetti and craziness out of my month and check my contacts to make sure there are no bright blue and pink dots instead of pupils. If you do make it to Carnevale in Viareggio, you may want to wear a hat, or better yet a shower cap to keep out the silliness of string.