I put off traveling to the Greek islands for one reason and one reason only. Travel to these pieces of paradise always seemed to cost the price of purchasing one of the islands. Flying all the way to the Greek islands was a charge that appeared as insurmountable as climbing Mount Olympus. Those accommodations with infinity pools to the sea on Santorini remained on Pinterest boards and stayed there due to the reality of what those would cost.
Finally in September, I made it to the Greek islands after years of resenting my wallet and bank account for holding me back. And while traveling the Greek islands was certainly not my most budget friendly trip, I did discover that you could afford traveling from island to island in Greece by following a few simple tips. If you want to travel the Greek islands, you can take it off the dream list relatively simply.
Part of the battle is getting there
I put off traveling to the Greek islands mostly due to the cost of the plane ticket. From Denver, to fly all the way to Santorini, I boarded three flights, Denver to Frankfurt, Frankfurt to Athens and Athens to Santorini. As we were traveling just at the end of the busy summer season, tickets were pricy, around $1500 a person. If you are trying to afford a trip to the Greek islands, part of your budget's battle will be getting there. In hindsight, I wish we booked a cheaper ticket to another major European city, spent a few days there and then snagged a more affordable ticket to the islands.
Also, we didn't technically have to fly right into Santorini. I was trying to avoid a long ferry ride to Santorini from Athens. Bottom line, if you are looking to afford a trip to the Greek islands and you are flying from several plane rides away, I recommend finding a more affordable connection between European airports. Also you can really save by flying into Athens and taking a ferry to the islands instead, especially if you pick a slower boat.
Take slower ferries to save big bucks and plan an island-hopping route that makes sense
The high-speed ferries between the different islands tend to cost almost 6 times what the slower boats do. We took both high-speed ferries and the slower ferries throughout the Greek islands. Our ticket from Paros to Crete on a high-speed ferry cost around 60 Euros. However our ticket from Folegandros to Paros on a slow boat cost 10 euros a person. The ride added on 3 hours to our journey compared to the faster ferry.
If you have the time, it is worth saving 50 euros here and there to take the slower ferries. And just because the ferry is high-speed, the boat won't always be plush and comfortable. Our expensive, high-speed ferry from Naxos to Folegandros ended up being delayed three hours and felt like a glass coffin on board. If you want to go to several different islands, it is worth it to spend some extra time on the water to save some Euros. Also, we drew up an island-hopping route that didn't really make sense in that we went up and down and down and up in the Cyclades island chain. In the end, we ended up spending more on ferries because our route didn't make much sense. You should plan an island-hopping route that almost goes in order of the islands, rather than jumping from one all the way up to another and back down again. 
Don't stay on the tourist islands too long
Santorini was beautiful, but it was also the most expensive island that I visited. Meals quickly added up in cost along with our accommodations. In Oia, we paid far too much for a sub-par branded "luxury hotel". If you stay on the overly touristy islands for long periods of time, you will pay. While you can find cheaper accommodations and more reasonably priced food, even the best deals on islands like Santorini are much more than those on other islands. When our ferry would make stops on other islands and the masses weren't getting off, I made a mental note of these locales to return to at a later date. When you are getting off your ferry on Santorini, pushing and shoving hundreds of people, you know the prices are rising as you set foot on land.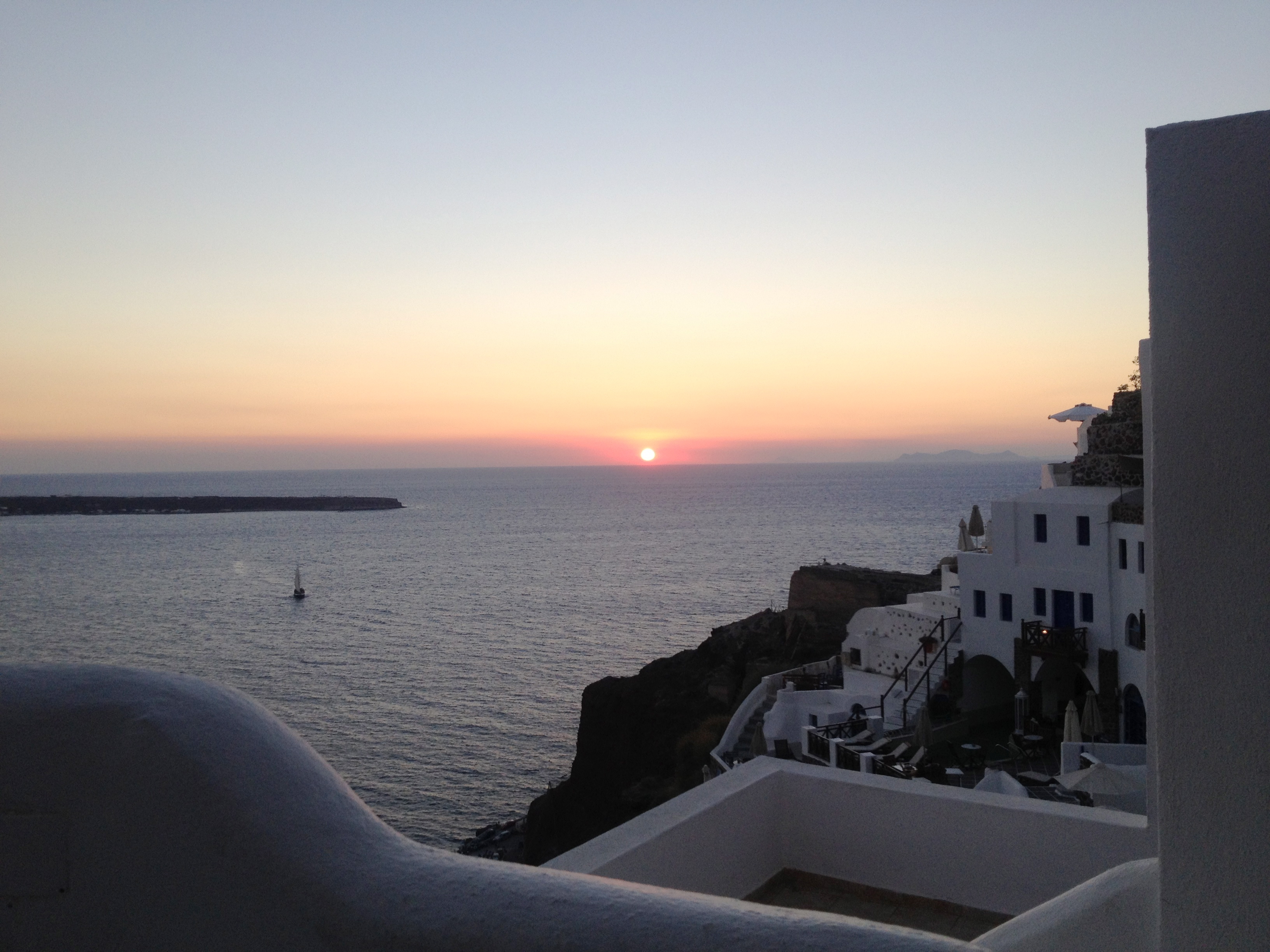 Pre-booking transportation and accommodations on the islands can cost you
As it was our honeymoon, I wanted set plans in terms of rentals cars and hotels on each island. We pre-booked all of our rental cars weeks in advance. Once I arrived on many of the islands, the wealth of rental cars and scooters available had me pondering just how much more we were paying for advanced rentals. More often than not, you can just walk up to a car rental or scooter outlet and rent on the spot for less. Also, while I don't want to dissuade people from purchasing car rental insurance at the counter, I often found it wasn't necessary. The condition of most of our vehicles was pretty dismal, often loaded with scratches and nicks. When we would return the vehicles, the companies were usually very laid back and would merely walk around the car and them smile and say, "Ok!"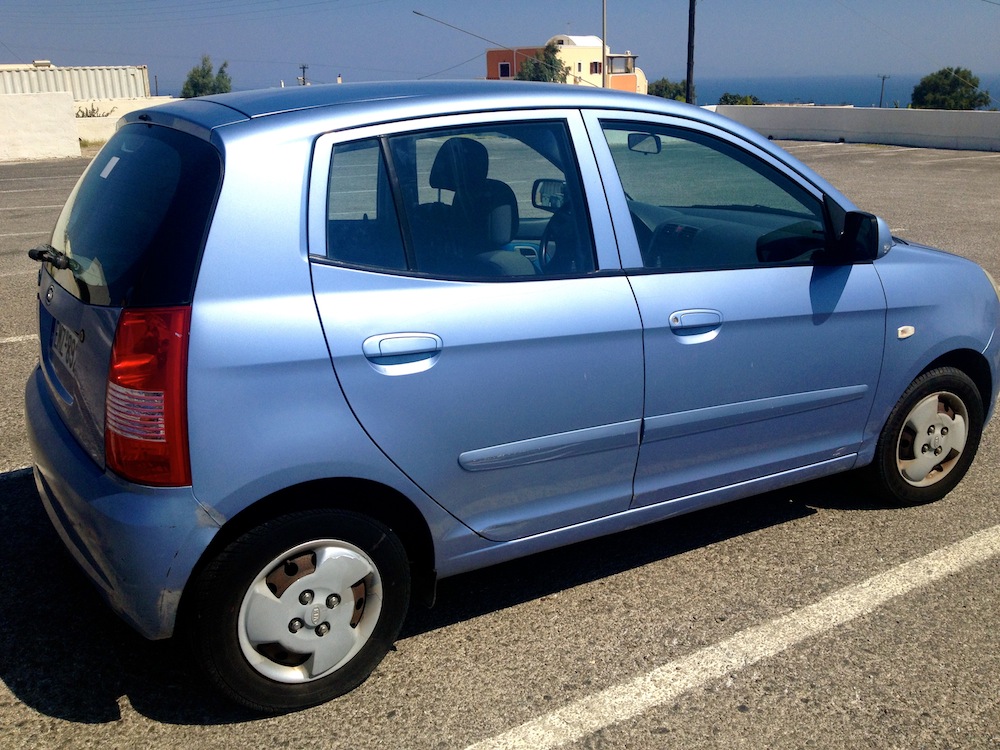 If you want to save some cash, try negotiating a better deal in person than you see for online bookings. In today's digital world, we can get caught up with booking everything from our accommodations to our transportation in advance. In Greece, I found a slower pace to life in which there is always a vehicle or room available, usually for far less than you paid weeks in advance. 
Go digging for deals on small archaeological attractions
From ruined temples to 7th century B.C. statues along the side of the road, the Greek islands all seem to have some impressive ruins that come with no charge. For example, on the island of Naxos, there are dozens of different archaeological sites that you can visit without forking over a Euro. While the archeological sites on Santorini and Crete cost a few Euros, these attractions were far from budget breaking. Even if you have to spend a bit more for food or a place to stay on some islands, you will have the peace of mind that your daily archeological attractions won't break the bank. 
Have you been to the Greek islands? Share your tips for affording visiting these slices of paradise.