Last week, I announced a $100 giveaway to use on HotelClub.com. I received 32 entries. I am pleased to announce the winners today.
After plugging in 1 to 32 to Random.org, I came up with lucky number 17. Comment 17 came from Kieron of Don't Ever Look Back. He said the following of where he would use the $100 hotel credit,
"We would use it to kick off our RTW next year in style! And perhaps Amy & I would try to recreate the HotelClub image while using the credit just to show our thanks!"
Congratulations guys! Let me know how recreating this image goes and look out for an email in regards to getting that $100 credit.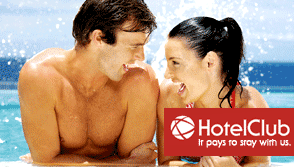 Thank you to all who submitted. Hopefully I will be able to do more of these in the future.