Crete's most famous writer, Nikos Kazantzakis, best known for his novel Zorba the Greek, wrote in his work Report to Greco, "Since we cannot change reality, let us change the eyes which see reality." I arrived to Heraklion as most travelers do, by ferry. What I read about Crete's capital prior to setting foot on its docks was nothing truly praiseworthy. Most port cities are plagued with the ugliest of realities. The grease and grime of shipping infiltrates every inch of these cities' characters. As I peered out of my hotel window, I saw the reality of Heraklion. A concrete jumbled mess of buildings blocked the view toward the sea. I decided to accept Heraklion's reality but do as Kazantzakis recommended, change the eyes which see this city's reality.
Aside from being a port city, Heraklion is also one of those places where most travelers only stop for one reason and one reason only. In this city's case, most come to Heraklion to see what lurks just beyond its limits, the Minoan ruins of Knossos. While much of Knossos has been recreated by the overzealous imagination of its excavator, Heraklion holds the site's most redeeming artifacts. The Heraklion Archaeological Museum boasts one of the largest and most important collections in Greece. Its contents span 5,500 years. In order to understand Crete's history, a visit here is essential. Pottery, jewelry and the famous fresco fragments from Knossos are all contained within the museum's walls. As I paused in wonder viewing remarkably intricate gold jewelry and tablets with the some of the earliest forms of Greek etched on their surface, I began to see Kazantzakis' quote come to fruition. This port city, unremarkable on the surface and in reality, can be remarkable with a change in vision.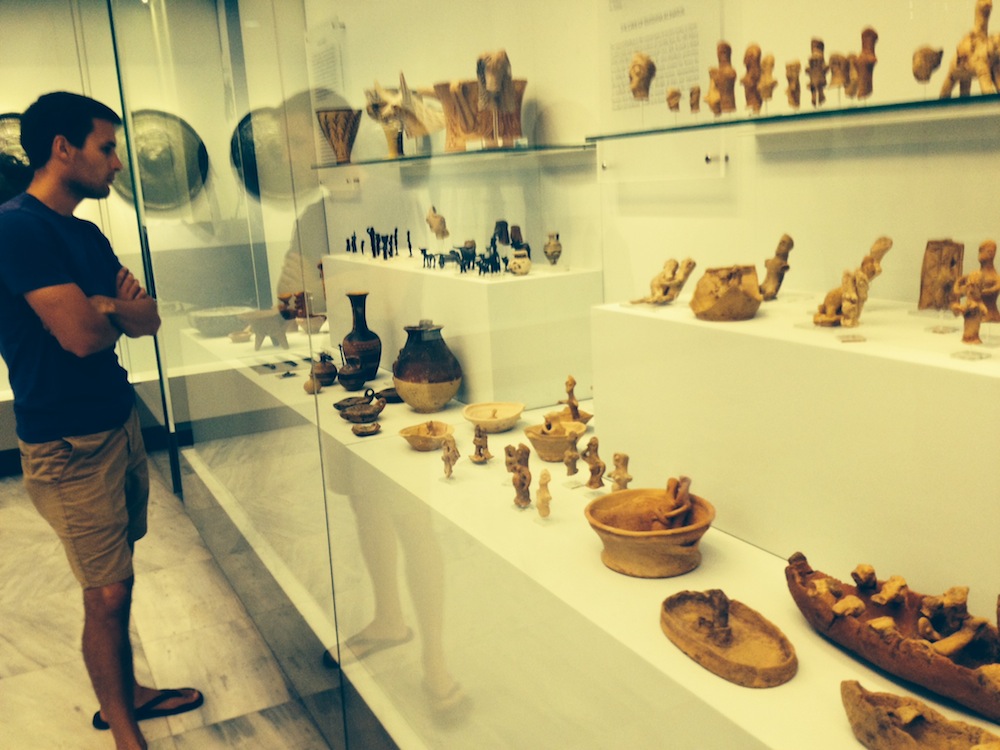 With museum weary feet and eyes, I decide to go searching for dinner in Heraklion's Old Town. Jumbled amidst the ugly exterior of Heraklion are a number of beautiful structures, beginning with the Loggia. The 17th century building is now home to the town hall. In Venetian times, it housed the rulers' headquarters. Heraklion teens use the space to practice their breakdancing skills as I pass on by this evening. The irony of this scene is realized upon reflecting on its former purpose, a structure intended for Venetian male nobility to gather and relax, to drink and gossip. I imagine what those Venetian nobles would say today viewing the modern teen hangout that it has become.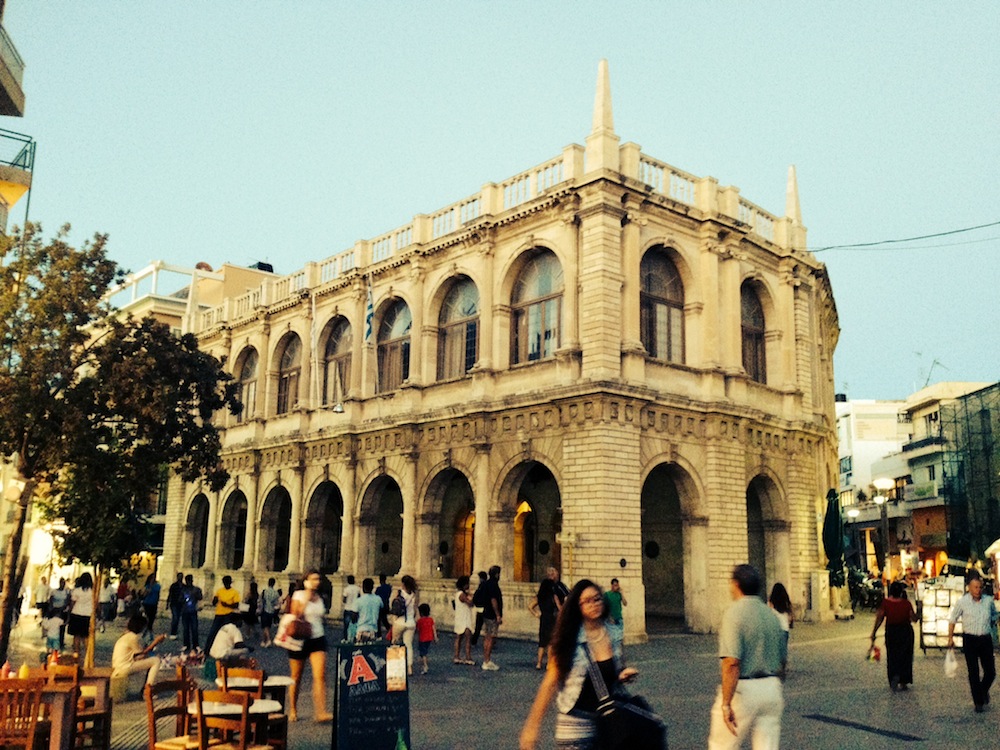 Another imposing structure in Heraklion's Old Town is the Church of Agios Titos, otherwise the church of Saint Titus. The majestic worship space basks in a bewitching moonlight tonight. Again, the youth of Heraklion have invaded, using its square as a stage to practice a little soccer. Like a revolving door, the Church of Agios Titos has seen many faiths come and go. It began as a Byzantine church in 961 AD. The Venetians would change the structure into a Catholic church. The Ottomans would make it a mosque. Today it is an Orthodox Greek church but traces of its many faiths still seem to linger.
After a brief stop for dinner, I am now hungry to explore more of Heraklion's redeeming qualities. I head to Market Street, where even under the cover of night, it is buzzing with activity. You can buy anything you would need here, including the very strong and potent raki, a Cretan spirit. My nose follows the scent of coffee to one stall. This coffee shop appears as though it dropped out of the Heraklion time capsule.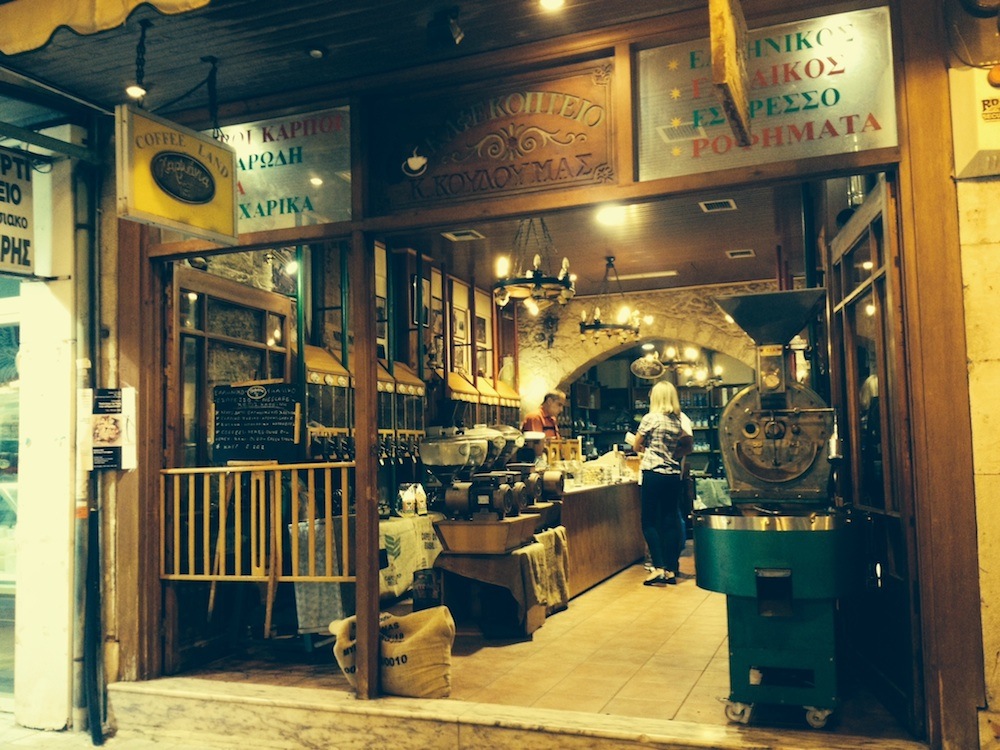 Heraklion's reality has already changed for me. Passing glowing and intricate architecture and a buzzing weeknight scene, I seek out the city's heart before retiring for the evening. Liondaria, Lion Square, accepts that title. At the center of Heraklion's world is the Morosini Fountain, more popularly referred to as the Lion Fountain. Left over by the Venetians, the 17th century fountain features four lions spitting water into eight marble troughs. Today it is more decorative than functional, but the fountain used to be Heraklion's lifeline, acting as the supplier of the city's water. Even with its former purpose fading into history, Heraklion still revolves around the lions.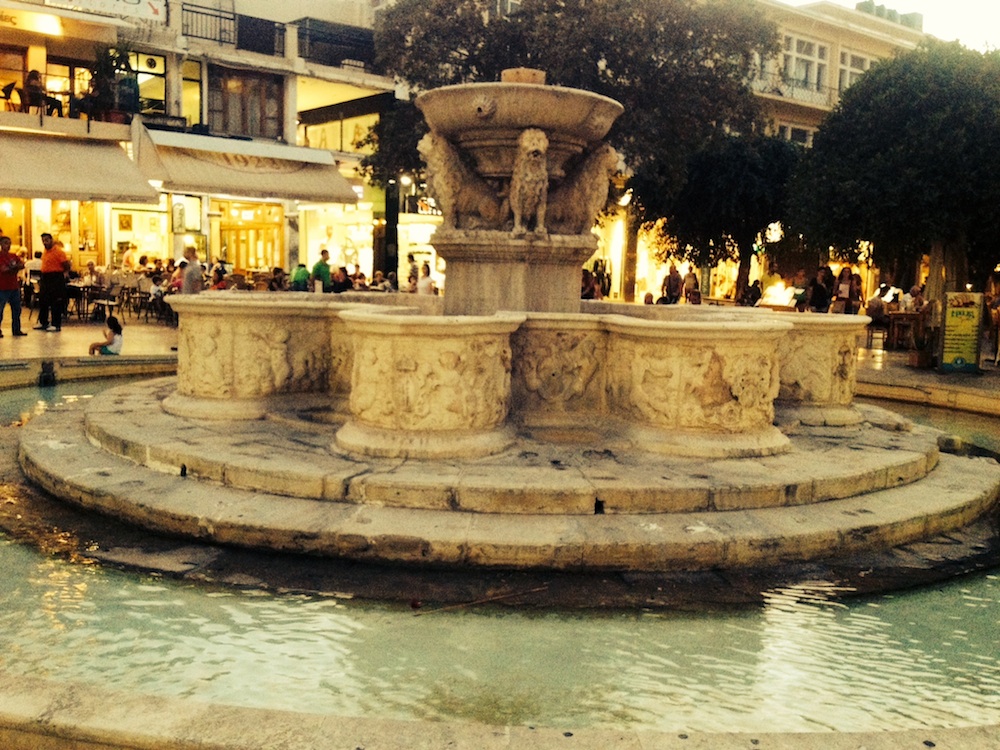 Cafés with chairs facing toward the streets surround the Lion Fountain. I spot a word on a chalkboard sign in front of one of those cafés, loukoumades. Before leaving for Greece, I read all about loukoumades, a traditional Greek dish of airy, deep fried dough drizzled in honey. After weeks of traveling around the island, loukoumades had evaded me. The chalkboard sign dictated my evening perch in Heraklion. I ordered up a batch, one that seemed to glow in gold. Again, I am reminded of Kazantzakis' words. Heraklion is in fact sweet, despite the reality it has been given. And I as I gaze out on Liondaria, I am resolve to always travel to places guidebooks have painted in a less that alluring light, to change the eyes with which I view them. Buried beneath an unfortunate reality are Ottoman, Byzantine, Arab and Venetian remains, impressive archaeological finds and the sweetest of treats.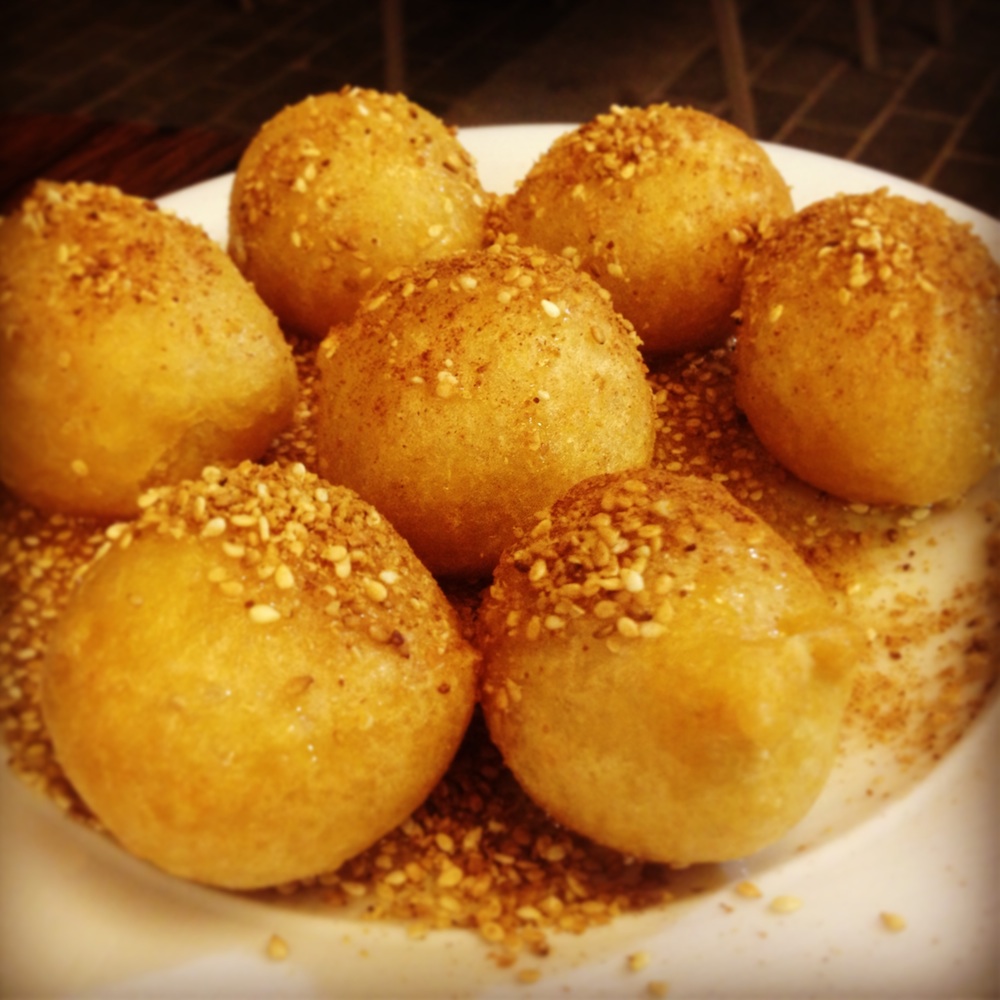 Have you been to Heraklion or a found a place painted in a negative light to be quite remarkable in the end?