The best dishes and trips always seem to be born out of accidents. My journey up to Chicago was no different. St. Louis was more of an accidental destination, a stopover point to recharge and rest up for the final push to Chicago. An accidental journey often begins with the search for things that you probably never would seek out on a regular basis. As the drive grew tiresome and  by accident, I had the car detour off of the road to Springfield, Missouri to meet a fork in the road.
Angling up a three story building and measuring 35 feet tall, what claims to be the world's largest fork stands for its next meal, the cheesy tourist who detoured for miles off of the road just to take a picture with it. Perched in front of an advertising agency, the world's largest fork sticks into the ground with conviction. A sign on fork etiquette cautions you to enjoy its hilarity but to stay on the concrete. No forking around here.
When one stands at the feet of such a large utensil, you can't help but hear your stomach grumble. I knew St. Louis was a few hours away and one of its signature dishes was on my future fork. Toasted ravioli, or what some know as fried ravioli, is one of those wondrous dishes born out of an accident. It was not intended and yet it overwhelms the palette with a mouthful of stomach plopping greatness. Toasted ravioli in St. Louis is something the traveler must search for even if they meet a few forks in the road along the way. This not so accidental journey for toasted ravioli lead me to Charlie Gitto's on the Hill.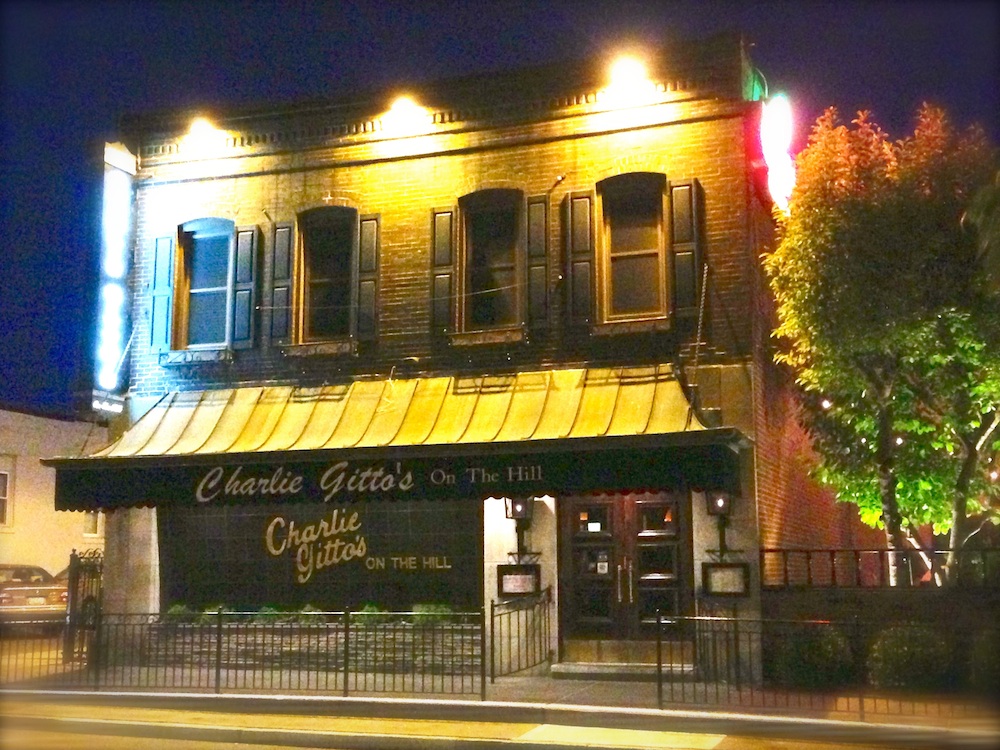 It is no secret that toasted ravioli was born out of the southwest St. Louis neighborhood referred to as the Hill in the 1940s. Charlie Gitto's on the Hill proudly claims to be the birthplace, the original site of the ravioli accident. As the story goes, Charlie Gitto's stands on the site of what was once Angelo's Oldani Pasta House. A non-Italian chef at the restaurant accidentally dropped ravioli in hot oil for an order, mistaking the oil for boiling water. The kitchen staff gobbled up his mistake and toasted ravioli soon made its way on to the main menu.
Like any good story about accidental food greatness, there are conflicting origin stories. Another Italian restaurant, Mamma's on the Hill maintains that toasted ravioli began on its grounds instead. Mamma's even has witnesses to the event. Mickey Garagiola, brother to Major League Baseball Hall of Famer Joe Garagiola reportedly sat at the bar the night toasted ravioli was invented and sampled the first mistake. Whichever story you believe, it quickly doesn't matter once you order up a plate. I decided under limited toasted ravioli sampling time that I must go with the supposed original at Charlie Gitto's on the Hill.
The landmark of Italian dining in St. Louis serves up a toasted ravioli that is crispy and crunchy yet brimming with meat and sprinkled like a snowstorm with Parmesan cheese. Put most simply on the menu as "the original", my waiter quickly tells me that yes this is the original. He seems to be defending a sensitive spot, an honor that no one on these grounds would question. I imagine at Mamma's it is a different toasted ravioli story.  Regardless of who invented these fried pillows of goodness, I'm happy that I took the fork in the road to St. Louis to sample its one and only accidental toasted ravioli. Now to find a store to purchase the next size up in pants…
Have you had toasted ravioli in St. Louis?