Wiping the sweat from my brow, I look up to the scene before me. Wedged in between two rocky hills with no sign of any sort of life, for a moment, I wonder if I just stepped into Folegandros' past. The island in the southern Cyclades is often associated with the words remote, rocky and isolated. Since Roman days, Folegandros served as a place of exile for political prisoners. In fact, up until the 1970s, those who had ruffled the feathers of the powerful were plopped down in Folegandros' nothingness.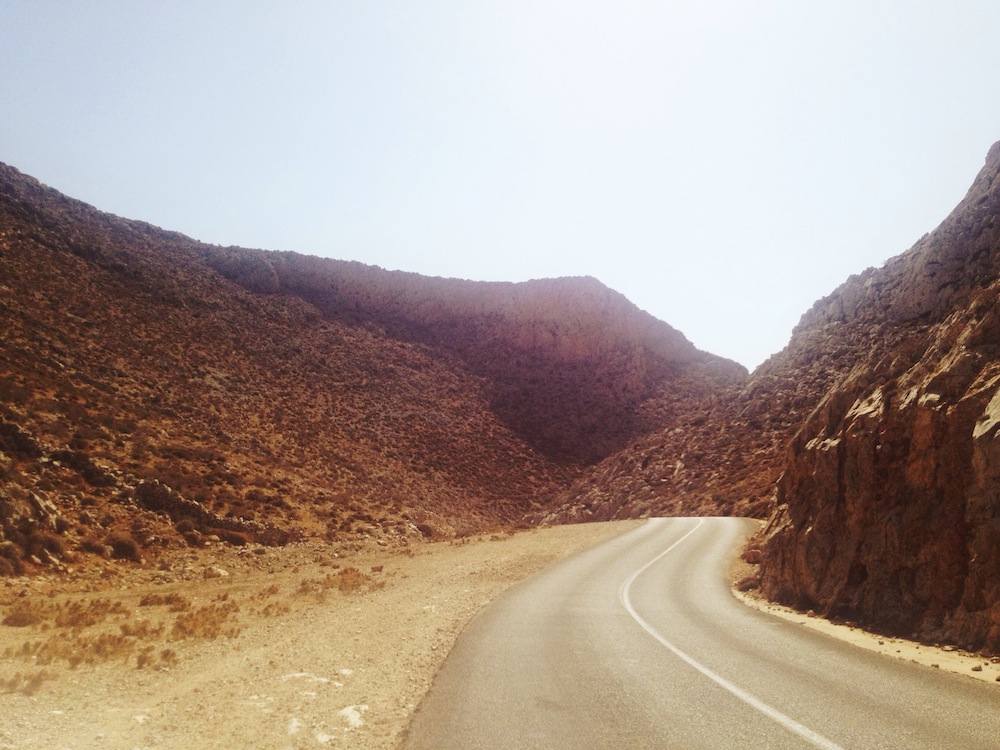 With few sights to see, the 13 kilometer long and 4 kilometer wide rock in the southern Cyclades is mostly for those who want to get away from it all, an idea ingrained into Folegandros' history. From its main town of Hora perched up on a cliff, I made the climb down to the port, Karavostasis to retrieve my rented wheels. With one taxi on the island and a bus running as infrequently as one in the middle of nowhere, my only option was to walk. All that was missing was some Roman tyrant prodding me along the road. Once the rocks parted and a few blisters later, I spot a welcome sight, an indication that there might be a way out of here, the sea.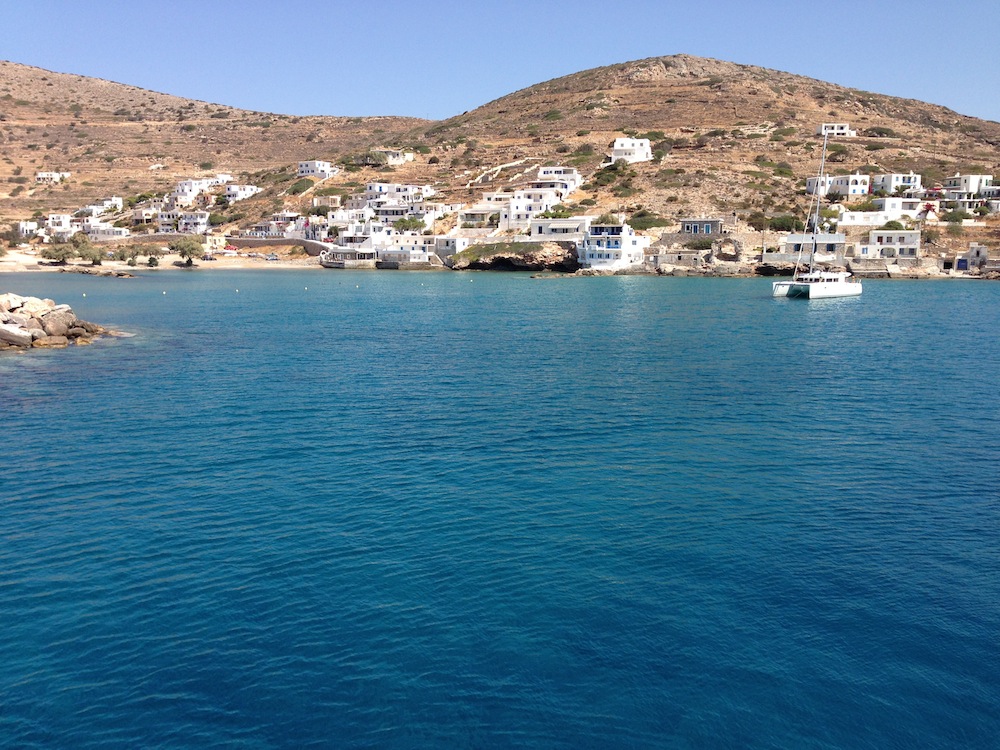 Greek pride is painted across the Cyclades. Every home and structure seems to splash in the whitest of whites and the bluest of blues. If the Greek flag isn't whipping in the wind off of a building, it is in the very least prominently displayed in color on the front door. There are of course a few odd balls here and there, those who have gone outside the uniform color scheme to paint a shutter or door a shade of turquoise or deep green. I met one of the oddballs, the turquoise shutter on the island of Folegandros. He owned a handful of tables and a kitchen the size of an American coat closet. On an island as isolated and desolate as Folegandros, he went against the tides of the characters I met that day. He smiled.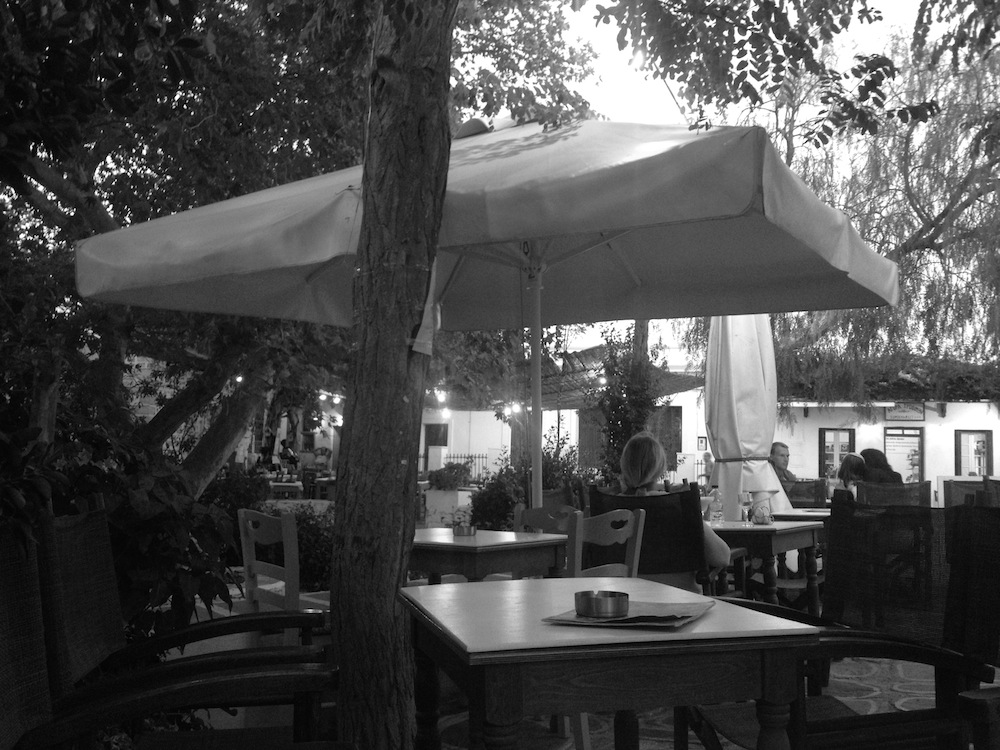 Naturally the warm man, the owner of a few tables and chairs, wasn't from this land.  He hailed from Athens. Most of those I encountered on the island had a strange way, an abrupt shyness perhaps tied to their grueling history as the ultimate destination for isolation. Maybe their descendants didn't want to be here and they still share the same sentiment. I forked over my euros once my credit card was treated as though I just handed someone leprosy in plastic form and started the engine to explore all 13 kilometers in length and 4 kilometers in width of this unwelcome rock in the Cyclades.
Folegandros is often defined as being hard to reach, lending a tourist like me beaches without hordes of baking tomatoes alongside me. In between Sikinos and Milos, you can reach the island through connections by way of Santorini. Already feeling isolated and cut off from civilization, I head down a steep rocky sidewalk of a road to see just how much more disconnected one could be on this Greek island.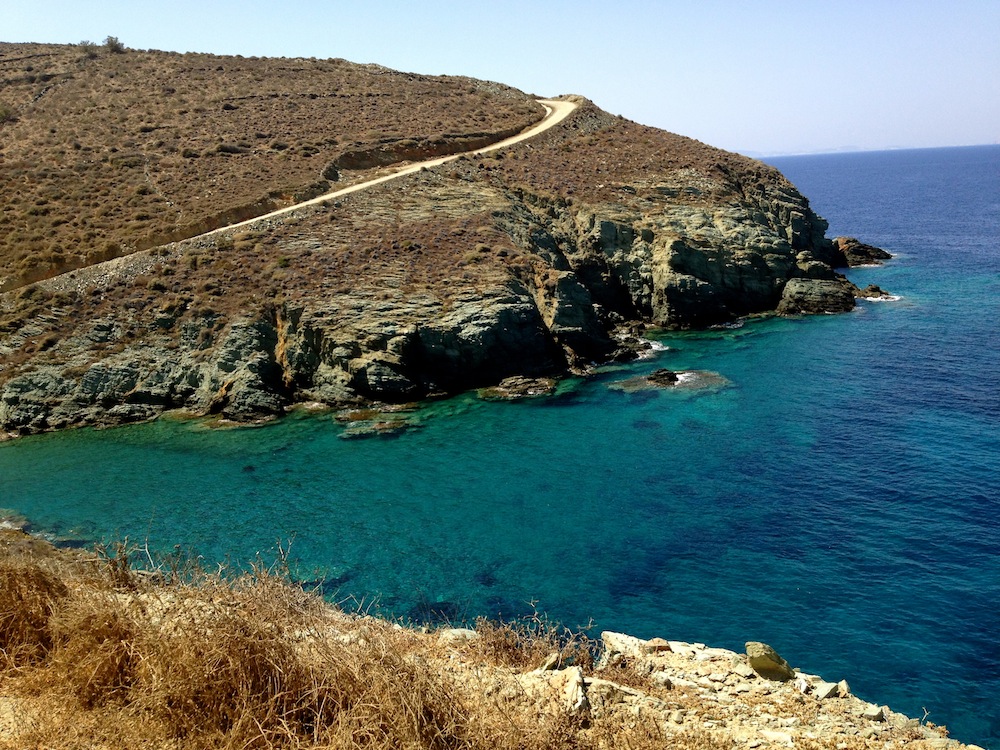 I park at Agios Georgios beach, a quiet cove north of one of two of the island's main towns, Ano Meria. The water is pool-like in clarity. I do as they do on the island, bathe in the sweet serenity of doing nothing.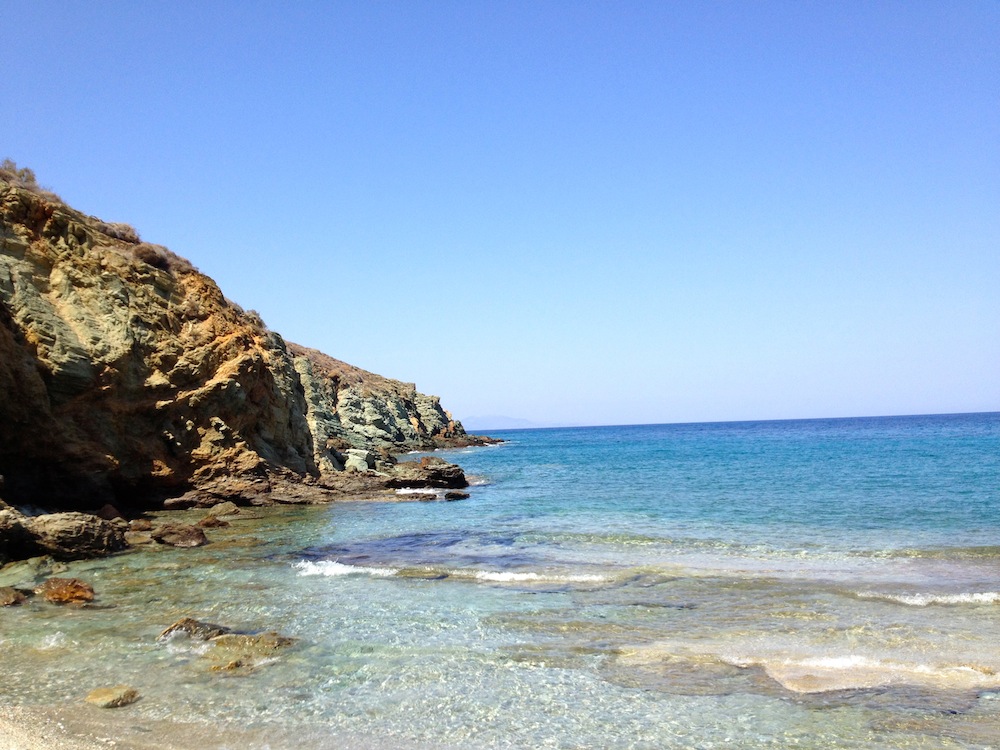 Water logged and sun kissed, the day is almost done in Folegandros. I head back to the island's main town of Hora for sunset. Hora is best defined by its warren of streets. You head down one path and think you will turn up the other end, only to find yourself right back to where you began. Lording over Hora is a church with a zigzagging path to reach her. I admire its sore thumb nature being the whitest of whites on a canvas of brown.
It's dinnertime in isolation, lending this traveler an opportunity to find someone to talk to in nowhere town. I pause for a drink on one of those tables and chairs owned by the man from Athens. He tells us how he hates it here. He explains how his wife who is from Folegandros traps him each summer. As soon as the season ends, he hightails it to Athens with his family. And yet, buried in his hatred for Folegandros, there is the story that keeps him here, the tale of seeing his wife for the first time down by the port decades ago that changed his whole direction. For on Folegandros, you must do as the man from Athens did, change direction and concede that you are trapped here, at least until the next boat comes to port.
Have you been to Folegandros?