A woman unknowingly backs up onto my foot to get the perfect shot of Palazzo Vecchio. In the middle of the road, a couple adorned with two big backpacks clutches a map and stares into the blue sky, looking for answers to the question, "where am I?". Lines of people snake around streets more so than cars do. Prices rise on restaurant menus in the city center. It is tourist season in Florence.
All around the world, locations invade with tourists, willing and ready to explore somewhere for two weeks of vacation. The tourist versus traveler debate is a ridiculous one. As much as I complain about these tourists, as much as my feet ache from that woman ripping off my sandal, I am one of them. I am just staying a bit longer. I still can't shake the attitude engulfing throughout me. Traveling in tourist season is really not so bad.
Prices rise. Hotels and hostels book up. Museums, galleries and concerts pack with people. Getting a moment's peace in a tourist destination seems hard to come by. In Italy, Rome, Florence, and Venice become "pieno di turisti" or full of tourists, in particular this year with a plummeting euro. No one knows his or her way. Everything is looked at in wonder. After living in Florence in the low season when streets are deserted and lines dissipate, I have seen the two extremes. Which is better? You would think traveling in the low season. While I love the solace of Florence in winter and early spring, the tourist season of summer is really not so bad. If you are traveling this summer to a tourist spot or live in one, here are some reasons to embrace these people rather than complain of their existence.
1.    You can always feel comfortable snapping photos.
I doubt I would be in the minority in saying that I don't enjoy pulling out my camera and looking like "a tourist". There are countless things I want to capture, but often times I shy away and resist. In Florence this summer, I am no longer shy when it comes to taking pictures for everyone around me is doing just that. Moments I have throughout the city are easily captured for all of the tourists doing the same mask my introverted tendencies.
2.    You always fit in.
With the varying characters in Florence, passing in and out throughout June, July and August, everyone looks foreign. With bright red hair and pale skin, I tend to never be confused for an Italian or anything other than American or Irish.  Regardless, I don't stand out as much as I do in winter or spring in Italy. The city dresses with people from all walks of life, all skin colors, hair colors, and clothing choices. No one blends in so we all blend in. With all of the tourists, I don't really feel out of place in the city that is not my home, just my temporary residence.
3.    You are never alone.
Battling bouts with solo travel loneliness my first week here, I left my apartment and headed down the road. After a few minutes, I was met by hordes of people filling the streets. Restaurants and cafes were bursting. Piazzas teamed with people. Suddenly being alone left my mind. With so many visitors, I know I am not alone. Standing in crowded Piazza Signoria, the thrill of all of the people around me, bumping me, pushing their way around could be seen as annoying. However, with so many people in Florence, the city feels alive to me and I am a part of it. My solo travel loneliness takes a back seat.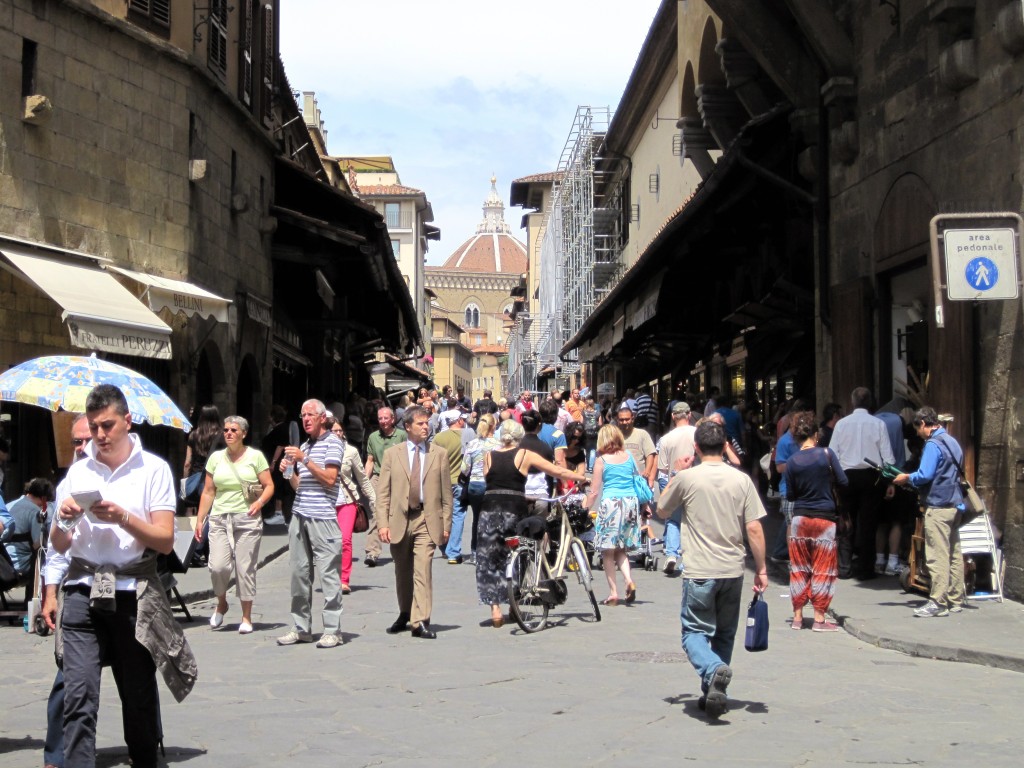 4.    You rediscover travel wonder all over again.
As I trailed behind a couple holding a map and looking lost, I creepily observed their faces. Every turn of the corner, every building, they stopped to admire. Sure, some don't know what they are looking at, but if you live in a historical or noteworthy place, you may become immune to noticing just how remarkable the city is. Look at the faces of tourists. They are most likely ones of wonder and awe. They are appreciating what they see. I casually pass by the Boboli Gardens everyday. The massive Palazzo Pitti sits just down the road. Looking at tourists stop and stare makes me stop and stare at something I already have noticed. Travel involves revisiting places and revisiting the wonder that fills throughout those destinations. With tourists, I tend to not lose my travel innocence.
What do you like about traveling during tourist season? Anything?