The search has been long and hard. It has produced broken straps, bags that couldn't withstand the contents and that lingering feeling that something was missing. There weren't enough compartments. I would wish the zipper would go all the way around. After buying what seemed like a $50 tote bag from various chain stores for every trip since I was 18, I finally caved and splurged on the Lo and Sons O.G. bag. Could this finally be the one?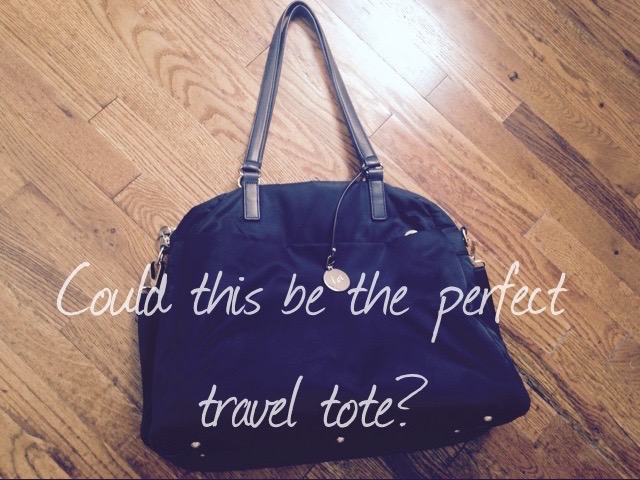 A few years ago, I posed the question, "Where art thou perfect travel tote bag?" Many others joined in on their troubles of locating the perfect bag for travel. A few suggested the Lo and Sons O.G. bag and I had seen other travelers sing the tote's praises. Before you fork over the hefty price for this travel tote, here's a breakdown of the O.G. bag from my own experience.
Oh The Compartments!
When searching for the ideal travel tote to keep with me, I would always be disappointed by the lack of compartments. The Lo and Sons O.G. features more compartments than I could wish for in a bag. While the laptop sleeve won't fit my 15 inch MacBook Pro, I figured I could stuff my notebooks in this compartment instead. It also features a sleeve for your iPad or tablet. The front pocket lends a space to toss the items you need to reach quickly like a boarding pass, keys or passport. The O.G. bag also has a side pocket, almost a secret compartment to stash an extra pair of shoes, socks or a t-shirt. In terms of organization, the bag excels. I never had to go fishing for my belongings throughout three months of travel with the O.G.
A Material That Lasts
You can wipe the O.G. bag clean as it is composed of a water resistant nylon material. The handles are also strong and sturdy, made up of full grain leather. Throughout three months of packing up and unpacking in Europe, the O.G. always looked brand new. Even looking at it hanging in my closet now, the bag looks like I bought it yesterday when in fact it has been through the ringer. A bag this expensive should hold up for several trips and the O.G. didn't disappoint in this regard. I could also take a wet cloth to any stains or marks and they would vanish.
The Trouble with the Back Panel Sleeve For Rolling Suitcases 
In my search for the perfect travel tote bag, I was pleased to see the O.G. bag came with a sleeve to place over the handles of a rolling suitcase. I like to be able to be able to lug everything on one arm. While this feature has zippers for added stability, it didn't always work properly for me. If you have the bag full of your belongings and your rolling suitcase is pretty full, lugging both together is quite the workout. I imagine on shorter trips this feature works better with luggage that isn't so heavy.
A Place For Everything I Need But At An Awkward Shape
The travel tote bags that I purchased for my carry on bag were almost always too small for my needs. My computer would barely fit in the bag. At times it seemed like I was bursting at the seams. The Lo and Sons bag comes with a place for everything I need. I could fit the following in the bag for my three months spent in Europe.
15 inch Computer
iPad Mini
Computer Charger and Cell Phone Charger
Makeup
Socks
Notebooks
Wallet
Pens
Passport
Guidebook
Magazine
Gum and Mints
Jewelry
While I could fit a great deal in the O.G. bag, the shape of it did make lugging all of my earthly possessions around a bit awkward. Measuring 17'' wide, 6.5'' deep and 15'' high, the curve of the bag sometimes made it awkward to place under my arm, creating the common scenario of whacking strangers without my knowledge at every sudden movement. I also sometimes looked like I was stuck in a funhouse, tilted to the side.
The Lo-down
Lo and Sons bags are not cheap. The O.G. bag is the bigger version of the O.M.G bag, running for $295. I was able to find a coupon code on another blogger's website to reduce that cost by 20%. While many will say you don't need to spend this amount of money on a bag to get a good one, I have to disagree after seeing the O.G. bag in action. As I was constantly buying cheaper totes that either wouldn't last, in the process I was spending around the price of an O.G. bag over the course of a year to two. I don't expect to have to buy a new travel tote for a long time.
Another downside was the fact that the O.G. bag doesn't fit a 15 inch computer in the laptop compartment. Again, I decided to just place my laptop in the bag and not the designated sleeve, which worked fine, but I would have liked to have my computer all tucked away in its assigned space. Also, if the bag is full as mine was, it can be difficult to fit under the airplane seat. While I could get it to fit every time, I had next to no room from my feet. In the end, the O.G. very well could be the perfect travel tote bag, but not without a few misgivings.
Have you tried the O.G. bag from Lo and Sons or have you found the perfect travel tote bag?