Solo travel is often looked at as though you are traveling to the moon. You are going there by yourself? Aren't you going to be lonely? Will you be able to figure out the trains on your own? Should you really be traveling as a woman all alone? These are questions of those that I see whiz on past me in groups, with their families, or hand in hand with that significant other. They normally see travel as something you can only do with someone and never alone.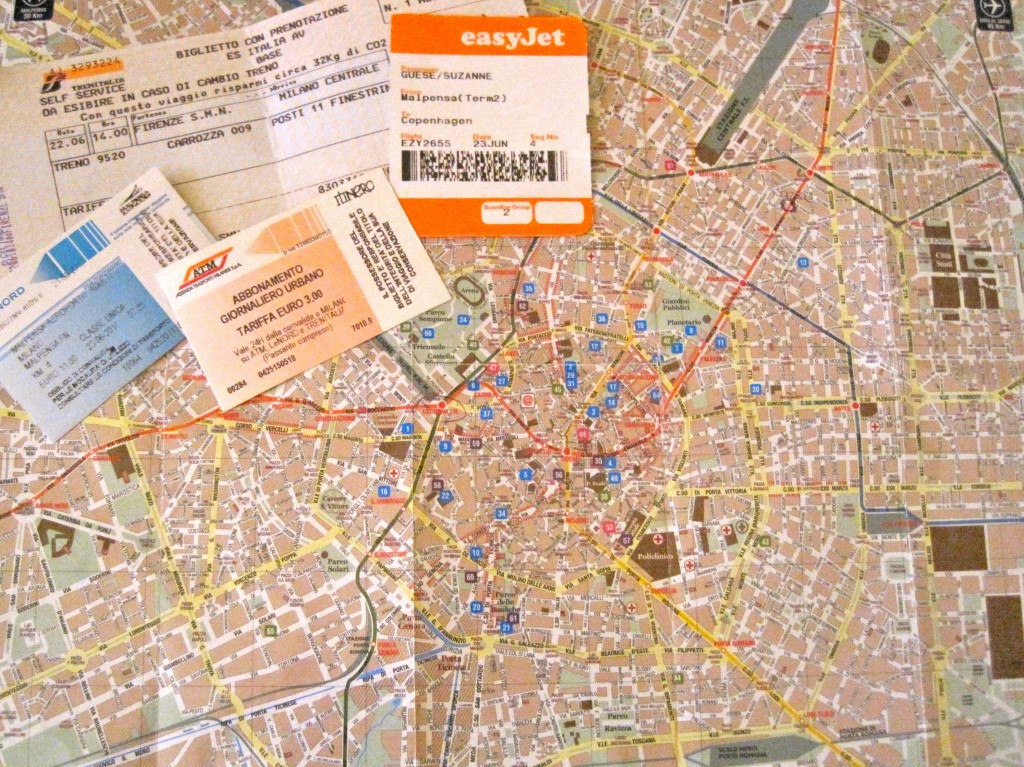 A great deal of travel involves figuring out where you are going. You must rely on taxis, boats, trains, planes, buses, bikes and cars to get you to your destination. These little tasks of deciphering bus schedules and metro systems are often alleviated if another person is with us, reassuring us that it is in fact the right way. If it isn't, you at least have the company to not panic and think it is the end of the world.
Most of my travels have been experienced with someone I knew, whether with a group of students in college, with family or with friends. The extent of my solo travel was non-existent, like many travelers out there. Actually traveling solo however involves a great deal of confidence and courage.
Public transportation tends to scare a first time solo traveler. There is no one around to hold the map and make a decision for you. You have to figure everything out all by your lonesome. Heading to Milan for a night, I had some trepidations about figuring out the Metro system, train to the airport, and bus to the right airport terminal (thank you Easy Jet).
Arriving in Milan, I felt much like Dorothy arriving in Oz. I knew I was not in little Florence anymore. As that initial panic came over me with bags in hand, suddenly everything seemed fine for no one else was going to figure it out. After checking in, I decided to brave the city. With a map in hand, I searched for the nearest metro stop. A few wrong turns later, I eventually found where I was going. My experience in Milan traveling around on public transportation left me empowered and confident. Here is some advice for solo travelers considering braving the wacky train station schedules or bus systems all alone.
Don't Over Plan With Pre-Trip Reading And Research
The days leading up to my trip to Milan were spent scouring the Internet for useful information to tell me about the buses, metro, and trains. I would jot down train and bus times left and right, reading specifically how to handle the platforms and where to go. All of this reading just made me more nervous and confused. Stop planning. Get there. Find a map and all will be right with the world.
If You Feel Lonely, Hop On A Crowded Metro Car
As I concluded the approaching metro car was in fact what I wanted to be on, I hopped onto a car spilling out with people. Most of these riders looked more like models, adorning sunglasses inside the metro with cell phones in hand. The people watching on public transportation will help you forget you are alone. You aren't. Someone is bumping you. A new wave of people hops on with every stop. A new wave of stories joins your solo travel experience.
Don't Panic If Everything Doesn't Go As Planned
I had arrived in Milan thinking I could just walk to my accommodations. It looked simple enough, but I quickly found myself circling the same streets with bag in hand. This wasn't part of my perfect plan. Eventually I arrived at my destination, but the key to my arriving in a good mood came by not panicking. Part of the beauty of solo travel is that no one knows if you are going the right or wrong way. Only you, eventually, do. There is no sense in wasting energy on fretting about being lost or confused. Embrace it.
Reflect And Give Yourself A Pat On The Back
As I returned to my room in Milan with supposedly the best pizza in the city in hand, I felt incredibly empowered. I don't doubt I was smiling from ear to ear about my solo travel transportation conquering. I rode three different metro lines, found the ever-important Duomo and shopping area of the city, and made my way back in one piece. Be proud of yourself for what you just accomplished. There are few people in the world that actually go it alone while traveling and you are now one of them.
If you are considering traveling solo, my best advice is to try out public transportation. Not only do you become more assertive with your travels, but also the independence of figuring everything out on your own is overwhelming in a good way.

Do you find figuring out public transportation empowering as a solo traveler?