Little ants clamor about a singular bean. They scurry toward their meal, only pausing a brief moment to take in such a feast before going in for the kill. As they get closer, the ants devour the bean. These ants are mostly tourists looking to capture what is probably Chicago's most popular sculpture. They leave behind traces any crime scene investigator would appreciate. Thousands of fingerprints decorate a 110 ton silver drop in the heart of the city. I am one of those ants, standing in front of the famous Chicago "Bean", less commonly known by its official name of Cloud Gate.

Cloud Gate anchors Millennium Park, a grand idea that began in 1997 and developed into an even grander notion. Millennium Park litters in enormities, beginning with Cloud Gate. The park itself measures 24.5 acres, filling with modern design pieces. The idea was to make a former industrial wasteland occupied by the Illinois Central Railroad  a new town square. While projected to open for the millennium, hence the name, Millennium Park is a misnomer. The space wouldn't open until a few years later and hundreds of millions over budget.
And yet, those two facts are forgotten when you view Chicago through a 66 feet long by 33 feet high mirrored bean. The work of British artist Anish Kapoor, Cloud Gate reflects the city's skyline, clouds and little ants. A 12-foot high arch acts as a gate beneath the sculpture, inviting more ants to clamor over their various perspectives of self. It is Chicago's ultimate fun-house mirror.
Millennium Park is not just a single bean. In the southwest corner of the park, the kid in everyone comes alive yet again. Designed by Spanish artist Jaume Plena, Crown Fountain splashes you in the face in more ways than one. Composed of two 50 foot glass block towers at each end of a shallow reflecting pool, children splash about in their swimsuits waiting for a single moment.
On those two towers are projected video images of the faces of Chicago citizens. On occasion water spouts from the pursed lips of 1,000 residents of the city. Like modern gargoyles, locals spit on to tourists and their own kind from mid spring to mid fall. No one seems to mind or take offense, especially on a hot day in Chicago.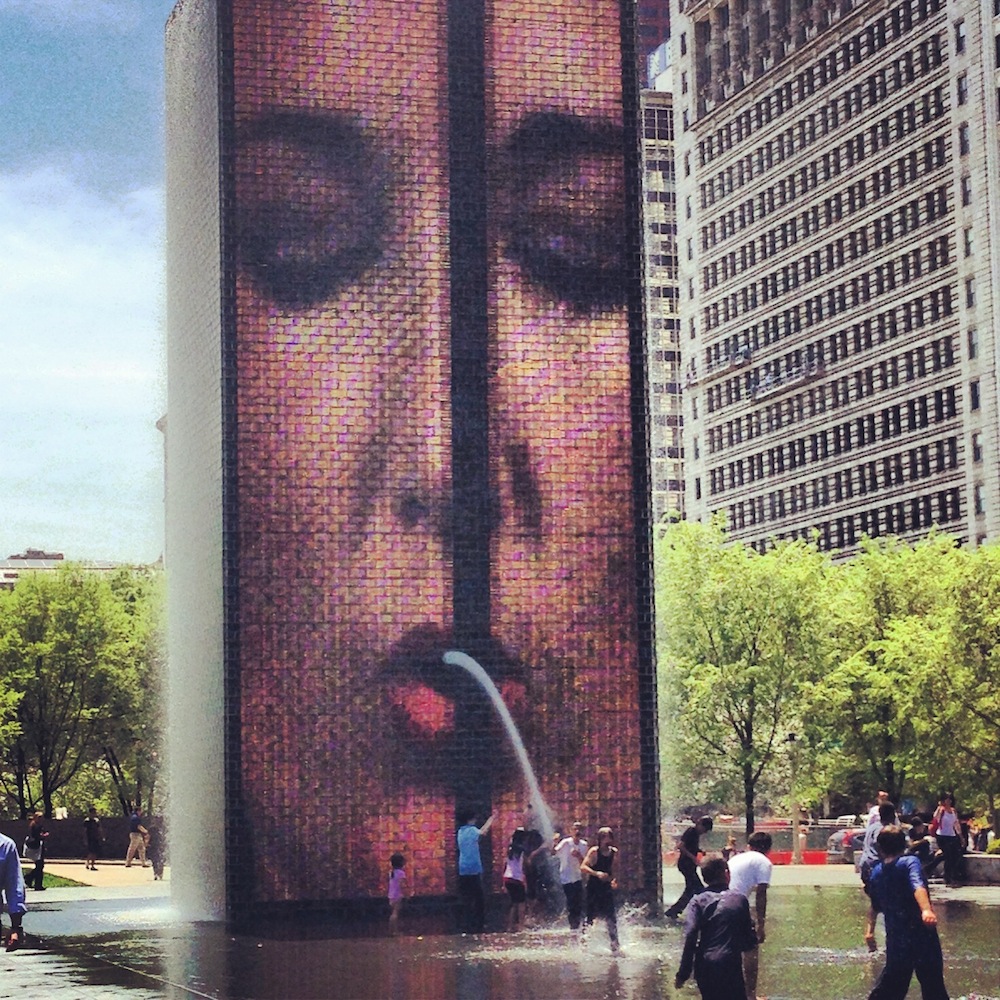 Like a giant five year old's birthday party at a water park, I decide its time to get away from the chaos of Millennium Park and explore its quieter, less in your face works of art. The Lurie Garden is not far away, presenting 5 acres of peace away from the splashes. A 15 foot high shoulder hedge magically blocks out the noises of Crown Fountain and Cloud Gate. Like a fortified city wall, this is Chicago's true untouchable.
The perennial garden intends to showcase Chicago's transformation from flat and marshy lands to a city of power. Just beyond the plants and grasses is a hardwood footbridge with shallow water. I do as others do around me, dipping my feet in the shallow stream amongst the spare change. It might not be the most sanitary of ideas but yet it is another way Millennium Park involves its guests. You are never passive in Millennium Park, but rather a key component that makes it work.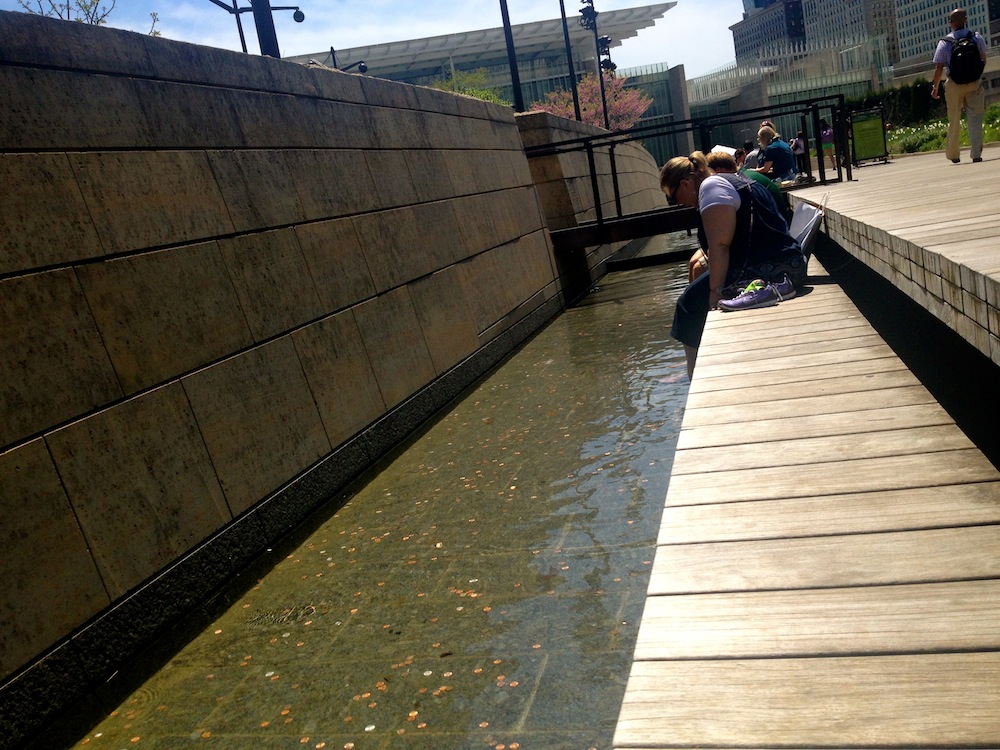 Last but not least, I head to the Jay Pritzker Pavilion, easily identified as the work of Frank Gehry. The revolutionary outdoor concert venue measures 120 feet high. Its ribbons of stainless steel seem to blow in the wind without need for engineered reinforcement. Home to plenty of free concerts and events, the pavilion can hold 4,000 throughout its fixed seats and 7,000 on its grand lawn.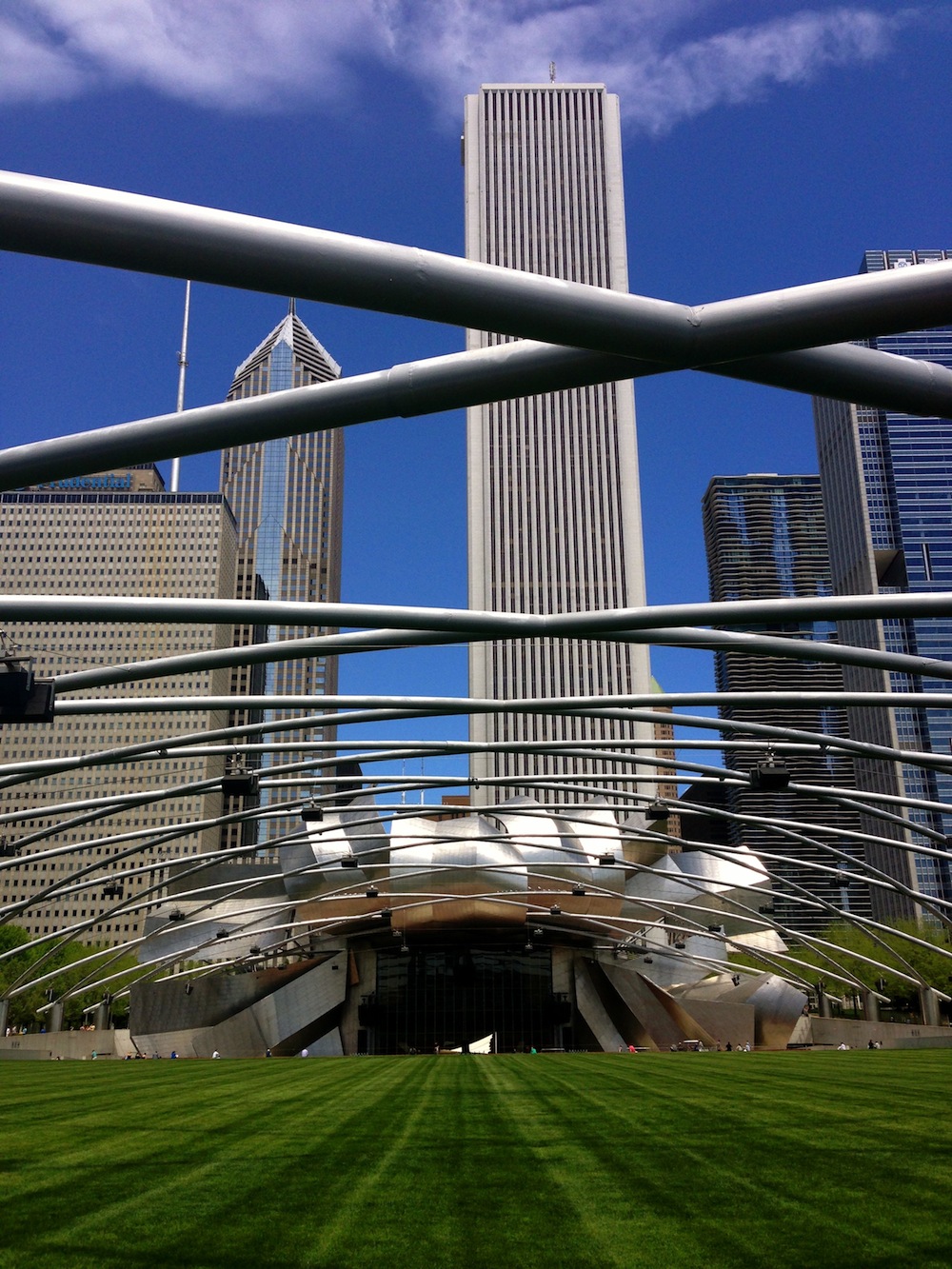 It often seems like grand ideas, those we build up in our minds fall short of enormity. Millennium Park is the opposite. A grand idea was laid to turn railroad tracks and parking lots into something the city had never seen. The idea would grow into an ambitious undertaking, a park far more over the top than anyone ever imagined. It's hard to believe that Millennium Park comes with no charge. Yet again, it wouldn't work without human involvement, soaking in their distorted faces on Cloud Gate and splashing around a fountain like it's the beach. In my mind, the best works of art place you into the artist's creation. Millennium Park is such a place where the canvas spans 24.5 acres and the people filling it, complete it.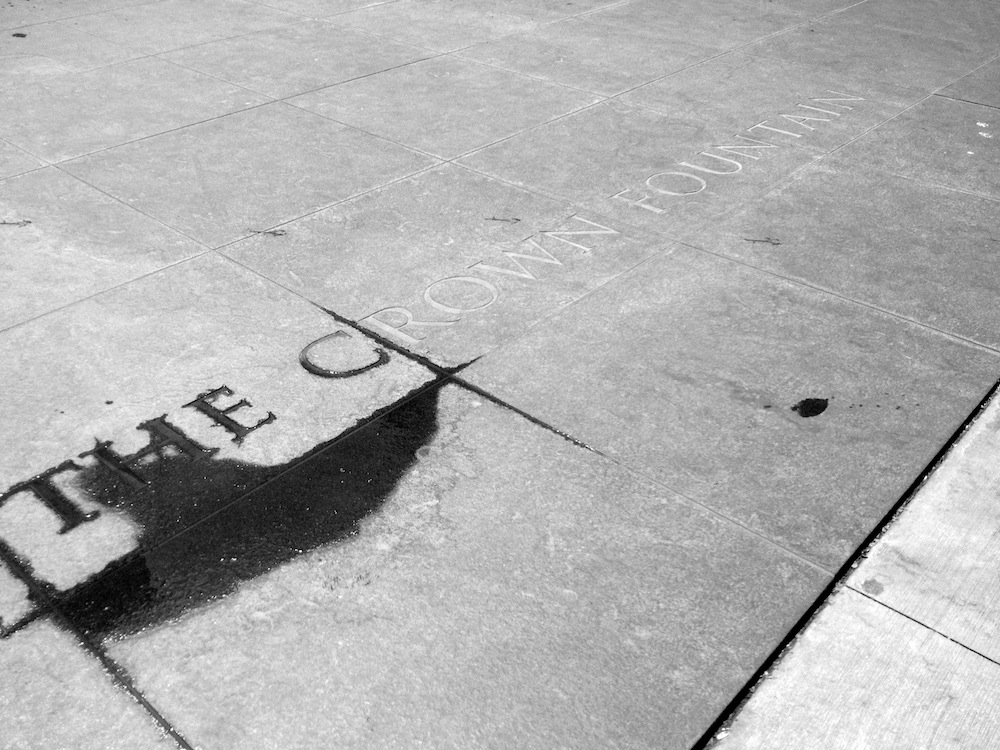 Have you been to Chicago's Millennium Park?