I studied abroad when I was a junior in college in Ortigia, Sicily. Ortigia is a small town, the old town center of Siracusa in southeastern Sicily. I spent over four months living and "studying" in this picturesque location. My program was smaller than the Duggar family of just 15 students. We all came to know one another, much like family. More often than not, it felt like we were on a reality show, 15 strangers living on a island. Will they survive? Ortigia was home and a little American family possessed it for a few months.
I went back to Ortigia for a week around this time last year. I was all by myself, but I had this urge to return to my second home. I arrived and nothing looked the same to me. Streets seemed whiter. My favorite gelato place was closed. New students occupied what was my school, or so I thought. I had this sensation that Ortigia was no longer mine.
I started thinking about this idea, that a place can be so personal to you and then all of a sudden feel like the most foreign of lands. I returned to my favorite pizzeria, thinking it would be the same. It was. The crazy fast moving Italian waiters were still throwing pizzas around. They even remembered me. Other shops I entered said to me, "Ritorni?" or "You return?". Perhaps the only reason they remembered me is due to the fact that my flaming red hair used to be like an arrow pointing me out in a crowd. Sicilians are mainly dark in hair and skin color, in other words, the opposite of me.
Even though these places remembered me, I felt the actual setting of Ortigia did not. Ortigia was living in the present, and I was just a part of its past. The ruins of Temple of Apollo sit near Ortigia's marketplace. Without a doubt, they are a part of Ortigia's past as a thriving Greek port. Their remains serve as a part of Ortigia's present. They will remain until erosion and the weather degrade them down to nothing, but the ruins still sit watching vendors selling their fruits. They live on in Ortigia, but I do not.
The following semester of my junior year, I studied in Florence. Florence may have been the polar opposite of Ortigia. My program was big and so too did the city feel. I returned to Florence this past summer, but it did not feel foreign to me. I felt a part of Florence, just as I did when I lived there. Why would I have the opposite reaction to Ortigia?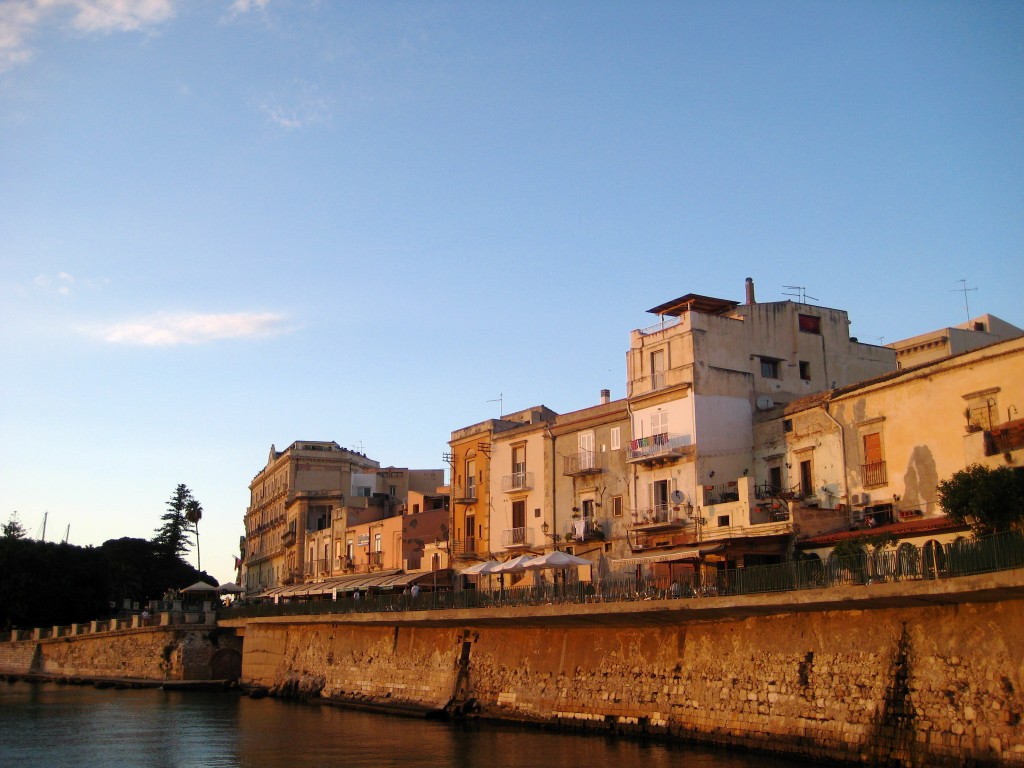 The only solution I can drum up may be the size of the two cities. In Florence, there is this constant influx of new tourists and travelers. Florence visually has changed very little since the Renaissance. Ortigia on the other hand is small. Locals note a new person on the island. You see the same faces every day. A little old man with a cane used to stand on my street just observing passersby. When I went back, I saw him again. I know he did not recognize me, but I experienced that thrill. Something was the same here. I just wasn't it.
My dilemma with Ortigia presents that question I addressed in the title. Can you really go home again? If you have lived in another city, country, or studied abroad in a place for several months, and you went back to that place, did you feel that you were just a part of the setting's past? That was my sensation in Sicily. I was antiquity and Ortigia was moving towards the space age. Just like the page in a history book, my presence there may not be forgotten, but the actually setting of Ortigia no longer feels like home.