I arrived to Berlin on two hours of sleep in 48 hours, clearly at my best. Perhaps due to my lack of sleep, I saw Berlin in a two-day daze. From appreciating the breeze while biking through Tiergarten to feasting on Vietnamese food as my first meal with Anjelica Huston lookalikes at neighboring tables, I came home and wondered what was real and what was a figment of my jetlagged, zombie-like imagination.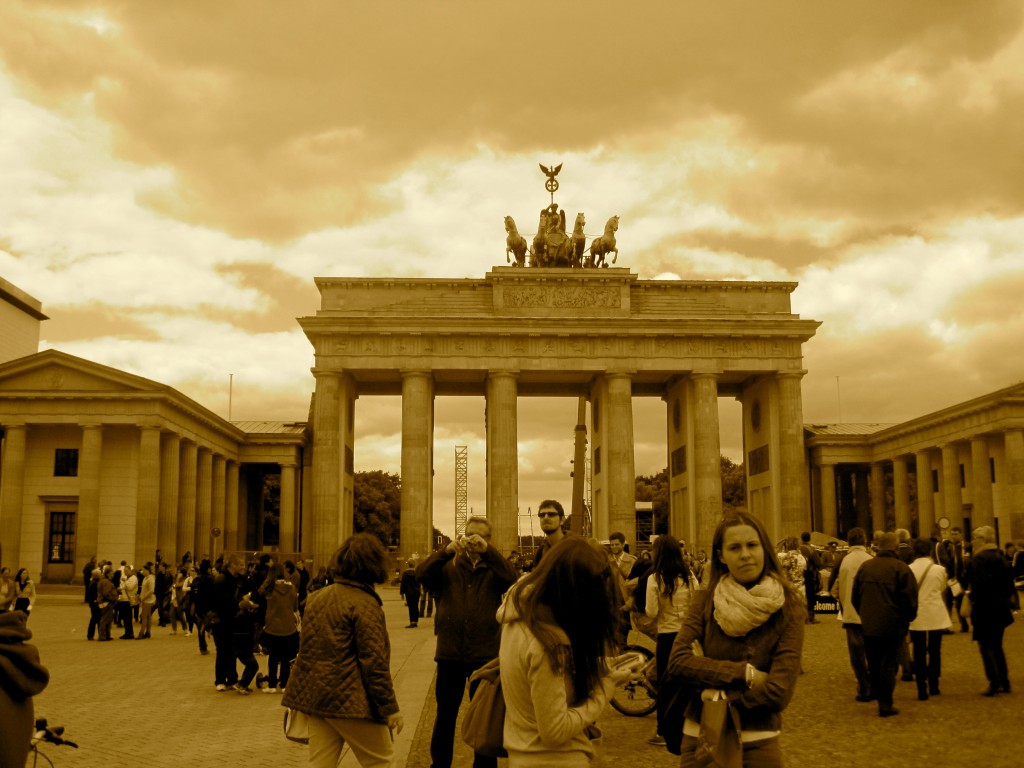 Throughout my time in the city, the words "trendy", "dynamic" and "hip" could be heard through every nonexistent sleep cycle. Berlin did seem too cool for me, the sort of place where you will stand awkwardly at an art gallery, nodding as if you know what you should be seeing. And before I could fall asleep on Berlin and think it to be some place I will never understand, I pulled out my camera and started snapping. Sometimes when we are transfixed on trying to see what we should, we forget just what it is we are seeing. A city twenty years after the fall of the Berlin Wall and the reunification of Germany is in a constant state of reinvention, of transforming one hip area into another like skipping stones.

My camera's first shots of capturing cool Berlin came in parts of the Mitte and Prenzlauer Berg neighborhoods. We pause outside of Café Cinema where a woman with that purple-red hair puffs her cigarette while conversing with a friend. They both seemingly have nowhere else to be on a Monday morning. They are the essence of Berlin cool. 
Our guide is always quick to tell us that whatever we are capturing behind the lens is nothing someone hasn't before. "You will find this in every tourist guide." He laughs as though to dull the pain of essentially saying, "You aren't seeing anything new." We approach the old timey nightclub Clärchens Ballhaus as an artist paints the idyllic courtyard scene. The guide zips on past. There's no need to stop. I disagree and marvel at a scene of great creation all around, the simple act of one of the 4,000 artists in the city painting. 
Berlin is home to over 400 galleries. That doesn't include the 200 non-commercial showrooms and off spaces. And while Berlin can seem so above me, it can let me in at the same time to see what I think. Galerie Zink does just that. On display until September is an exhibition of Marcel van Eeden. Of course, the two large pieces I'm drawn to are titled, "Untitled".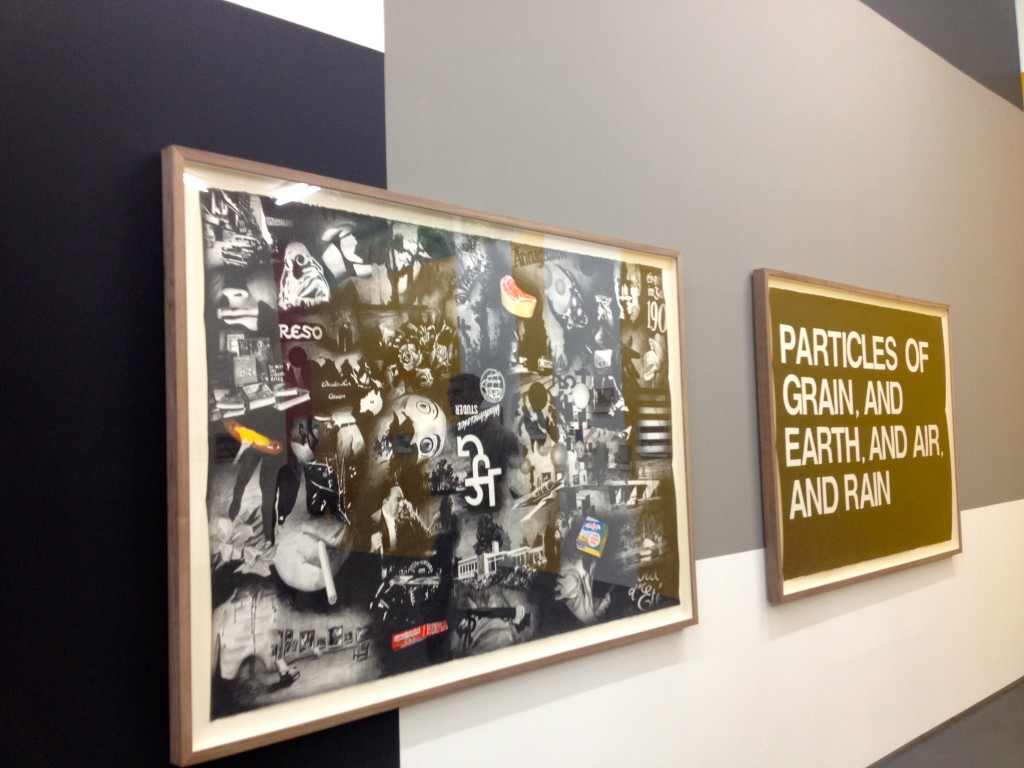 The gallery shows us some of their other represented artists, including Rinus Van de Velde. The work shows the artist planning his expedition to the Himalayas, with the question mark as to whom the artist may be. Again, Berlin is a puzzle, even from within an art gallery's space.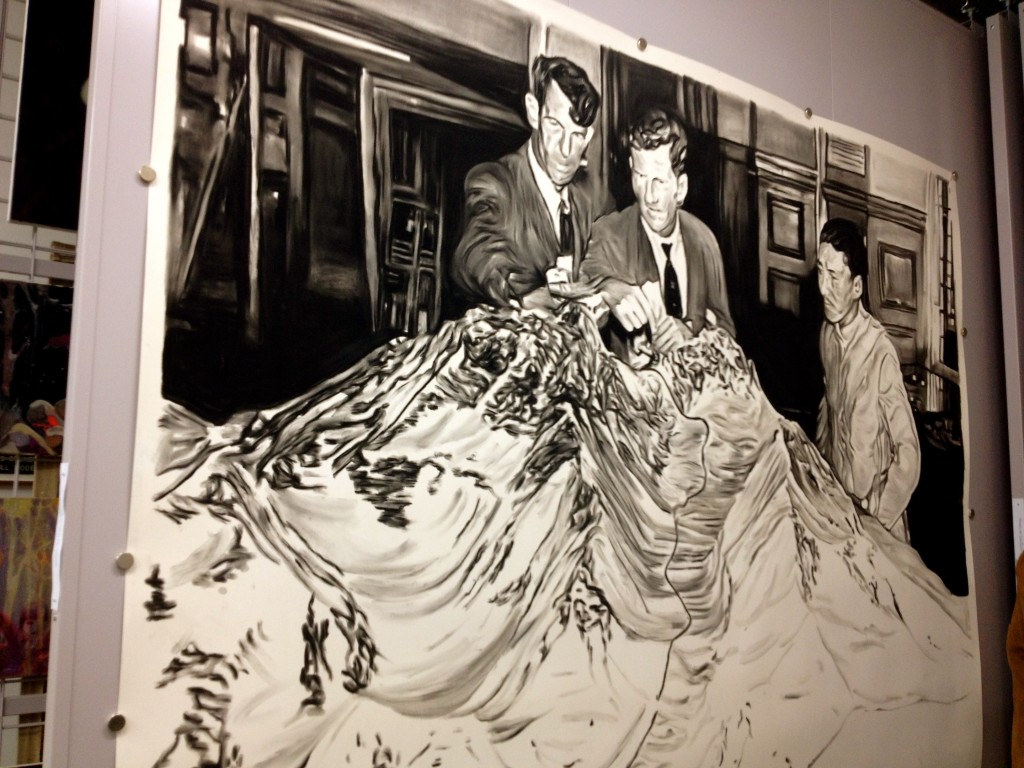 On a bike tour of Berlin, those images of the city I had seen for years on television and in print all become that much more real. My two wheels grind to a halt in front of a piece of the wall. Running directly through the Mitte neighborhood, the division separated the East and the West. It's hard to imagine a dictatorship putting up a wall on the night of August 12, 1961, but that was Berlin's reality. Whichever side you slept on that night is where you would remain. 209 lives were lost trying to cross this division.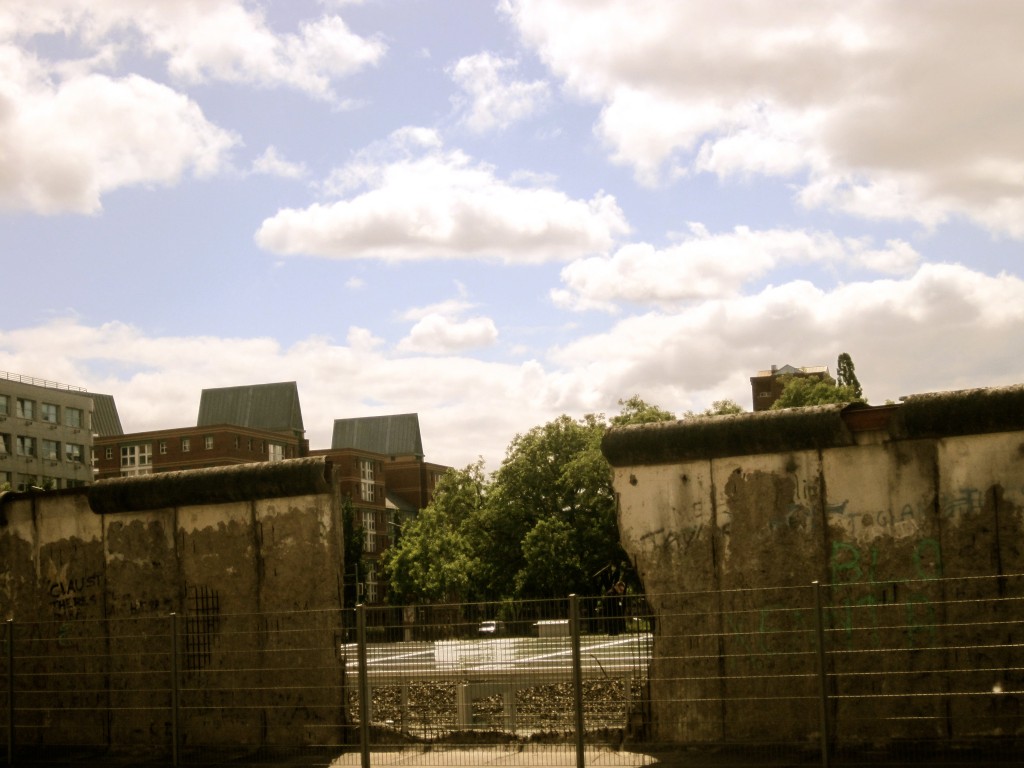 Marking the end of the dictatorship, the Berlin Wall would come down on November 9, 1989, when I was busy renaming myself "Suzy" instead of "Suzanne" and building different walls, those of the pillow fort variety.
Berlin can disappear on you, suggesting its complex history. I experience the hat trick at the Memorial to the Murdered Jews of Europe. Located in the Tiergarten district, the memorial is the work of Peter Eisenman.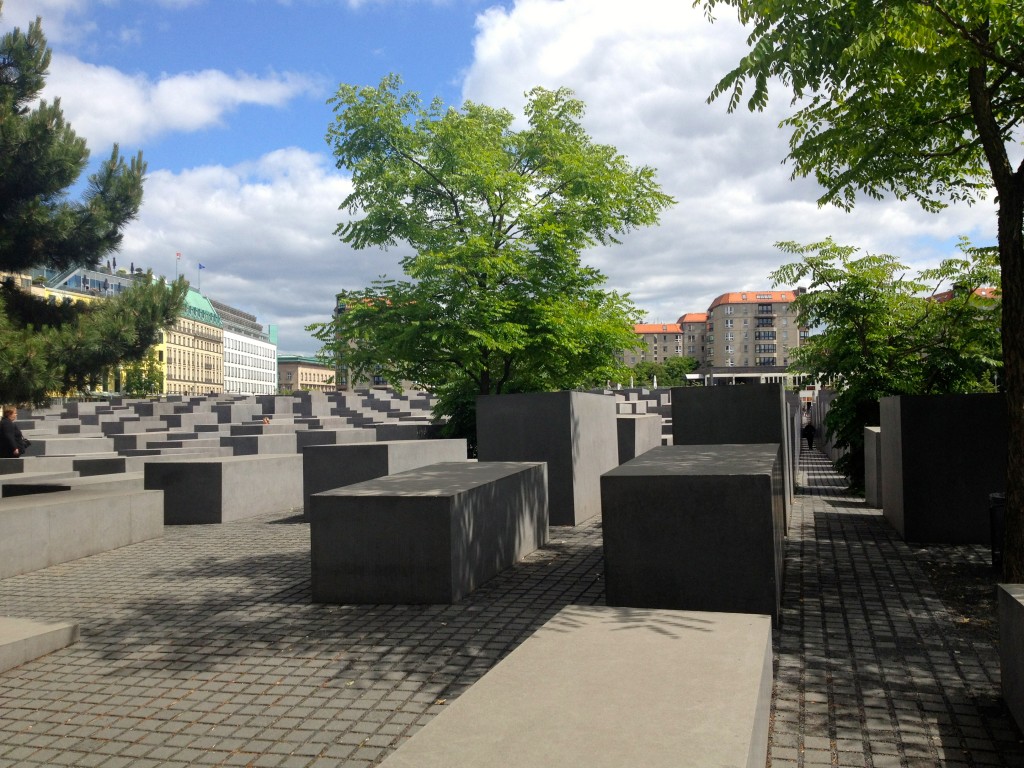 It features 2,711 concrete pillars at various heights. They lay out on a base more akin to waves. You can disappear in an instant, only very superficially how many Jews must have felt. It is a dizzying and disorienting experience, no doubt the architect's intention.

I thought that Berlin was a dark place as a whole before arriving in my jetlag daze. And while there are sides to the city you can't help but experience those chills of history, there are also those that make you feel strangely at home. I head for KaDeWe, the city's historic department store. Opened in March of 1907, Kaufhaus Des Westens was revolutionary for its time with five floors of goods and services. It became a symbol of new beginnings when the war ended and boomed when the wall came down. I find that Berlin can't be all sunglasses inside. At KaDeWe, even mustard leans more toward cute than cool.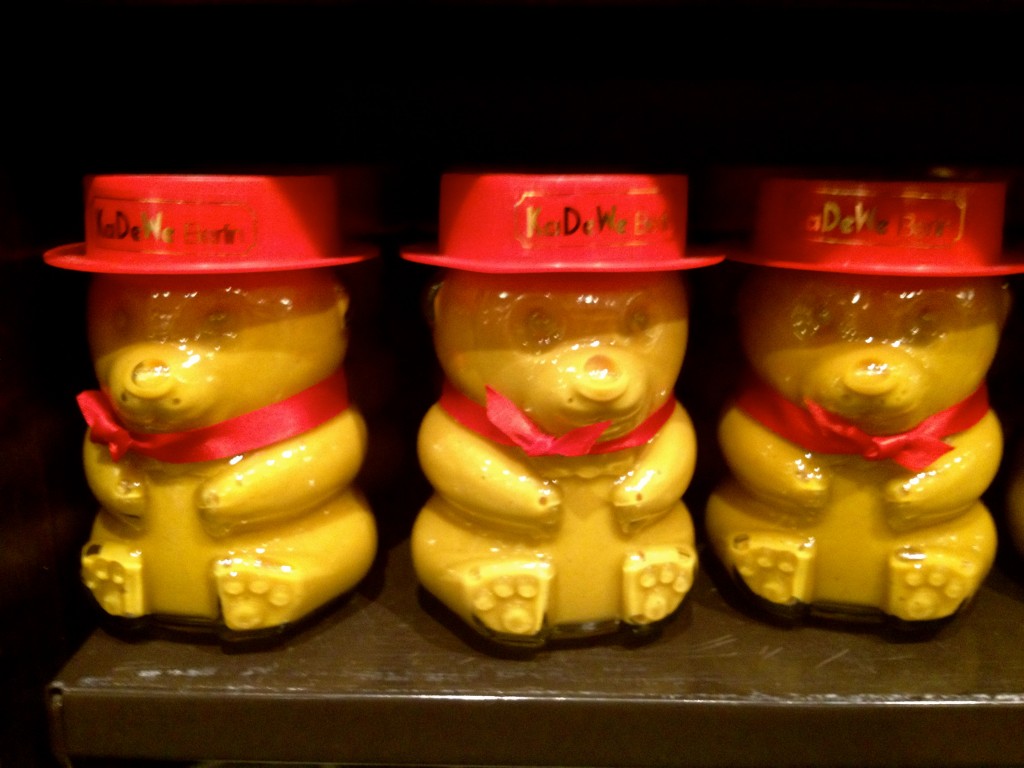 My camera's battery is starting to go, just as my body's battery fades. It's nine o'clock but the sky would have you believe the evening is just beginning. At the little stand Bergmann Curry, I take a last look at a Berlin staple, currywurst. Essentially a cut up bratwurst smothered in ketchup and seasoned with curry powder, the dish is unquestionably Berlin. Herta Heuwer was supposedly the first to add curry to her bratwurst. British soldiers gave food-rationed West Berliners the spice. As I eat my currywurst on a paper tray with a tiny wooden fork, I realize Berlin isn't too cool for me. Any city that cuts up a glorified hotdog, douses it in ketchup and curry and calls it their dish is certainly for anyone. It is a city trying to find itself and perhaps we are all just trying to find ourselves in it. Goodnight Berlin.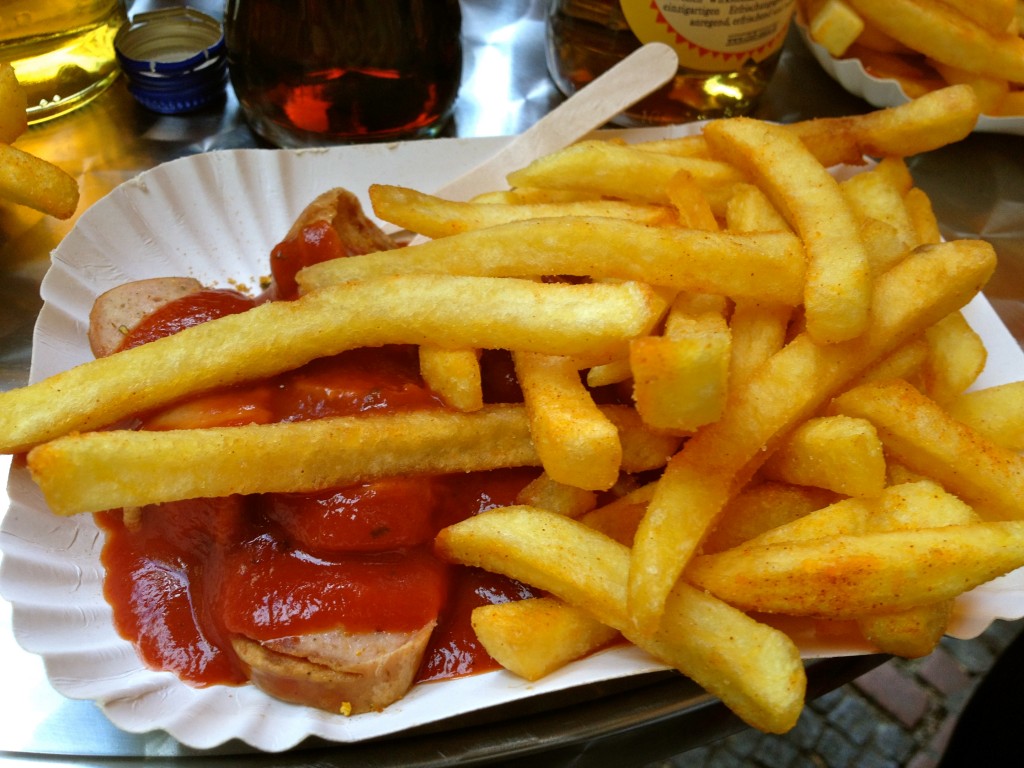 Have you been to Berlin?

This trip was sponsored by airberlin and VisitBerlin.