Off in the distance, it appears men are walking on water. A biblical scene formulates right before my eyes in Barra de Potosí, a small beach town just a 30 minute drive from Zihuatanejo, Mexico. My guide Francisco is quick to quiet my miraculous vision, telling me the water can't reach the surface at that particular point. He doesn't always pick up on my sarcasm. What Francisco can't explain, nor can I, is the feeling of the heavenly in this beach side village at the southern end of Playa Larga beach.
There are those scenes of Mexican beach towns in movies I often wonder where they can be found or if they actually could exist. I believe I found it here, amidst men walking on water and the soothing swings of multicolored hammocks.
Women and men load up their arms and necks with all manner of goods on the beach of Barra de Potosí. They all seem to shop in the same place with everyone selling the same chunky jewelry and sparkle dresses. With every visitor to the beachside restaurants of Barra de Potosí, the vendors descend in hopes of catching a foreigner on a good vacation day for buying a plastic singing parrot.
I feast on pescado a la talla, a famous dish from the Guerrero coast, as these vendors watch me, waiting for the moment the fork hits the plate for good. If I'm not busy eating, surely I can be busy buying. Covered in guajillo, a pepper spice similar to the color of my hair, I am surprised by its meatiness and zest. Not being one to eat fish often, like any redhead, it looks much more fierce than it actually is.
Kayaking, swimming, boat rides and snorkeling are all available here, where the ocean calms around a protective lagoon, Laguna de Potosí. The beach empties on the south side into this saltwater lagoon, where hundreds of bird species find a home. Colorful decorations dangle from the outdoor coverings of the restaurants. When the wind kicks up, the strings dance, giving off a soothing sound perfect for hours of hammock swaying.
It is a setting one could get used to in Mexico, quiet, peaceful and incredibly unhurried. Without crowds on the beach or in the restaurants, Barra de Potosí might just be surreal and miraculous. I'm walking on water here, both in actuality and in mentality.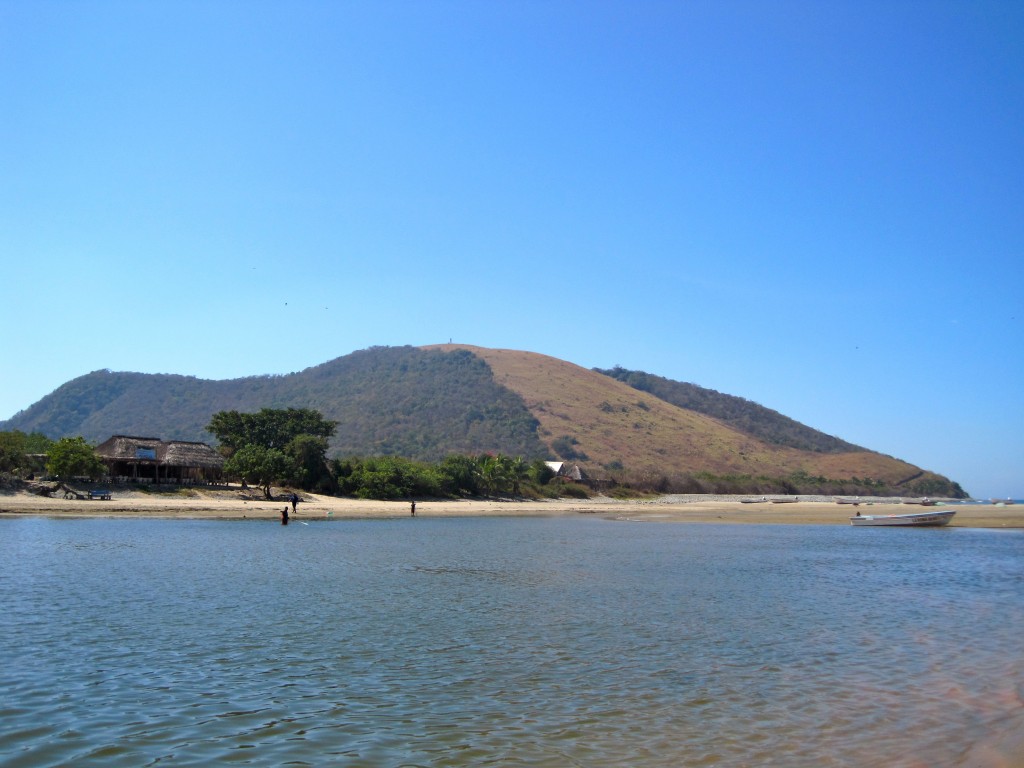 The Mexico Board of Tourism in cooperation with the Convention & Visitors Bureau of Ixtapa-Zihuatanejo sponsored this trip. While my travel and food were paid for in Barra de Potosí, my thoughts and opinions are always my own.