Stevie Nicks belts out "Dreams" countless times on the radio during my long drive down to New Orleans. It is a song, like most I gather, about wronged love, dreams foiled and hope at the end of the storm. One line sticks with me most, "Like a heartbeat drives you mad in the stillness of remembering what you had and what you lost." I don't feel my heartstrings tugging over a wronged relationship, but rather my heart beats for the road. It drives me almost mad as I search for reasons to be on the road, the zaniest of roadside attractions. These roads come into my travels, I have them for a time and I quickly lose them in the rearview mirror. And still, I prefer to travel by car, heartbreak and all. When New Orleans can be within a two-day road trip, I will gladly get up early to hit the road.
I begin in Arkansas. Coming from Colorado, where as my Dad bluntly put it, "Only the dumb trees start flowering in March", it was a vision to see brightly colored flowering trees along the side of the road. These stunners are southerners. A March frost isn't a part of their reality as it is in Colorado. There reality consists of being pretty in fuchsia for all those behind car windows to see.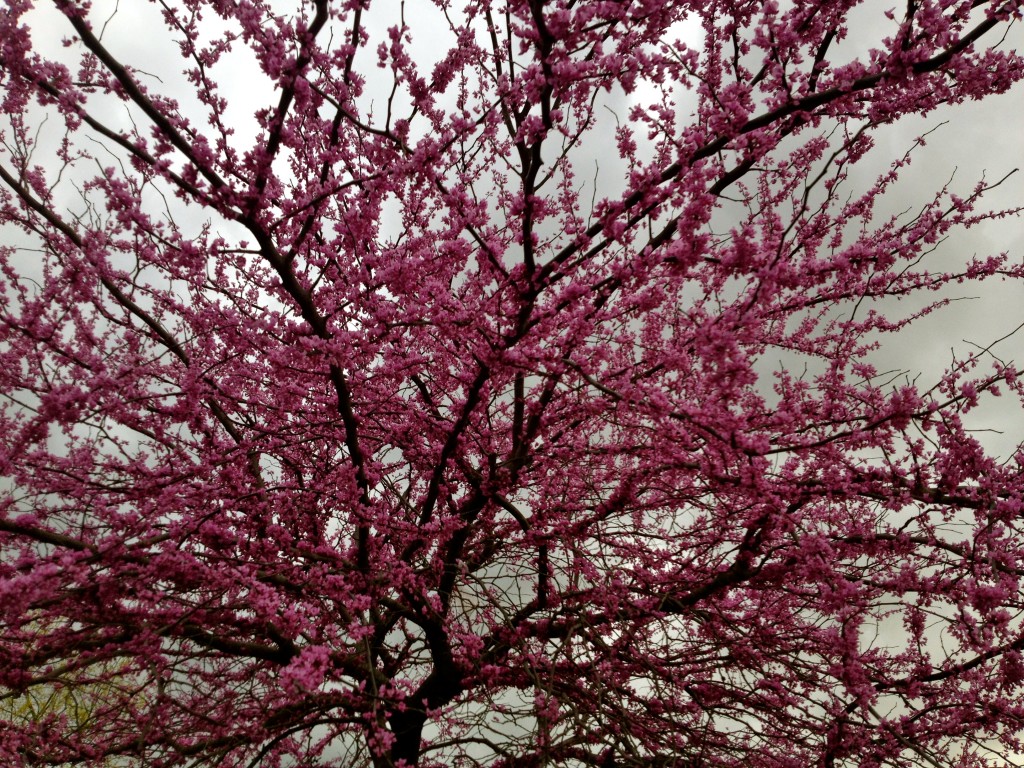 In case you don't know my traveling style very well, I tend to seek out oddball attractions. I'm not sure what that says about me, but I will search through the corners of the Internet on my phone for just the mere chance the next town I'm passing through has the "world's largest" of something. Watermelon, beer can, easel, I don't discriminate their meanings. The road down from Arkansas to Louisiana presents an odd opportunity this oddball couldn't resist, standing in two states at the same time.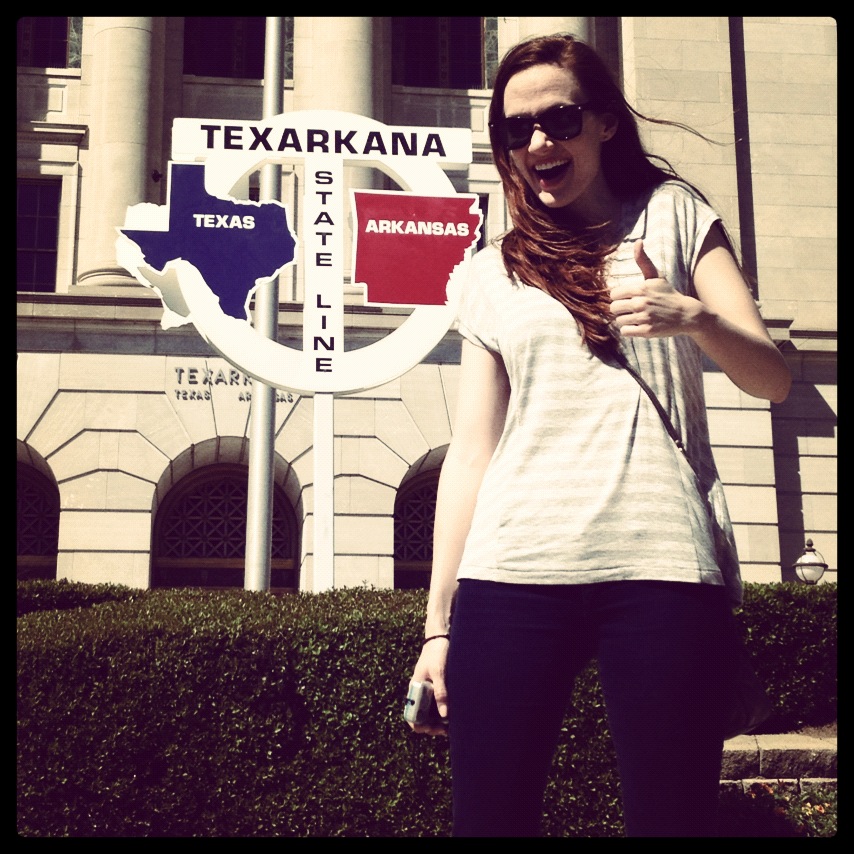 I tack on 15 extra minutes to my otherwise long drive to see and do these zany things. In Texarkana, the city's attraction is its very location. Set in Texas and Arkansas with a great State Line Avenue dividing the two, I see an end to riding the line in sight. I spot Texarkana's Courthouse and Post Office, right on the state line. Supposedly this is the only building the U.S. to do so, fraught with indecision as to where it wants to reside, Texas or Arkansas? Standing in two different places at once sends a thrill through this road tripper. While I have no reason to be in Texarkana, its very positioning lends the city and myself a purpose. And they say you can't be in two places at the same time.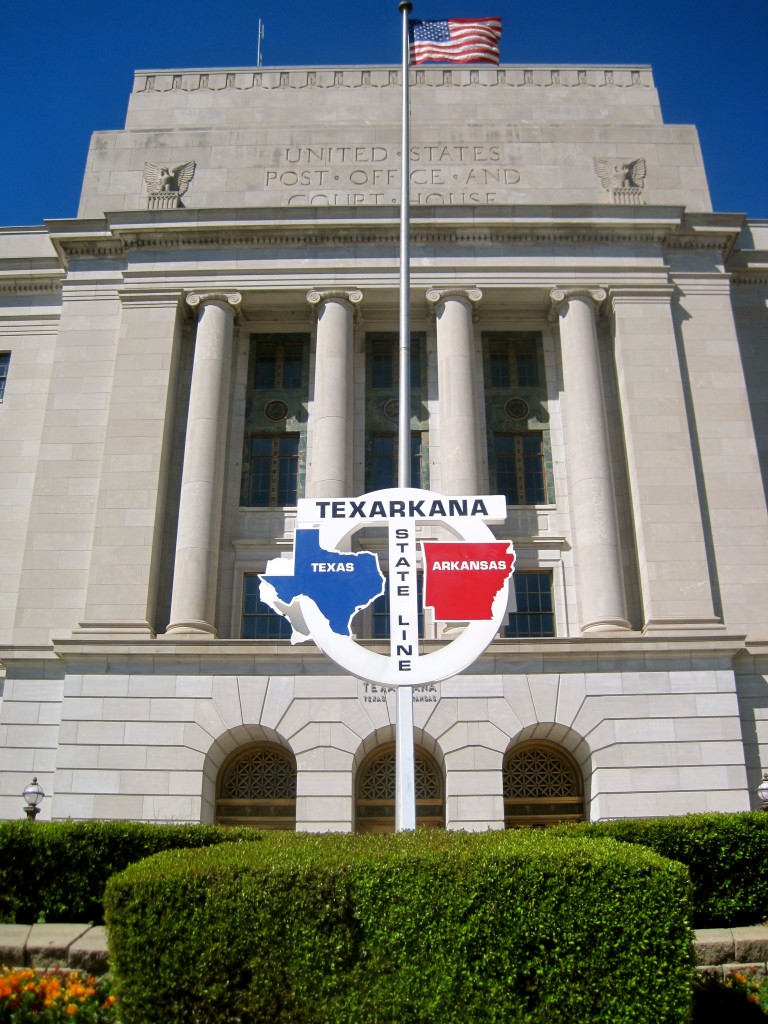 After touching my toes in Texas, I make the long drive back of mere seconds to Arkansas. The next oddity on the road isn't far away in the town of Fouke. The southwestern town is home to the legend of the Boggy Creek Monster, a southern Sasquatch of sorts. In the 1960s and 1970s, people began reporting a monster of around 7 to 10 feet tall roaming and harassing the area. A low budget movie even tackled the myth or mystery.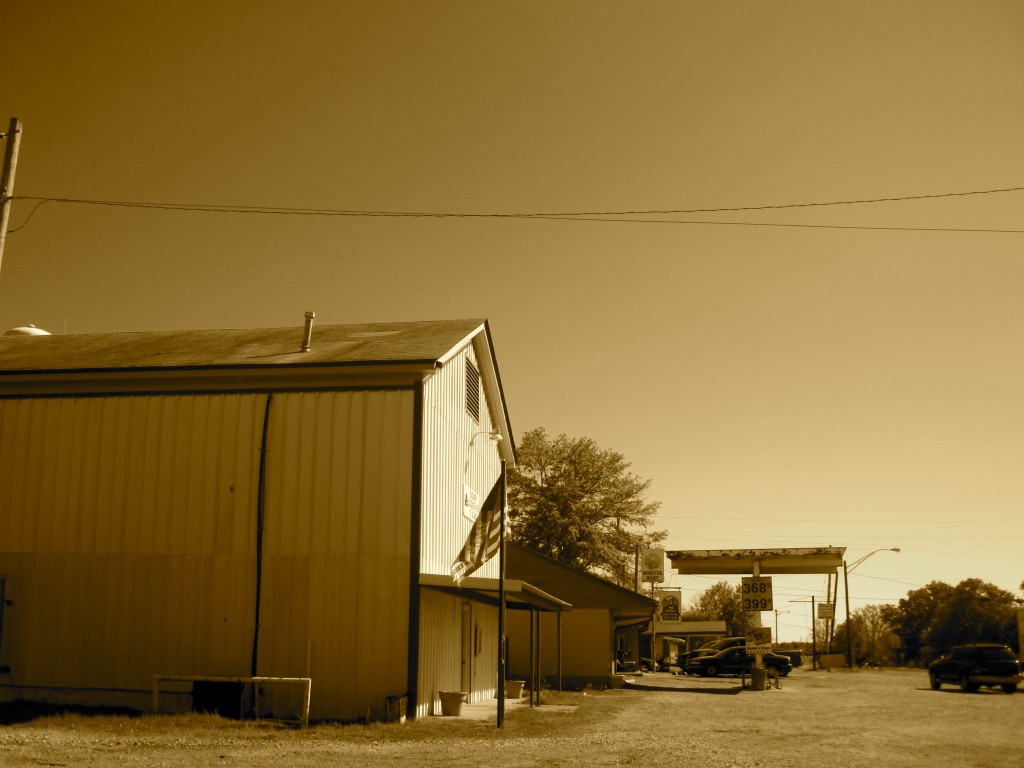 Finding the Boggy Creek Monster was much easier than I had thought. No, he wasn't lurking in the creek or spooking some farm animals. He stands in giant wooden cutout form for people like me. I put my best monster face forward and quickly realize I couldn't pull off Boggy Creek Monster brunette.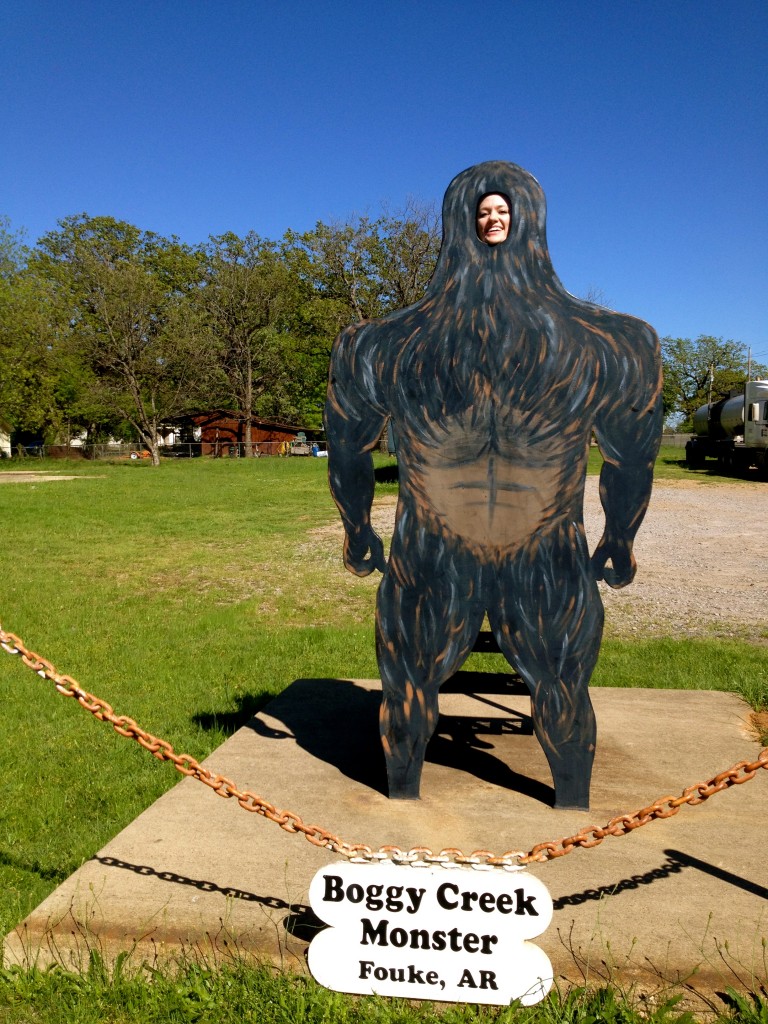 Crossing into Louisiana, a pelican welcomes me on the state sign. The landscape turns more swampy, making it seem entirely possible that a Boggy Creek Monster could very well cross the state line for swampland. Rather, I just catch second glimpses of what I think are gators in the water surrounding the road. Perhaps they enjoy going by road too.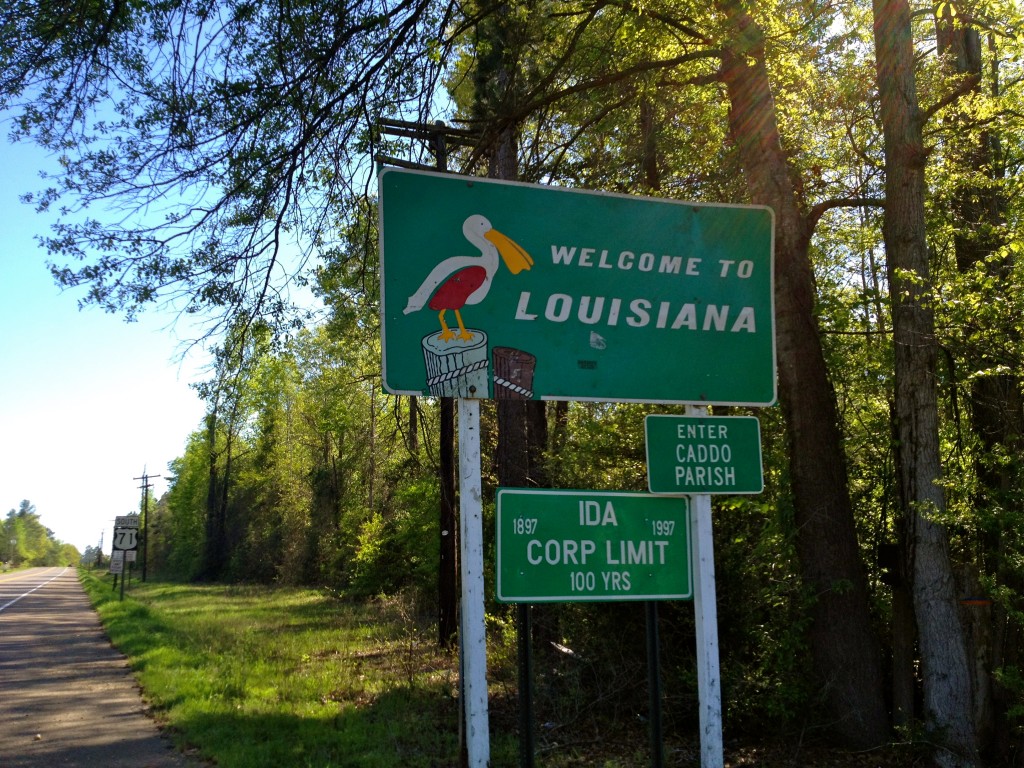 Before you reach New Orleans, you might come by way of Baton Rouge. I detour yet again, tacking on those extra fifteen minutes to my long drive. I have to cast my eyes on the building in the city commanding all attentions with its size. The Baton Rouge Capitol Building is an Art Deco confection, attempting to touch the sky with its 34 stories. Manicured acreage hugs the capitol building, lending a fine place to stretch the legs.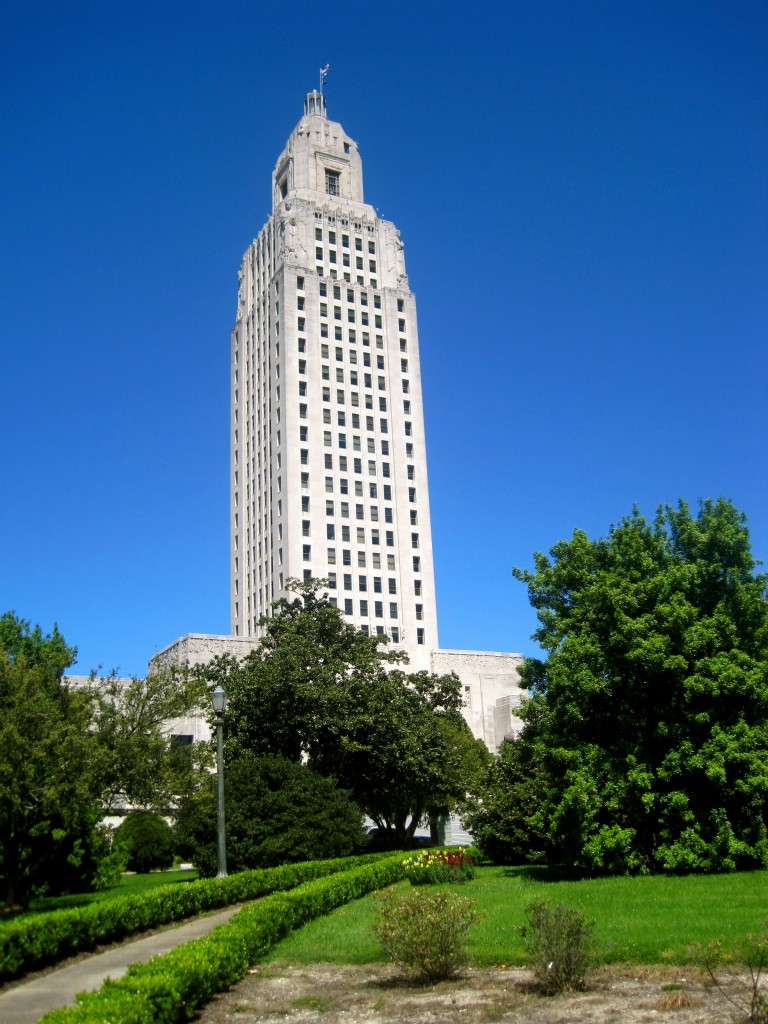 While the evidence is undeniable that I can't resist stopping to stand in two states, a meeting with a monster, spotting a gator, gazing all the way up a capitol to the sky or the fuchsia flowers on a blooming tree along the road, these oddities add up to a thing of normalcy for me. Traveling by car takes me back to the first moments I learned what travel was all about. I might be less annoying to travel with than I was at four years old, but I am still ever spirited when I hit the road.
New Orleans is waiting, a city that doesn't seem to wait for anyone.  Crowds convene in the city especially this time of year, when spring break and Bourbon Street collide. It is the destination for many, but for me, it is the beginning. I almost forget where I am going amidst the monsters and wacky roadside stops. The road to the attraction is a sight for these eyes.
Do you love road trips? Have you ever forgotten about your destination and found yourself wrapped up in the journey on the road?